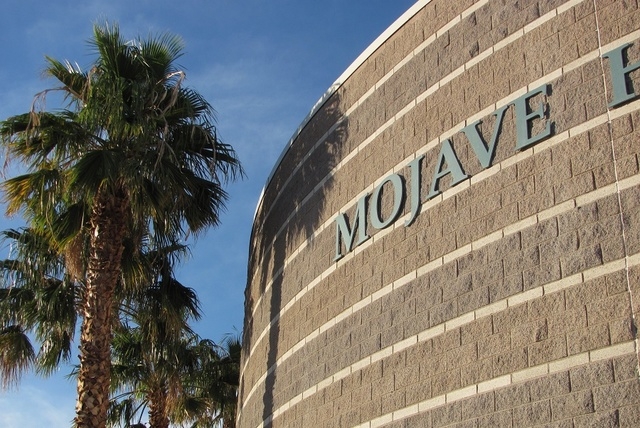 There's probably not a more confident team than Mojave as the boys volleyball state tournaments begin this week.
And the Rattlers have reason to feel good about their chances.
The defending Division I-A state champs haven't lost to a Division I-A team in two seasons as the begin their quest to repeat at 5:20 p.m. today at Chaparral.
"I think our biggest competition is ourselves," Mojave coach Erik Davis said. "In the past two years, we're 22-0 against Division I-A teams. We haven't lost a set in two years against a Division I-A team. If we can go out there and play the kind of volleyball we play on a daily basis, we should be fine going into the tournament."
Del Sol (11-4) plays Sierra Vista (9-14) in the first quarterfinal at 2 p.m. Chaparral (6-8) plays Clark (12-4) at 3:40 p.m., Mojave (24-3) plays Desert Pines at 5:20 p.m., and Tech (11-4) takes on Western (5-11) at 7 p.m.
The semifinals are scheduled for Tuesday, with the championship match set for 6 p.m. Wednesday, also at Chaparral.
Mojave has taken on all comers this season, playing well against top Division I squads all season. The Rattlers beat defending Division I state champion Legacy in the final of the Longhorn Invitational on April 18.
"Success breeds confidence," Davis said. "When you go in and you're playing that good of volleyball, it just kind of builds."
Davis said the team actually had trouble adjusting to league play after winning the Longhorn tournament.
"We had a little bit of trouble playing down to the competition," Davis said. "We talked about playing a little different style. Over the last three or four matches, it's really picked up."
Davis said most of those adjustments were mental.
"If we just kind of get into a rhythm with our points, start matches off a little bit more consistent, we find our game comes around," Davis said. "As opposed to feeling pressure to come right off the match playing high-level volleyball. We're OK working into our points and not having to put the first kill straight down. When we work into our points, we just catch fire."
Tech, which has won 10 straight matches, may be the stiffest competition for the Rattlers. But the rest of the field faces an uphill battle.
"Honestly, we're playing really good volleyball right now," Davis said. "We're peaking at the right time, and hopefully our best volleyball is yet to come."
The Division I state tournament begins on Tuesday at Las Vegas High. Sunrise champion Las Vegas (14-10) takes on Sunset runner-up Palo Verde (30-11) at 5 p.m., with Sunset champ Legacy (18-6) playing Sunrise runner-up Foothill (23-17) at 7 p.m. The championship match is set for 6 p.m. Tuesday.
Contact prep sports editor Damon Seiters at dseiters@reviewjournal.com or 702-380-4587. Follow him on Twitter: @DamonSeiters.