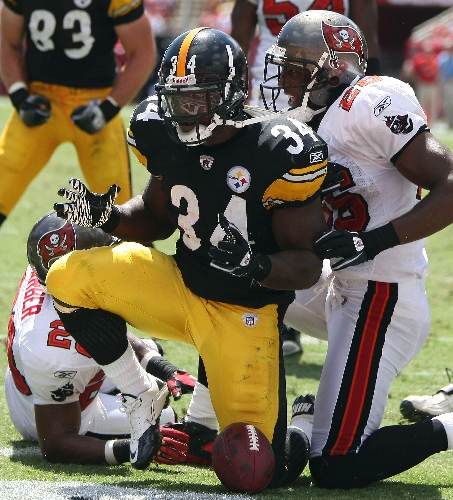 The Ravens-Steelers game arguably is the biggest NFL game of Week 4, but fantasy football players shouldn't expect it to produce big numbers.
This matchup appears to feature far more subplots than expected offensive gains, which is why Las Vegas sports books posted it with the lowest total of the week, at 34½.
Matching Baltimore's top-rated defense against Pittsburgh's sixth-ranked unit figures to produce a low-scoring game. Someone has to score, though, and, while running backs Rashard Mendenhall and Ray Rice and wide receiver Anquan Boldin generally are must-starts, the top fantasy earners in this game could be kickers Billy Cundiff and Jeff Reed.
Mendenhall has rushed for 332 yards in three games for the Steelers (3-0). For all the credit the Steelers defense has been given as the key to their success without suspended quarterback Ben Roethlisberger, Mendenhall often is lost in the shuffle.
Mendenhall provides one of many storylines in the bruising series between the two teams. He texted Rice just before his first career start during Week 4 of the 2008 season and predicted he'd have a big game. Ray Lewis and the Ravens defense took offense to the rookie's boisterous nature, and, on his 10th carry, Lewis hit Mendenhall hard, breaking his shoulder and ending his season.
In last season's two meetings, Mendenhall produced a 95-yard effort in a loss and a 36-yard game with a touchdown in a win. He might feel more confident after seeing how Cleveland running back Peyton Hillis pounded out 144 yards rushing and a score against the Ravens in Week 3.
Rice comes in with a banged-up knee. The Steelers are not the type of team someone who is aching wants to face. Rice has been a disappointment this year, producing 275 total yards and no touchdowns. But he is the only running back in 37 games to rush for 100 yards against the Steelers, which happened the last time they played.
Much of Rice's drop in production has been because of the Ravens' new commitment to the pass with Boldin, who exploded in Week 3 with a three-touchdown day. Even though quarterback Joe Flacco is not a good fantasy start this week, Boldin's ability makes him dangerous against anyone.
Joining Flacco on the list of players in this matchup to proceed with caution are wide receivers Mike Wallace, Hines Ward and Derrick Mason and tight end Todd Heap. And, with Rice hurting, it might be a good idea to pick up backup Ravens running back Willis McGahee.
Here's a look at some other potentially available players who could be good for Week 4 and beyond:
■ BenJarvus Green-Ellis, RB, Patriots: With Fred Taylor still questionable and Kevin Faulk out for the season, Green-Ellis takes over the load of the ground game for a good offensive team.
■ Peyton Hillis, RB, Browns: He no longer is under the radar after last week's performance.
■ Louis Murphy, WR, Raiders: He had 11 receptions and 210 yards in the past two games and, for the season, has been a better earner than both Steve Smiths, Randy Moss, Larry Fitzgerald and Calvin Johnson.
■ Ryan Torain, RB, Redskins: He is a Mike Shanahan favorite who he drafted while at Denver and always believed could be a feature back in his offense. Torain got the bulk of Washington's second-half carries last week, finishing with 46 yards on seven attempts.
■ BYE WEEKS — Dallas, Kansas City, Minnesota and Tampa Bay.
Micah Roberts is a former Las Vegas sports book director who covers all sports for multiple publications. He can be reached at MM.Roberts7@gmail.com.