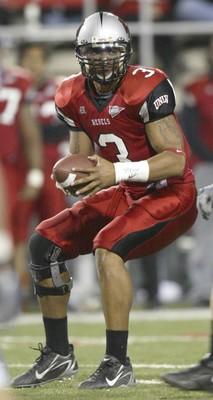 Though UNLV's shotgun spread is a finesse offense, the Rebels ended spring football practices with the clear message of adding grit and muscle — on both sides of the ball.
The Rebels plan to use a tight end — sometimes two — in many offensive packages. With the addition of bruising tailback Frank Summers, that hardly conjures images of a wide-open offense, though that remains UNLV's staple.
Defensively, the Rebels have gone to a base 4-3 set to apply a more aggressive pass rush and better contain opposing running games. UNLV used multiple defenses the past two seasons, mostly going with three linemen.
Coach Mike Sanford said increased aggressiveness was important in both moves, but other issues were crucial, too.
"We are a spread offense, and we're going to continue to be a spread offense," he said. "Because of the advent of more odd (front), 3-4 type defenses we're playing (against), we need to be a little more attached (with the tight end).
"(A 4-3 defense) fits our personnel better, and we need to have a base that we start with. We start with it in February and end playing that same base defense and that same philosophy in the bowl game."
After three consecutive two-win seasons, a bowl bid hardly seems a safe assumption, but this is how the team shapes up coming out of spring.
QUARTERBACK
Junior starter Rocky Hinds (6 feet 5 inches, 220 pounds) will meet with his doctor next month to determine how his rehabilitation from right knee surgery is progressing, but Sanford said he appears to be on track for a summer return.
If Hinds comes back then, he will need to get plenty of throwing in before training camp. Sanford said he expects to put Hinds, once he gets into camp, in situations where he would get hit.
"It's going to depend on his development, where he's at," Sanford said. "If I was to guess, I would say we're going to have to put him in a lot of live pass-rush situations and that kind of thing."
Redshirt freshman Travis Dixon (6-1, 190) is the backup for now, but that could change when freshman Mike Clausen (6-2, 200) arrives this summer.
Don't be surprised if UNLV at least somewhat copies what Florida did last year when it brought in backup quarterback Tim Tebow to run in certain situations. Dixon might become the Rebels' Tebow.
"You never know," Sanford said coyly.
TAILBACK
Cheyenne High product David Peeples (5-9, 205) and Summers, both juniors, are even. Summers showed promise this spring, while Peeples sat out with an injured left shoulder.
RECEIVER
A year after being the Mountain West Conference Freshman of the Year, Ryan Wolfe (6-1, 205) will start outside spot or as an H-back in the slot. Junior Lorenzo Bursey Jr. (5-8, 175) could start at H-back.
If Wolfe stays wide, several players will battle for the other two outside spots: senior Aaron Straiten (6-2, 195), juniors Casey Flair (6-1, 190), Justin Marvel (6-0, 180) and Renan Saint Preux (6-1, 185) and sophomore Gerold Rodriguez (5-10, 175).
Sophomore Rodelin Anthony (6-5, 220) will play tight end and wide receiver, though the main competition at tight end is between senior Chris Butler (6-3, 245) and junior Ryan Worthen (5-11, 250). Worthen, who went to Palo Verde High, will go on scholarship.
OFFENSIVE LINE
Sophomore Joe Hawley (6-3, 280) is the only one to have secured a starting job.
"He's going to be one of the best linemen that's ever played here," Sanford said.
Sophomore left tackle Richie Plunkett (6-6, 290) and junior right tackle Johan Asiata (6-4, 325) are close to winning spots. Plunkett, a Las Vegas High graduate and son of former Rebel and NFL lineman Art Plunkett, transferred from Colorado State.
Senior Tim Goins (6-4, 295) and redshirt freshman Ramsey Feagai (6-2, 360) are vying at left guard. Feagai also is going against senior Mike McKiski (6-6, 310) and sophomore Perry Eppenger (6-3, 315) at right guard. McKiski went to Coronado High and Eppenger to Cheyenne.
DEFENSIVE LINE
Sanford was pleased with junior ends Jeremy Geathers (6-2, 245) and Thor Pili (6-3, 265) during the spring, but they will face competition from junior college transfers Larry Dennis (6-2, 265) and Luke Plante (6-4, 245). Redshirt freshman Isaako Aaitui (6-3, 260) should be a factor.
Junior Jacob Hales (6-5, 290) from Las Vegas High is one starting tackle. The other spot will be contested by seniors Elton Shackelford (6-2, 270) and Faauo Faga (6-2, 260) of Indian Springs High and redshirt freshmen Tim High (6-2, 320) and Malo Tamua (6-0, 295).
LINEBACKER
Expect a six-player rotation with seniors Beau Bell (6-3, 245) and Bradley Niles (6-0, 245), junior KC Asiodu (6-3, 240) and sophomores Jason Beauchamp (6-3, 215), Starr Fuimaono (5-11, 210) and Jimmy Miller (5-11, 240).
Bell will start at outside linebacker but could play some in the middle as well. Fuimaono is the clear leader to start at Rebel, a combination of linebacker and safety.
SECONDARY
Senior Tony Cade (6-2, 205) and sophomore Daryl Forte (5-10, 185) ended spring as the leaders at both safeties. However, sophomore Michael Johnson (5-11, 200) and freshman Rico Thomas (5-10, 175) should play, and Sanford expects incoming freshman Shane Horton (6-1, 200) to make an immediate impact.
Senior Mil'Von James (6-0, 210) and junior Geoff Howard (5-10, 185) emerged as the No. 1 cornerbacks. Senior Solomon Smart (6-0, 185), sophomore Lafayette Fletcher (5-8, 180) and freshmen Nehemiah Mundy (6-0, 160) and Quinton Pointer (5-9, 180) could make a push.
SPECIAL TEAMS
Senior kicker Sergio Aguayo (6-1, 200) should be able to resume extra point and field goal duties after missing spring following left knee surgery.
Senior Brian Pacheco (5-9, 190) is the punter.
UNLV Football