Rebels' apparent OT buzzer-beater vs. Boise wiped out after replay
February 22, 2014 - 11:10 pm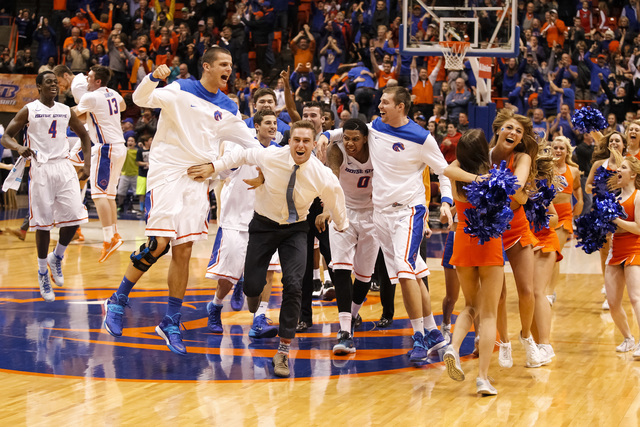 BOISE, Idaho — It appeared to Deville Smith that his shot beat the clock, and he was not alone. He was on the floor at the bottom of a pile of teammates who were celebrating UNLV's apparent buzzer-beating victory.
The lead official, Randy McCall, had emphatically signaled Smith's 3-pointer was good, and the game was over.
The game was over, but not the replay review.
"I felt like I got it off in time," Smith said.
After about a two-minute delay and a debate among the three officials, Smith's shot at the buzzer was wiped off and the Rebels walked off stunned, suffering a 91-90 overtime loss to Boise State in a controversial thriller at Taco Bell Arena on Saturday.
When the ruling was explained to the two coaches, the Broncos' Leon Rice stepped away, squatted and pumped both fists as the crowd of 9,010 erupted.
"I really couldn't contain it, to tell you the truth," he said. "It's just such a brilliant game and a cruel game, when it comes down to that."
A somber UNLV coach Dave Rice said, "I saw the replay, and there's no red light that comes on. I just feel terrible for my team."
The red light on the backboard did not activate as time expired, but replays and a photo showed the ball was on Smith's fingertips as the clock hit 0.0.
"I can't even explain the feeling," said Smith, who finished with 22 points.
So the winning shot was credited to Derrick Marks, who dribbled into the lane and dropped in a 10-foot jumper with 3.3 seconds remaining. It appeared two-tenths of a second might have run off the clock after Marks' shot fell and before the Rebels, who were out of timeouts, inbounded the ball, but that was a moot point.
Smith raced up the court, weaved through defenders and released a shot from the top of the key that was true and triggered a false celebration.
"On the floor we counted the basket when the kid made the shot, and by rule, we are mandated to go and check the monitor," McCall said. "There are three things we need to look for. The first criteria, does the ball beat double-zeros? The official clock is on top of the backboard. Did the ball beat double-zeros? If we don't get that, we go to a red light on the backboard, and if we don't get that we go to the horn. If we don't anything that is absolutely correct that reverses the call, then the call stands.
"In this case, we got the clock to double-zeros, we walked it frame by frame to double-zeros, we stopped it at double-zeros, we went back and magnified where the ball was and the ball was on the shooters' fingertips, so we had a reversal of the call by rule."
It was a game UNLV (17-10, 8-6 Mountain West) seemed to have won twice, as it blew a five-point lead in the final minute of regulation.
"I knew it was my time," said Marks, who scored all 13 of his team's points in overtime and finished with 17. "My teammates told me it was my time, even though they knew I had a bad 40 minutes. They knew I still had a good five minutes in me."
Anthony Drmic and Ryan Watkins each scored 22 points for Boise State (18-9, 8-6), and Watkins grabbed 15 rebounds.
Kevin Olekaibe hit a 3, was knocked to the floor by Drmic and finished a four-point play to put the Rebels ahead 71-64 with 6:09 to go in regulation. Smith added a short jumper to stretch the lead to nine with 4:15 left.
The Broncos rallied to pulled within 74-71 on Drmic's 3 with 2:29 to go. It was 78-73 after Bryce Dejean-Jones made the second of two free throws with 52 seconds to play.
But Drmic made a 3 with 43 seconds left, and Dejean-Jones was stripped on the inbounds pass, leading to two free throws by Watkins that tied the score at 78 with 35 seconds remaining. UNLV held the ball for a shot to win, and Smith drove to the rim and missed a contested layup just before time expired.
"I should have made it," said Smith, who made 9 of 15 shots and had seven assists. "I felt like I got fouled."
Marks made a 3-pointer, a layup and a 17-foot jumper to put Boise State up 85-80 two minutes into overtime. With the fans in a frenzy, Dejean-Jones knocked down a 3 from the wing to steady the Rebels. Khem Birch blocked a shot, and Smith went the other way for a layup to tie.
Marks banked in a runner with 1:22 left, Smith answered with another drive for a layup, and Marks made two free throws with 51 seconds left as the Broncos took an 89-87 lead. Birch was fouled on a baseline drive, but he made only the second of two free throws with 35 seconds to play.
Dejean-Jones stole an inbounds pass intended for Drmic, and Roscoe Smith scored on an offensive rebound as UNLV went up 90-89 with 26 seconds remaining. After a timeout with 10 seconds to go, Marks penetrated and hit the winner — the one that counted.
"I went on social media, and people are saying we got robbed," said Birch, who totaled 16 points, 11 rebounds and six blocks. "I'll check it out tonight, and maybe I'll change my mind."
Dejean-Jones finished with 16 points, and Roscoe Smith had 14 points and eight rebounds for the Rebels, who shot 50.7 percent (34 of 67) from the field but only 14 of 24 at the free-throw line.
"I have no doubt we'll take it hard for the next 24 hours," Rice said. "It was a great college basketball game. It's unfortunate that someone had to lose."
Contact reporter Matt Youmans at myoumans@reviewjournal.com or 702-387-2907. Follow him on Twitter: @mattyoumans247.