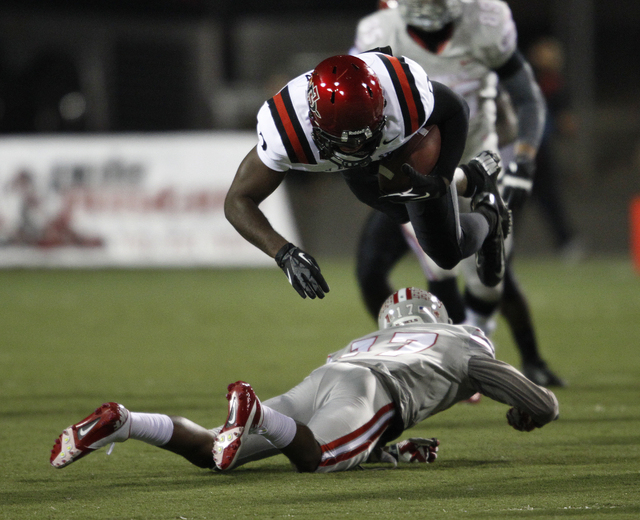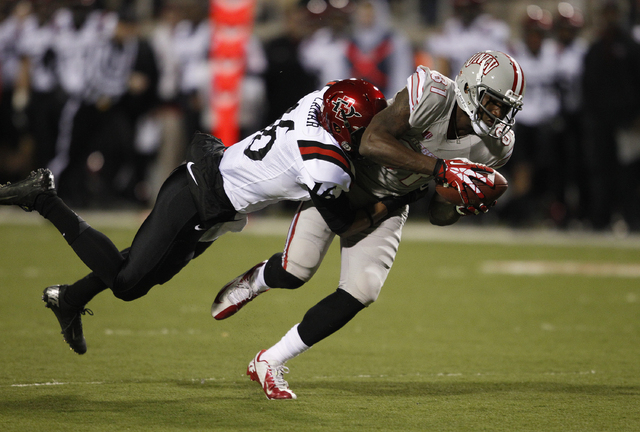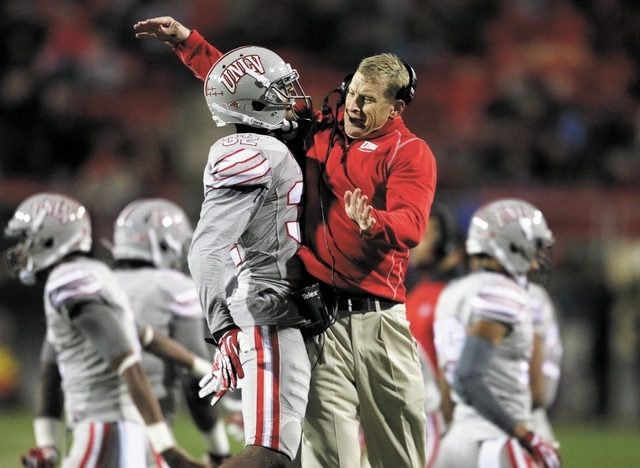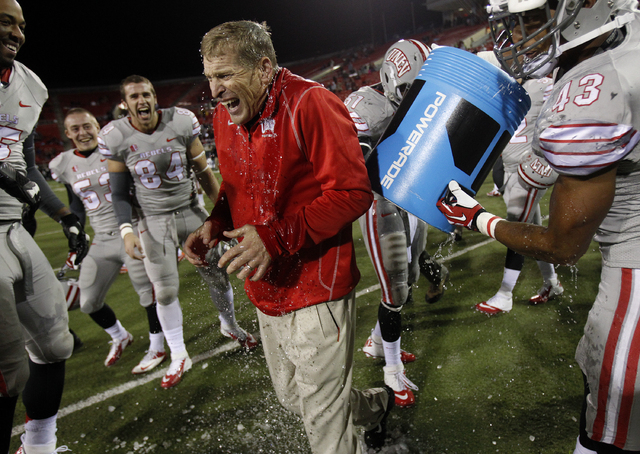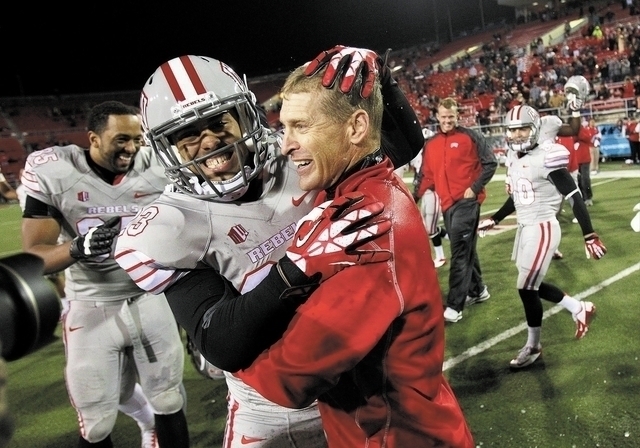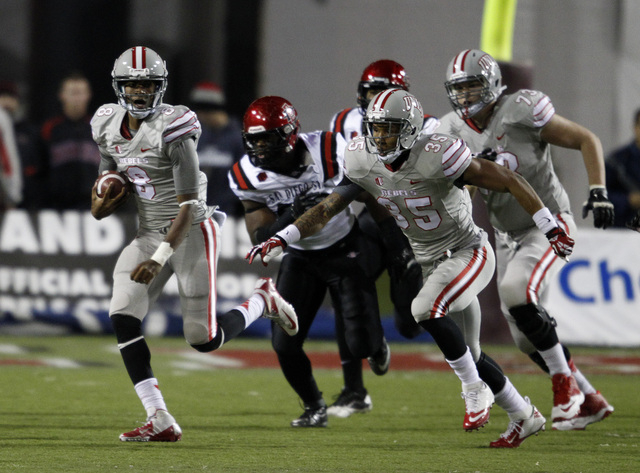 If UNLV ever was going to make a statement to the various bowl committees, Saturday was the time to do it.
And did the Rebels ever speak so loudly with their actions.
They dominated the Mountain West's hottest football team, with quarterback Caleb Herring and wide receiver Devante Davis tying school touchdown records and the Rebels rolling through San Diego State 45-19 at Sam Boyd Stadium.
But will this performance be enough to impress the bowls? UNLV will have a long week to wait before finding out Dec. 8.
"We have a lot of work to do," Rebels interim athletic director Tina Kunzer-Murphy said before the game. "We started calling (Friday)."
The Rebels' quest was to play in their first bowl since 2000 was complicated by San Jose State's 62-52 upset victory over Fresno State on Friday and Colorado State's 58-13 rout of Air Force on Saturday. Those victories gave the Mountain West seven eligible teams for six bowl slots.
So the Rebels (7-5, 5-3 MW) could get left out of the mix, but their chances improve if the conference can find a place for Boise State — the Mountain West's marquee national name — in a non-affiliated bowl.
Otherwise, UNLV must hope to land in the Hawaii Bowl on Dec. 24 in Honolulu, the New Mexico Bowl on Dec. 21 in Albuquerque, or the Famous Idaho Potato Bowl on Dec. 21 in Boise.
Working against the Rebels is their lack of ability to draw strong crowds and their lack of tradition.
But UNLV gave bowl executive directors plenty to think about with this dominant performance, finally beating a team with a winning record and showing the victories weren't all the result of a soft schedule.
The Rebels clinched their first winning record since that 2000 team went 8-5, which included a 31-14 victory over Arkansas in the Las Vegas Bowl. They dominated a San Diego State team (7-5, 6-2) that was the conference's hottest in winning seven of eight games entering this one.
But the Aztecs couldn't stop Davis, who caught eight passes for 171 yards. His four touchdown receptions tied the record held by two other players, and his increased his season total to 14, breaking UNLV's record of 11 set by Sam Greene in 1980.
It was that kind of milestone night for the Rebels.
Herring threw five touchdown passes, equaling the school record shared with three other quarterbacks. Herring completed 20 of 30 passes for 270 yards. He also rushed for 60 yards and a TD.
Kicker Nolan Kohorst, a Green Valley High graduate, became the Rebels' career scoring leader with 245 points, beating out Mike Thomas (1973 and 1974) by a point. Kohorst also made a 50-yard field late in the first half, tying his career long.
Tim Cornett led UNLV with 61 yards rushing on 16 carries.
UNLV's defense held San Diego State running back Adam Muema, who has been bothered by a hamstring injury, to 11 yards on 12 attempts. He entered the game with 1,004 yards and 12 touchdowns. Donnel Pumphrey, a Canyon Springs High School product, did rush for 87 yards and a touchdown on 13 carries.
The Rebels held San Diego State to 327 yards overall, with Aztecs quarterback Quinn Kaehler completing 24 of 46 passes for 239 yards, with a touchdown and two interceptions.
After the Aztecs took the lead on a 39-yard TD pass off a flea flicker on the second play for scrimmage, it was all UNLV. The Rebels strung together the next 31 points to take control.
RELATED: Twitter loves UNLV's trashing of SDSU, hates the uniforms
Offside call to start half stuffed Aztec momentum