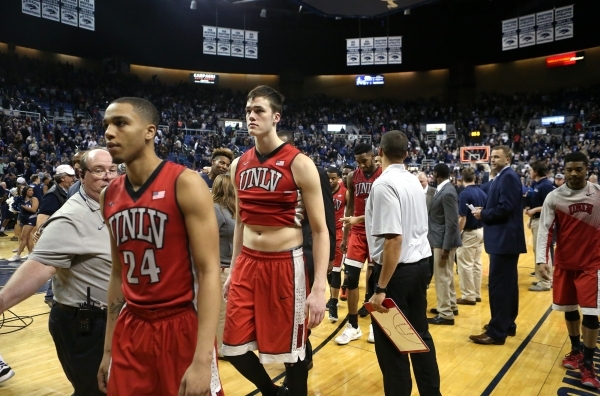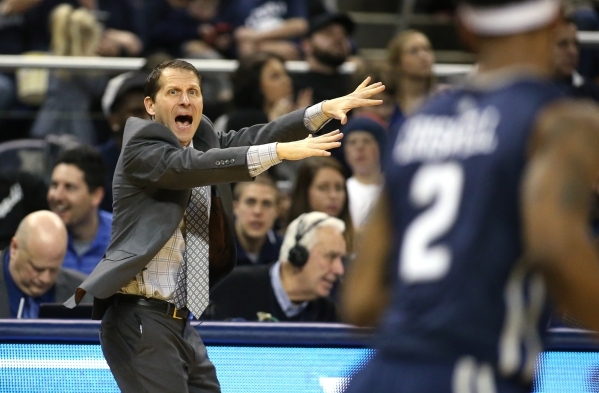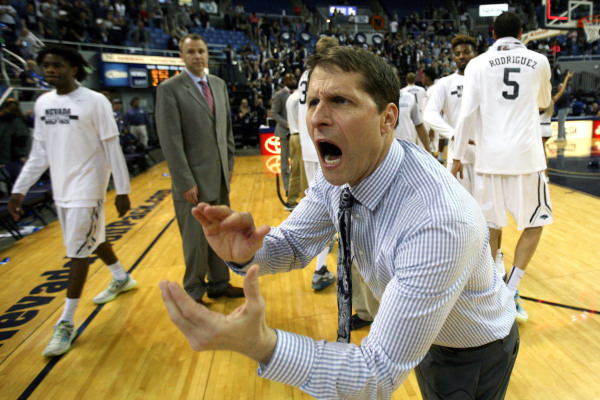 The basketball game had just ended, and UNR coach Eric Musselman dashed over the Lawlor Events Center floor to the student section, his shirt coming untucked as he celebrated wildly with fans and Wolf Pack players.
UNR had just knocked off UNLV 65-63 in the Jan. 23 game in Reno, and no one could doubt what the victory meant to Musselman and his team.
The vision is something sure to stick with the Rebels as they prepare to face their upstate rival again at 7 p.m. today at the Thomas & Mack Center. CBS Sports Network will televise the game, and the Rebels are 6½-point favorites.
"It's a memory for (Rebels players)," UNLV interim coach Todd Simon said. "As coaches, you try to vocalize what the game means the first time around over and over and over. Until you actually experience the passion … that particular game, the tremendous crowd, a hostile environment, you don't fully understand it."
UNLV (15-12, 6-8 Mountain West) also will try to bounce back from Tuesday's 79-74 loss at Air Force, and in that game the Rebels were the team facing a fired-up opponent. The Falcons didn't appreciate being routed 100-64 in the first meeting, and they had an answer in the rematch.
The Rebels could take similar offense at how UNR (16-9, 8-5) celebrated its victory over UNLV.
"We let one get away we should've won," UNLV point guard Jerome Seagears said. "It shows when people beat us they've actually accomplished a lot, so we've got to take that to heart."
This is an important game if the Rebels want to establish some momentum going into next month's conference tournament. After UNR, UNLV finishes with games at Boise State and at San Diego State sandwiching a home date against Wyoming.
But this also is quite a different UNLV team from the one that faced the Wolf Pack in January. Ben Carter is gone for the season with a torn left anterior cruciate ligament, and fellow forward Stephen Zimmerman Jr. continues to be out with a sprained left knee.
Simon said he didn't know if Zimmerman would return this season, and considering the 7-footer is expected to be a first-round pick in this year's NBA Draft, it's doubtful he would rush back.
Even with Carter and Zimmerman, UNLV had trouble against UNR's inside game the first time around, getting outrebounded 41-34. Wolf Pack forward Cameron Oliver totaled 12 points and nine rebounds, and he averages 11.3 points and 8.1 rebounds.
UNLV will need to try to push the ball and not get caught in a halfcourt game as it did in Reno.
"I think the biggest thing is making teams play to our pace," Seagears said.
The more the Rebels are in man-to-man defense, the easier it is to get into their transition game. But they have to play some 2-3 zone out of necessity.
"The 2-3 goes back to us not having so much depth," Seagears said. "We can't play man the whole game because we don't have any subs. Guys are going to get tired."
UNR would love nothing more than to sweep the regular-season series with the Rebels, and Musselman figures to have his team motivated again.
UNLV also has plenty of reason to be fired up, and the Rebels certainly don't want to be known as the second-best basketball team in Nevada.
"UNLV on the front of the jersey means something," Simon said. "We're always a big game for everybody regardless of record, regardless of who's on the floor."
Contact Mark Anderson at manderson@reviewjournal.com or 702-387-2914. Follow him on Twitter: @markanderson65
Check our GameDay page for full coverage of the UNLV-UNR game.
UNR (16-9, 8-5 MW)
Coach: Eric Musselman (16-9, first season)
PROBABLE STARTERS
Player Pos. Hgt. Pts.
Marqueze Coleman G 6-4 16.7
Lindsey Drew G 6-4 5.2
D.J. Fenner G 6-6 13.1
Cameron Oliver F 6-8 11.3
Elijah Foster F 6-7 2.6
UNLV (15-12, 6-8 MW)
Coach: Todd Simon (6-5, first season)
PROBABLE STARTERS
Player Pos. Hgt. Pts.
Patrick McCaw G 6-7 13.9
Jerome Seagears G 6-1 9.1
Ike Nwamu G 6-5 10.1
Dwayne Morgan F 6-8 5.5
Derrick Jones Jr. F 6-7 10.5