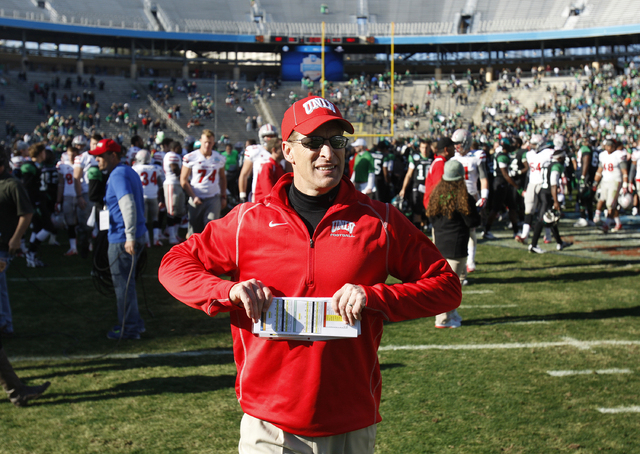 Bobby Hauck has said he would like to redshirt every freshmen he signs, but he never has lived in an ideal world.
Hauck is very much a realist, and if a player is good enough to play, he's seeing the field that season and not taking a redshirt simply because of a football coach's principle.
Today, Hauck announces his fifth UNLV recruiting class, and the vast majority of those players will redshirt. But some will play in the 2014 season, and the fact Hauck is willing to put them on the field doesn't hurt his recruiting efforts.
"That question comes up with almost every one of them, whether to redshirt them or not, how do we plan for them to contribute," Hauck said. "What I tell them to a man, 'We don't want you to ever be thinking redshirt. We want you to think come in and compete for playing time.' "
Four scholarship freshmen played immediately each of the past two seasons, and some had significant roles as the Rebels put together their best season in 13 years in going 7-6 in 2013 and making the Heart of Dallas Bowl.
Ron Scoggins was a two-year starter at guard, defensive end Jeremiah Valoaga made 5½ tackles for loss last season, Anthony Williams caught a combined 43 passes over his first two seasons, David Greene was the Rebels' co-special teams player of the year in 2013, and Keith Whitely helped handle kick-return duties last season.
In 2011, only wide receiver Devante Davis played right away, catching four passes for 42 yards. Last year, however, he put together one of the more remarkable seasons in UNLV history, with a school-record 14 touchdown receptions.
Hauck's approach to all three recruiting classes most closely mirrored his philosophy of redshirting most freshmen. He didn't have that luxury with his first class in 2010.
Seven scholarship freshmen played immediately for a program that needed the help. Including the redshirts, grayshirts and walk-ons, 23 freshmen played that season.
Some — such as running back Tim Cornett, defensive tackle Tyler Gaston and kicker Nolan Kohorst — went on to make strong impacts.
Had Hauck been in a position to keep them on the sideline, the Rebels would be returning even more key players next season.
"A guy like Tyler Gaston, who played very well this year, probably didn't play anywhere near that level when he was a freshman," Hauck said. "Had he redshirted as a freshman, this would've been his junior year and we get another good year out of him."
When it comes to recruiting, however, most players believe they are good enough to play immediately.
And those are the kinds of players Hauck and his coaching staff mostly want to recruit. But the coaches also look for players with potential, those whose talents aren't obvious now, but could develop into top performers in coming seasons.
"Some of them are a little more worldly than others and acknowledge the fact that, 'Hey, I'm a 6-foot-2, 230-pound offensive lineman, I'm probably going to need a redshirt year,' " Hauck said. "Some guys know that the die is cast already, but for the most part, the rest of them, get ready to come compete and see what happens. That's how we want them to approach the season. We don't want them to mail it in the next seven months."
Contact reporter Mark Anderson at manderson@reviewjournal.com or 702-387-2914. Follow him on Twitter: @markanderson65.Contact reporter Mark Anderson at manderson@reviewjournal.com or 702-387-2914. Follow him on Twitter: @markanderson65.
REDSHIRT OR PLAY NOW?
These UNLV scholarship freshmen played right away under football coach Bobby Hauck.
2013
Nicolai Bornand — Signed primarily to play linebacker, he handled kickoffs much of the season.
Malo Feula — The linebacker played mostly on special teams, making six tackles.
Torry McTyer — Highly touted cornerback intercepted a pass and made eight tackles while seeing time as a reserve and on special teams.
Keith Whitely — Averaged 22.6 yards per kickoff return while rushing for 56 yards on 10 carries at running back.
2012
David Greene — The safety made 13 tackles in his first season and 10 last year. Was named the Rebels' co-special teams player of the year last season.
Ron Scoggins — Became the starter at left guard in just his third game. Started at right guard last season.
Jeremiah Valoaga — Finished with 21 tackles, including four for loss and 1½ sack, in initial season at defensive end. Built on that last year with 27 tackles, including 5½ for loss and a sack.
Anthony Williams — Caught 22 passes for 337 yards and a touchdown in 2012, and totaled 21 receptions for 188 yards and a TD last season.
2011
Devante Davis — After catching four passes for 42 yards in first season, he has become one of UNLV's top wide receivers of all time. Made 87 receptions for 1,290 yards and a school-record 14 touchdowns last season.
2010
Ian Bobak — The defensive end made 17 tackles, including a sack, in first season. But forced to quit after that season because of medical reasons.
Tim Cornett — Rushed for 546 yards and six touchdowns as a freshman. Ended UNLV career with consecutive 1,000-yard seasons and as the Rebels' leading career rusher with 3,733 yards.
Kurt Davis — Caught three passes for 37 yards in first college season. Transferred to Montana State in 2012.
Tyler Gaston — Finished first season with 13 tackles, including three for loss and a sack. One of the defensive leaders last season, making 56 tackles at tackle, including seven for loss and 5½ sacks.
Nolan Kohorst — Became the starting kicker immediately, making 8 of 11 field goals and scoring 53 points. Wound up as UNLV's all-time leading scorer with 247 points.
Kjelby Oiland — Made six tackles in five games on the defensive line. Transferred to Montana in 2011.
Eric Tuiloma-Va'a — Started five games at safety, making 48 tackles. Eventually switched to linebacker, and last season played in a reserve role in five games and didn't register a tackle.