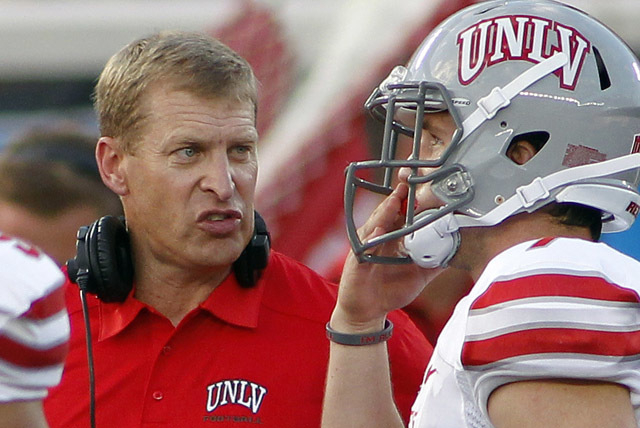 When the football schedule was released in April, it seemed apparent the four-game stretch that ends Saturday would make or break UNLV's season.
It's a span of games that only has grown in importance with each of the three Rebels victories.
Now it's a matter of finishing this part of the slate with a perfect record when Hawaii (0-5, 0-3 Mountain West) visits the Rebels (3-2, 1-0) at 5 p.m. Saturday at Sam Boyd Stadium.
Going 4-0 in this stretch is key heading into the second half of the season when the schedule gets tougher, though not as treacherous as it once appeared.
Should the Rebels win tonight, the chances of becoming bowl eligible for the first time since 2000 will be good, especially with a remaining schedule that includes teams such as UNR, Utah State, Air Force and San Diego State experiencing issues of their own.
But should UNLV, which is an 8½-point favorite, stumble and lose to the winless Rainbow Warriors, that defeat could end whatever momentum it has built. And the second half of the schedule probably then becomes just as difficult as it once appeared.
"We've got a real demanding October in front of us starting with Hawaii this weekend," coach Bobby Hauck said. "It's going to be a heck of a month, so we better be ready to go Saturday."
Hauck and his players, however, consistently downplay the importance of one game over another, unless it's the Oct. 26 trip to UNR.
They made similar statements before the 56-42 victory at New Mexico on Sept. 28, but Hauck received a water dousing and game ball from his players when they ended their 23-game road losing streak. Few doubted that game meant something.
With each victory, the games become more important because the Rebels get closer to their goal of reaching the postseason. The three consecutive wins — the school's first such streak in 10 years — also created momentum, which UNLV must hope isn't interrupted by what appeared to be an ill-timed bye last week.
"It was more about being smart with the time off," quarterback Caleb Herring said. "When we were out here (at practice), we were focused in trying to get something out of the time that we had here. But it was also a good opportunity to get some rest, to get back in physical condition to perform at a high level."
Hawaii comes in having been outscored by an average of 35-20, but the Rebels know better than to take the Warriors lightly. UNLV went to the islands last season as a 3½-point favorite, but was crushed 48-10 in a stunning display of ineptitude.
So UNLV knows it will need a strong effort, but doesn't know which Hawaii quarterback will start. The Warriors could play three quarterbacks. Sean Schroeder has been the most effective with 663 yards and six touchdowns the past two games, and he was behind center last season against UNLV, throwing for 201 yards and a touchdown.
That loss served as a depressing end to the season for the Rebels. They don't want a similar feeling tonight.
Keeping the good times rolling is vital, especially closing this four-game run.
"I'm enthused for (the players) because they've worked hard," Hauck said Monday. "They deserve to have some success, and it's been fun to be around them. We need to have a great week and keep it going."
Contact reporter Mark Anderson at manderson@reviewjournal.com or 702-387-2914. Follow him on Twitter: @markanderson65.