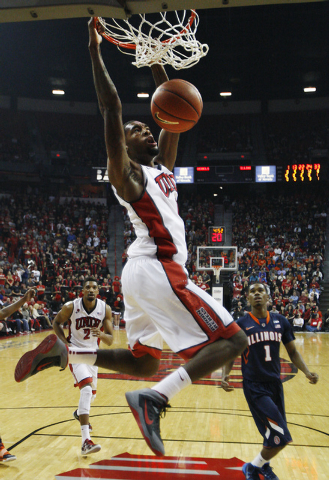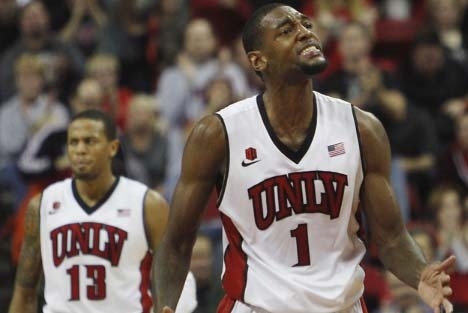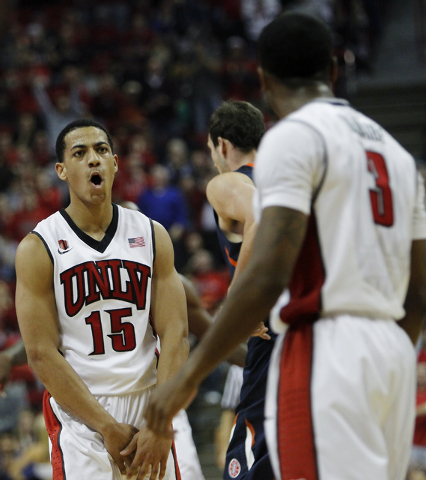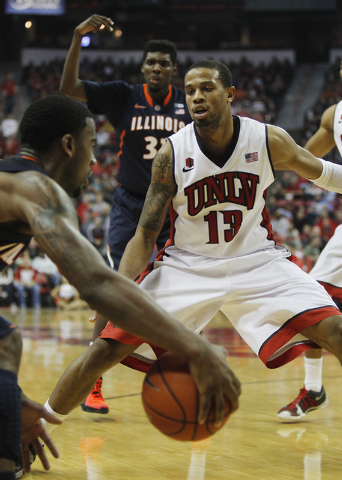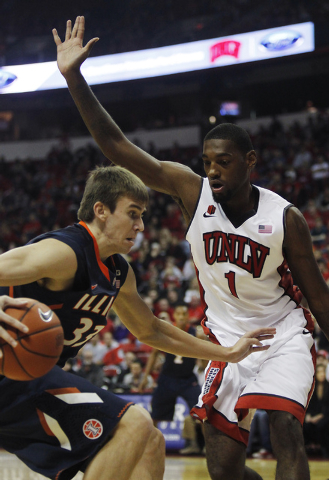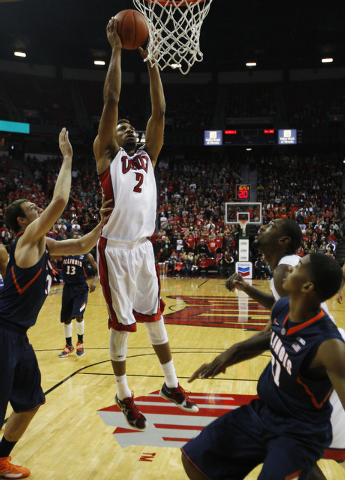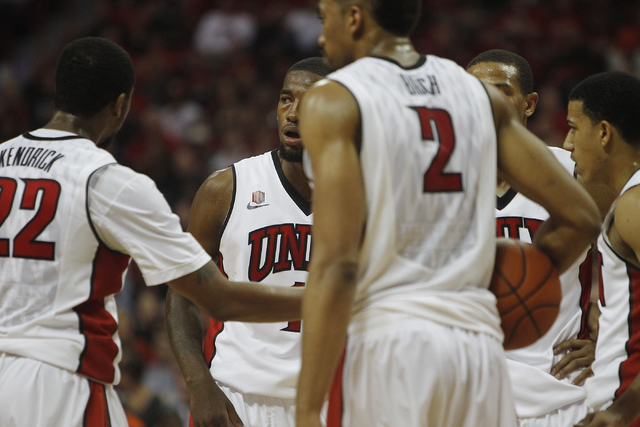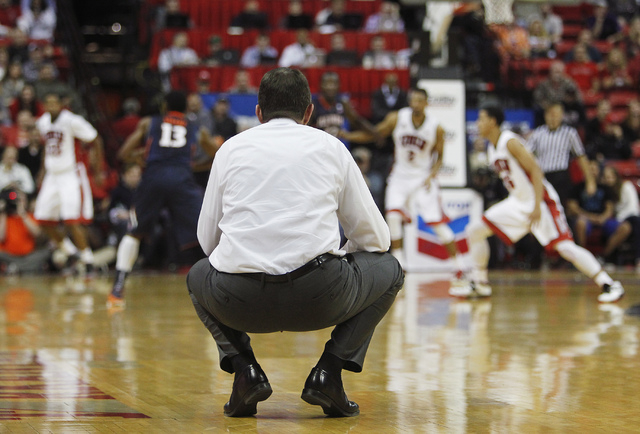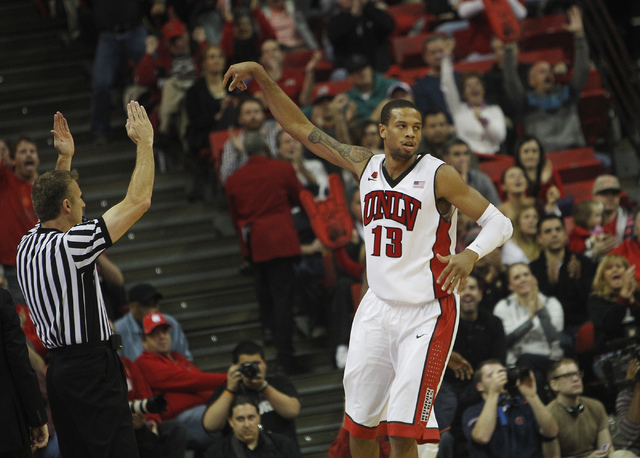 With the game hanging in the balance, Illinois guard Rayvonte Rice soared to the rim and put two exclamation points on his night.
After another depressing defeat, UNLV was faced with a troubling question: Where does its season go from here?
Rice drove for a layup with 28 seconds left to lift the Fighting Illini to a 61-59 comeback victory over the Rebels before 13,747 at the Thomas &Mack Center on Tuesday.
UNLV (2-3) lost on its home floor for the third time in two weeks, letting another opportunity to beat a quality nonconference opponent slip away.
"We're bitterly disappointed with the loss," coach Dave Rice said. "We're very disappointed with our start in terms of results."
The Rebels' inability to finish was the tale of their demise. Leading by five points with four minutes remaining, they failed to score the rest of the way while appearing confused and disorganized on the offensive end.
UNLV went ahead 59-54 on freshman guard Kendall Smith's short jumper with 4:17 to go, but its final five possessions resulted in four missed field-goal attempts, a missed free throw and a turnover.
"We need to learn how to execute down the stretch," said junior forward Khem Birch, who totaled 12 points, 10 rebounds and four blocks for the Rebels. "I feel like we kind of panicked a little bit."
Illinois (6-0) prevailed because Rayvonte Rice was under control the entire time. The 6-foot-4-inch junior had 25 points, 10 rebounds and four steals in 38 minutes. He shot 9-for-20 from the field, including 3-for-6 from 3-point range, and made all four of his free throws.
Rice's biggest basket came at point-blank range after he sliced through the UNLV defense and got to the rim to break a tie.
The Rebels wasted 15 seconds before Dave Rice used a timeout to design a play. He sent Kevin Olekaibe into the game for the last possession, and Olekaibe drifted to the right corner while guard Bryce Dejean-Jones triggered the offense from the right wing.
"We drew it up for Bryce to come off a high ball screen," Rice said.
Dejean-Jones briefly lost control of his dribble before flipping the ball to Olekaibe, who misfired on a 3-point attempt with three seconds left.
The Illini burned the clock and escaped from a tightly contested game that featured 11 ties and 13 lead changes.
The Rebels' 39-29 halftime lead vanished in less than eight minutes, and Rice triggered the Illini rally by scoring their first seven points of the second half.
Nnanna Egwu's dunk tied the score at 44 with 13:22 to go. After a Dejean-Jones layup, the 6-11 Egwu stepped out to the top of the key and knocked down a 3 to send the Illini in front 47-46 with 12:32 left.
"We didn't even know he could shoot the 3," said UNLV forward Roscoe Smith, who recorded 13 rebounds and six points. "We didn't study that. That kind of startled us."
Birch twisted through the lane for a layup, and Jalen Kendrick made two free throws to put UNLV back on top 57-51 with 6:15 left. But Egwu hit another 3-pointer to keep Illinois close, and Jon Ekey's 3 tied it at 59 with 2:17 to go.
In the teams' most recent meeting, in December 2011 at the United Center in Chicago, Rice coached the Rebels to a convincing 64-48 victory over the Illini.
Illinois and UNLV also collided in a 2011 NCAA Tournament opener in Tulsa, Okla., and the Illini coasted to a 73-62 win which marked the end of former coach Lon Kruger's seven-year era with the Rebels.
This meeting went to the wire, and Illinois won its 25th consecutive game in the month of November.
UNLV has had a first month to forget, previously falling to UC Santa Barbara and Arizona State at the Thomas &Mack.
"I'm going to keep my teammates' heads up high," Birch said. "I'm not going to panic until we lose a couple more games."
The Rebels look to rebound when they host Tennessee-Martin on Saturday.
"We'll come back stronger than ever," Rice said. "We're going to have a good basketball team. We'll fix things and we'll find our way."
Contact reporter Matt Youmans at myoumans@reviewjournal.com or 702-387-2907. Follow him on Twitter: @mattyoumans247.