Rebels receive fond farewell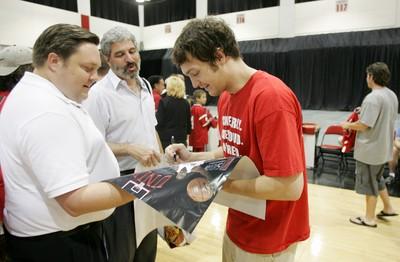 As it turned out, UNLV basketball coach Lon Kruger was a prophet. He gathered his players before the season and said a successful showing in the NCAA Tournament was in their future.
"Coach was talking about it, saying that we could make it to the Sweet 16, and we believed it," senior forward Wendell White said. "That was the main thing, that we believed in our leader."
The Rebels won the Mountain West Conference Tournament and defeated Georgia Tech and Wisconsin in the NCAA Tournament to reach the Sweet 16, where their run ended in a 76-72 loss to Oregon on March 23.
It was then when Kruger apologized to his team for being too sharp with his prediction.
"After we lost the game to Oregon," senior center Gaston Essengue said, "Coach walked in and said, 'It's all my fault. I should have said this is a Final Four team.' "
The party Kruger planned before the season was held Monday night at Cox Pavilion. About 300 people showed up for a "Sweet 16 Celebration," a last chance for fans to meet the team, collect autographs and honor UNLV's best season in 16 years.
Kruger never stopped smiling — of course, he was posing for photos for two solid hours.
All the talk since the season ended has concerned Kruger, who was linked in rumors to several coaching openings. Kruger is staying put — as he said all along — and reiterated his passion for continuing to build the Rebels' program.
"I love it here," he said.
UNLV athletic director Mike Hamrick is working on finalizing a contract extension for the coach, and he said the deal should be done soon.
As Kruger made rounds and shook hands, kids had a chance to shoot baskets with the Rebels. The players also took the opportunity to reminisce about the 30-7 journey that seemed implausible in November.
White, one of UNLV's five seniors and the team's leading scorer and rebounder, thanked fans for their support.
"The surprising thing to me was when we came back from the Oregon loss and they were right there to see us," White said. "That shows we have true fans here in Vegas.
"It was a great feeling to see that. My sadness and my madness just went away as soon as I saw that."
White, Essengue and the other three seniors — Joel Anthony, Kevin Kruger and Michael Umeh — provided strong leadership for a team picked to finish sixth in the Mountain West.
"That's why this team had a lot of success, because the chemistry was really good," Essengue said. "All the seniors were hard workers. We were disciplined and focused, on and off the court."
Lon Kruger said the season was so rewarding "because of the uncertainty about what was going to happen going into the year," and the results far exceeded expectations.
"Even the injuries throughout the year didn't really set them back very much," Kruger said. "We got healthy in the last month and really put it all together."
Essengue said he already has been watching game tapes from the season and reflecting.
"I've got more time now and I've been watching everything," he said. "It's a lot of memories."
UNLV Basketball