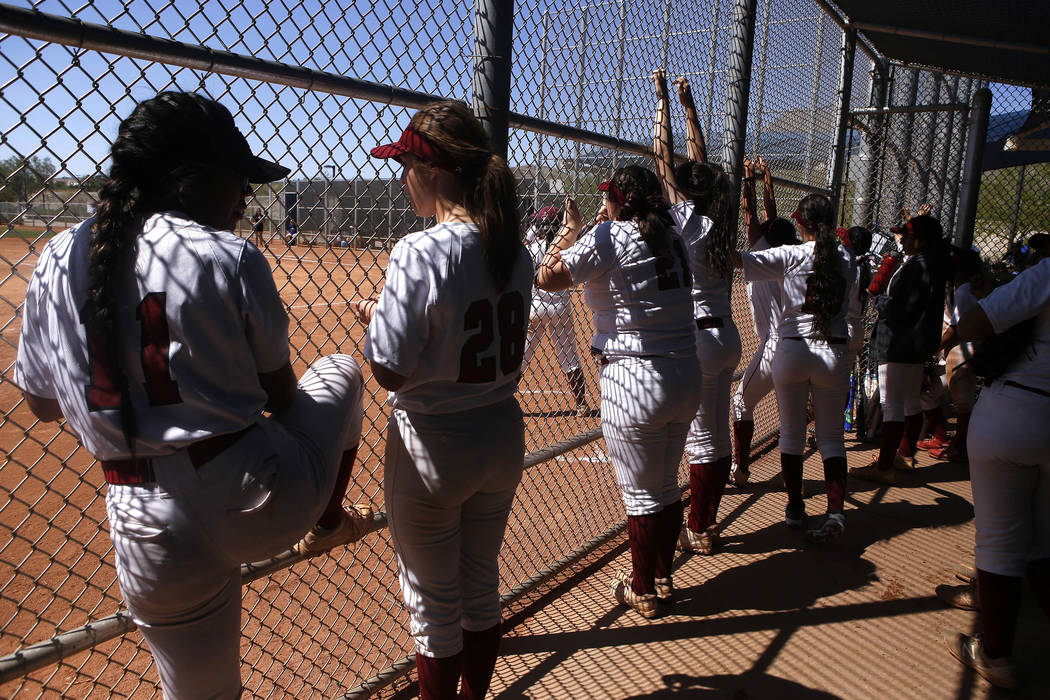 The history of the Desert Oasis softball team's all-time series against Centennial can be best summarized by the memetic sad trombone noise.
It hasn't been pretty for the Diamondbacks in the past when they meet the Bulldogs, but they have reason to believe 2017 is different. This year's squad set a school record for most wins in a season, earned a No. 2 seed in the Sunset Region playoffs and are ready to slay the Centennial giant when both teams start their postseason run against each other at 4 p.m. on Tuesday at Desert Oasis.
"I think this school is a hidden gem in town as far as softball goes," Desert Oasis coach Jordan Connell said. "We're really ready to show everybody around here that we belong in those discussions with those great teams like Centennial."
After a 28-win season, it's easy to be confident. But history is not on the side of the Diamondbacks.
Tuesday will be the 10th meeting all-time between the two schools, and to say Centennial has dominated would be an understatement. The Bulldogs are 8-1 and have outscored the Diamondbacks 122-37. Centennial has won all three playoff meetings by a combined score of 24-0, including 10-0 in last year's first round.
"They've been in this situation before," Connell said of his players. "They're not nervous about it at all, they're not new to it, but I think it's a little bit different."
There is a new expectation around Desert Oasis this season that getting to the postseason isn't good enough. The Diamondbacks have an eye on the state tournament, and they believe postseason performances from some regular-season record-setters could get them there.
Senior Elsy Guzman had a team-record 48 RBIs. Senior Meagan Anders scored 55 times, a team record. And Sophomore Ruby Martinez set a team record in on-base percentage, bringing a .684 mark into the last game of the season.
"I've been working on trying to get a team record lately," Anders said. "I've only had (eight) home runs (since) my freshman year, so I was trying to get something else, and runs kind of happened to be there."
As a team, the Diamondbacks set school records in batting average, runs, hits, RBIs, triples and homers. Their pitching staff allowed only 3.33 runs per game.
"We've been trying a lot to push ourselves to be better, and to break those records," Guzman said. "I've struggled a lot the past four years, so to have a really good senior year was really good."
Desert Oasis has never won a league title, much less a state one. The Diamondbacks' opponent on Tuesday has eight league titles, six region titles, four state titles and has not missed the playoffs in the school's 18-year history.
No matter. The Diamondbacks are ready.
"Last year we came up and we beat them for the first time in school history," Guzman said. "So we're excited to do that again and beat them."
More Preps: Follow all of our prep sports coverage online at nevadapreps.com and @NevadaPreps on Twitter.
Contact Justin Emerson at jemerson@reviewjournal.com or (702) 387-2944. Follow @J15Emerson on Twitter.