Recruiting Game: NCAA toughens academic standards, says '2.3 or take a knee'
August 24, 2016 - 11:17 pm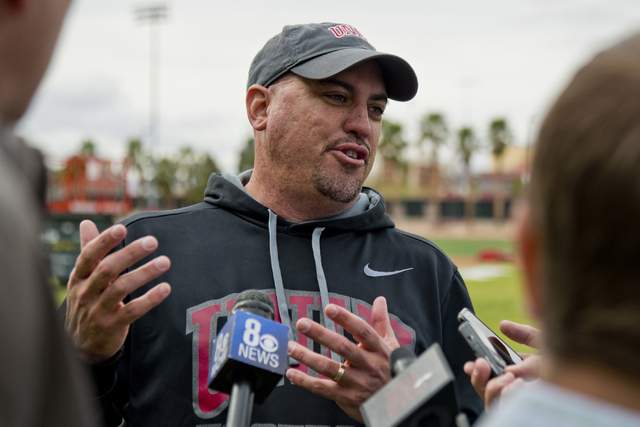 Tom Brady won't be the only athlete taking a knee to start this season. Countless college-bound student-athletes who can't meet the NCAA's new, tougher initial eligibility requirements that took effect Aug. 1 will be joining the New England Patriots quarterback on the sidelines.
To be eligible for a scholarship and compete as a freshman at a Division I school, prospective student-athletes must now carry a minimum 2.3 core GPA — up from 2.0 — and have either an ACT sum score of 75 or SAT score of 900 on the NCAA's sliding scale. The higher the GPA, the lower the corresponding ACT or SAT score needed on the full qualifier sliding scale.
The NCAA promoted the change with the catchphrase "2.3 or take a knee," and a website, 2point3.org, but many incoming college football players and other Division I athletes won't play this season because of the higher GPA standard, said David Wedley, UNLV's director of student-athlete academic services.
"That's a big jump. It doesn't necessarily sound like a big difference, but it's definitely going to come into play this fall," Wedley said. "Some guys around the country probably aren't going to make it or will have to academically redshirt, for sure."
Recruits with a core GPA from 2.0 to 2.299 are now classified as an "academic redshirt" by the NCAA and may receive a scholarship and practice but not compete during their freshman year. That is, if a coach decides to take a chance on giving a scholarship to an athlete who might not be able to handle the rigors of college academics.

"We want to recruit kids that want to get degrees," UNLV football coach Tony Sanchez said. "It's great when you recruit a guy who struggles a little academically and you teach him how to do things the right way and you watch the kid be successful. But we can't recruit 20 of them. We don't want that type of locker room, either.
"One of the big things, too, is the way a kid attacks the academic environment says a lot about the kind of person he is and the way he was raised. We want guys that really understand being a college football player is a vehicle toward an education. And we want him to understand that coming in."
Desert Pines High School football coach Tico Rodriguez, whose team is loaded with Division I recruits, told the Review-Journal last year he had already noticed the impact of the new requirements when college coaches visited the school.
"If he's not a qualifier, they're not going to waste their time," Rodriguez said. "I see that's the new trend. They want to minimize their risk, giving a kid a scholarship and he can't do the work and he's back in six months."
Along with the new GPA standard, students also must now complete 10 of their 16 core courses before their senior year of high school and seven of the 10 must be in English, math or science.
Those 10 courses are then "locked in" to a student's transcript and can't be repeated in their senior year in a late effort to improve a student's core GPA.
"They want students focused on academics all four years," Wedley said.
Complicating matters, while the NCAA changed its standard to a 2.3 core GPA, the Nevada Interscholastic Activities Association rules still only require student-athletes to maintain a minimum 2.0 GPA to be eligible to play sports.
"It's a big difference," Bishop Gorman boys basketball coach Grant Rice said. "You could get C's throughout your high school career and be eligible for high school sports, and then you come your senior year and find out, 'Uh-oh, I'm not going to make it to college.'
"That's a shame, and I think that 2.3 GPA, it gives them a little wake-up call that, hey, just staying eligible for basketball or football or whatever sport you're playing is definitely not enough."
Further complicating matters, depending on which college a recruit aspires to attend, even the NCAA-mandated 2.3 GPA might not be good enough. For example, freshman applicants at UNLV are required to earn either a 3.0 core GPA, a ACT composite score of 22, a SAT score of 1040 (if taken before March) or a SAT score of 1120 (if taken in March or after).
Prospective UNLV students who fall short of the standards still can earn admission by presenting their case to the Alternate Admission Committee. Interested students are asked to submit a personal essay, two letters of recommendation and their ACT and/or SAT scores.
However, Wedley said, UNLV this year will begin restricting the number of students allowed to pursue that path.
"We're trying to become more competitive with (UNR) and how many they let in," he said. "We're becoming very exclusive with how many are selected and how many we allow in."
The new NCAA standards apply to student-athletes in every sport. But critics such as the National Association for Coaching Equity and Development — a group of minority college basketball coaches formed last year and led by Memphis' Tubby Smith, Georgetown's John Thompson III and former Georgia Tech coach Paul Hewitt — believe the requirements disproportionately target men's basketball and football players.
According to a 2012 report by the NCAA, 43.1 percent of men's basketball players, 35.2 percent of football players and 15.3 percent of all Division I student-athletes who competed as freshman in 2009-10 would not have qualified under the new requirements.
Contact reporter Todd Dewey at tdewey@reviewjournal.com or 702-383-0354. Follow him on Twitter: @tdewey33