Recruiting Game: Process fulfilling but stressful for Centennial's Troy Brown
August 23, 2016 - 10:18 pm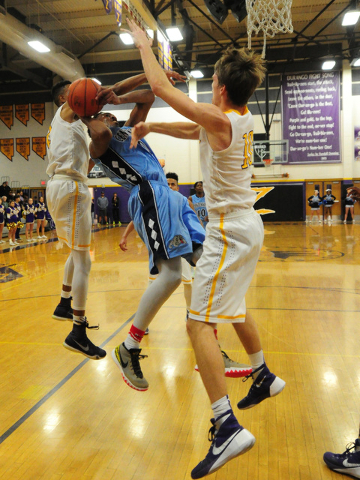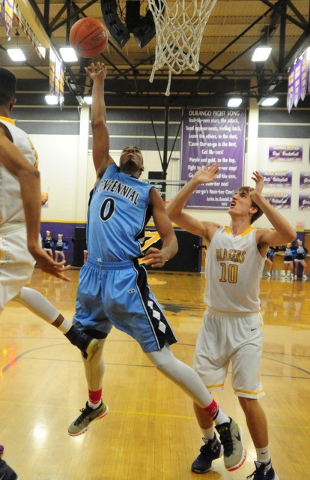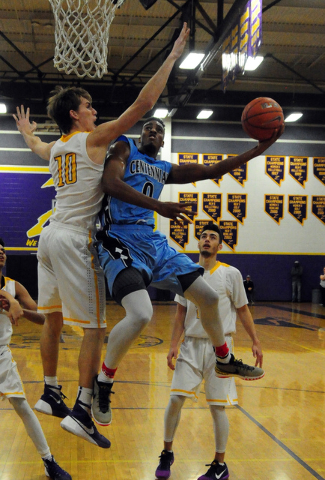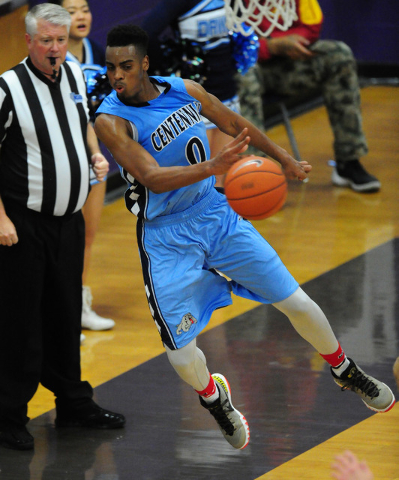 Troy Brown Jr. put on his headphones one day last winter and started running toward his friend's house.
The 20-minute trek usually provides Brown with a respite from his busy schedule, and it's one of his favorite ways to maintain his fitness during the season.
But this time, Brown, one of the nation's top basketball prospects in the class of 2017, received a phone call before he could even reach West Alexander Road.
"My first instinct is that I'm not answering this. I'm working out," Brown said. "But, it's a college coach, so I feel like I owe him."
Brown engaged in a bit of small talk with the recruiter as he continued running. Eventually, the rising senior for Centennial's boys basketball team tried to politely end the conversation.
It didn't work.
"I'm trying to give him the hint like, 'Hey, I'm working out,' and he's like, 'That's great to hear. I'm glad you're always working out …'" Brown said. "I ended up talking to him the whole way to my friend's house."
Brown has been drawing interest from college coaches since his freshman season, making for a hectic and longer-than-normal recruiting process.
He's endured a deluge of mail, phone calls and text messages during the past three years and will continue to do so until November, when Brown is expected to sign a letter of intent with one of eight schools.
Along the way, Brown and his family learned there's more to recruiting than they ever imagined.
"It's one of those things that you'd rather have than not have, but it's way more stressful than people think it is, honestly," Brown said. "It's been a fun ride, that's one thing I'll give it. I got the full experience of it, and I thank God for that, that I've seen every piece of it, so I know the ups and downs. Certain stuff doesn't bother me anymore, and I can just go play basketball."
Brown hadn't even stepped on the court for Centennial when he received his first scholarship offer from former UNLV basketball coach Dave Rice in October 2013, a moment that brought the 14-year-old to tears.
The following summer, Brown shined at the Nike Top 100 camp in St. Louis, and his recruitment took off. He picked up early scholarship offers from schools such as Duke, Kansas and Louisville and was ranked as the top point guard in his class and a five-star prospect by several internet scouting services.
"I was somewhat surprised just how quickly things started to happen after that top 100," Troy Brown Sr. said. "It started happening really fast, and at that point I realized I'm going to have to do some damage control around here when it comes to him taking on too much. That's when it really hit that I'm going to have to turn into Dad now."
Brown's oldest sister, Janae, was a thrower for the UNLV track and field team, and his sister Jada is a senior forward on Kansas' women's basketball team, but Troy Jr. received more recruiting mail than the two combined. (He confessed he stopped opening the letters after a while.)
And it wasn't only colleges that the Browns were hearing from at the time.
"I remember it really heated up his sophomore year, the calls from prep schools from all over the country," Brown Sr. said. "The different AAU teams reaching out, 'Is he happy where he's at?' Lots of those types of questions."
Since last summer, the majority of Brown's contact with recruiters has come via phone calls, texts or social media.
NCAA rules permit men's basketball coaches to call and text recruits starting June 15 following their sophomore year. Brown Jr. said that often means responding to texts from coaches when he's hanging out with friends (or jogging to their house), while the calls to the family's home continue well into the evening.
"I don't know how many times we'll be sitting in the living room trying to watch a movie or something and the phone rings," Brown Sr. said.
Brown Jr. admitted there were times he felt overwhelmed by the process, but he remained committed to taking his time. He had 20 known scholarship offers and finished playing with the Las Vegas Prospects travel program before he released his final eight schools on July 28, which was his 17th birthday.
A little more than a week later, he announced on Twitter he would make official visits to Ohio State (Sept. 2 to 4), Alabama (Sept. 9 and 10), Oregon (Sept. 23 to 25), Kansas (Sept. 30 to Oct. 2) and Georgetown (Oct. 5 to 7).
Brown Jr. previously made unofficial visits to Arizona, California and UNLV, his other finalists.
"For his style of play and for who he is, could his list get any better?" said Las Vegas Prospects coach Anthony Brown, who is not related to Troy. "I'm really proud and really impressed about the approach to recruiting and how everything has been handled. It wasn't about the biggest schools. It was about the right fit.
"That was really impressive that Troy himself put that out early, that that was important to him is the right fit and his relationship with the head guy. That's unique, where some kids just want to go to the biggest school possible, Troy is saying I want to go to the right fit."
Brown Jr. is ranked No. 10 overall by Rivals.com, No. 11 by Scout.com and No. 28 by ESPN.com in the class of 2017. He said he grew to 6 feet 7 inches tall, and some scouting sites now list him as a small forward or shooting guard rather than point guard.
Brown Jr. played multiple perimeter positions for the gold medal-winning USA Basketball U17 team this summer, but said he will use his official visits to find out which schools are serious about utilizing him at point guard.
The early signing period starts Nov. 9, and Brown Jr. hopes he's able to finally put an end to the whirlwind of recruiting that's lasted throughout his high school career.
"My takeaway from it, I would say always have people that will support you around, especially your family," Brown Jr. said. "That's my biggest thing.
"Through everything I've gone through, my parents and my sisters and everybody has always just been really good through the process, and they've always treated me the same. That's one thing I've appreciated."
Contact reporter David Schoen at dschoen@reviewjournal.com or 702-387-5203. Follow him on Twitter: @DavidSchoenLVRJ