Recruiting Game: Satellite camps up ante for exposure
August 27, 2016 - 10:57 pm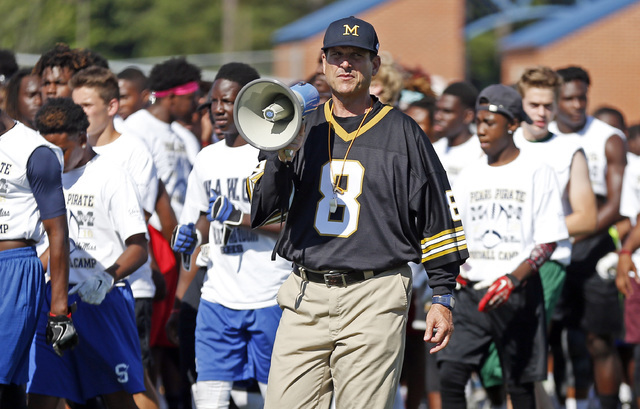 He's a different cat.
That was former UNLV football coach Jeff Horton's polite way of describing maniacal Michigan coach Jim Harbaugh, who shook up the world of college football recruiting this summer with his unprecedented 39-stop, 22-city satellite camp tour that landed at Chaparral High School in late June and included an appearance in Australia.
Other coaches, especially those in the Southeastern and Atlantic Coast Conferences, have surely used much stronger language to describe Harbaugh, who first drew their ire in 2015, when he pushed the satellite camp boundaries with a seven-state "Summer Swarm" tour deep in the heart of SEC and ACC country.
"He's obviously changed the landscape a lot," said Horton, now San Diego State's offensive coordinator.
In response to protests by the SEC and ACC, which have repeatedly criticized the camps for being nothing more than a recruiting tool, the NCAA Division I council on April 8 banned satellite camps — which allow coaches to serve as guest instructors at clinics hosted by other schools.
However, the NCAA Division I Board of Directors reversed the ruling on April 28, paving the way for Harbaugh to expand the Michigan brand while infuriating Alabama coach Nick Saban, who went on an unprovoked tirade against the camps shortly after the ban was lifted despite the fact that the SEC and ACC also rescinded their own bans.
"This is the wild, wild West at its best because there's no specific guidelines relative to how we're managing or controlling this stuff," Saban said. "I'm not blaming Jim Harbaugh. I'm not saying anything about it. I'm just saying it's bad for college football."
When the board overturned the ban, they gave the council until Sept. 1 to make recommendations on improving the entire recruiting model, including satellite camps.
Five coaches — Horton, UNLV's Tony Sanchez, UNR's Brian Polian, San Jose State's Ron Caragher and Brigham Young assistant Ed Lamb — weighed in on the subject.
While none of them want to ban the camps, each coach would have no problem with limiting the camp schedule in June — which is outside the traditional recruiting calendar and the time when tired coaches typically start taking vacation time to refuel for the season.
"I think it's getting oversaturated," Horton said. "We go out all of April and half of May evaluating players. If you're doing your job, then I don't know why we need so many satellite camps.
"I think it'll get legislated down to where you can only have five of them."
Sanchez, who attended satellite camps this summer in the Rebels' recruiting hotbeds of Houston, Los Angeles, Utah and Hawaii, would prefer to have regional combines that all coaches could attend.
"We're much more regional in our recruiting," he said. "I think next year legislation comes down that makes it more practical. I'm hoping there's a proposal for combine sites to give the players what they need and the universities what they need."
Caragher is in favor of restricting camps to the state in which each school is located.
"First of all, going cross country is not even in our budget to be able to do that," he said. "But the fact we're a California school, I'd like to have a camp in Los Angeles or San Diego or Sacramento so that those young prospects or campers who have an issue with travel costs can make the 10-minute drive to our camp instead of a nine-hour drive to San Jose."
Lamb, a former Southern Utah coach, was a guest at the Chaparral camp — one of seven he attended for BYU — that featured every Michigan coach (about 20) except for Harbaugh and attracted more than 100 prep players on a sweltering night.
"There are definitely ways we can be more efficient, but just cutting out satellite camps as a whole is not a good idea," Lamb said. "They're amazing opportunities for these players, not just for evaluation but to improve in the sport they love."
Polian, whose staff attends camps across the country, was the most passionate about the subject while holding court at the Mountain West football media days at The Cosmopolitan of Las Vegas in late July.
"This whole thing is much to do about nothing anyway. It's the SEC not wanting Power 5 teams to come in and sell their brand in their footprint. That's what this whole thing is about," Polian said. "If you really want to boil it down, it is good for the student-athletes. When one kid can pay $25 and work out in Fresno, California, and have 10 schools there, tell me how that's bad for the student-athlete. It's not.
"In the last three years, we've probably signed 15 kids we've discovered in these camps. Who's to say that that kid would have the opportunity if we weren't allowed to go there? So what's the happy medium? I've tried to get this to get legs, but I'm not in a position to get people to pay attention.
"If you don't want Jim Harbaugh in Alabama? That's fine. You don't want to justify 70 cities in 31 days, OK. I understand that. Every university ought to be able to (attend) camps off campus in their own state. We should be allowed to come to Vegas for a night and have an event for Vegas kids to come work out for our coaches. That's an eight-hour drive. It gives kids in our home state an opportunity."
Polian also thinks the Power 5 schools should allow Group of 5 schools into their camps, which usually attract hundreds of kids hoping to earn scholarships.
"If you want to stop the traveling circus, OK," he said. "But a Group of 5 (school) should be allowed to go to a Power 5 camp if invited because all that does is help the kids, and that's where the compromise should be."
As for Michigan's controversial tour, Sanchez said it was less about recruiting than making a statement, and Polian agreed.
"A lot of this stuff is posturing and ego, and it has nothing to do with recruiting," Polian said. "To be honest with you, the Michigan camp, how many guys are they really recruiting that they're discovering at the satellite camp? Maybe one.
"What it really was in my estimation — I don't want to speak for coach Harbaugh — was, 'Let's get the block M out again all over the country. Let's make the block M a national brand again. And let's take our coaches and give kids an opportunity to work with big-time coaches.' I don't disagree with that."
Contact reporter Todd Dewey at tdewey@reviewjournal.com or 702-383-0354. Follow him on Twitter: @tdewey33.