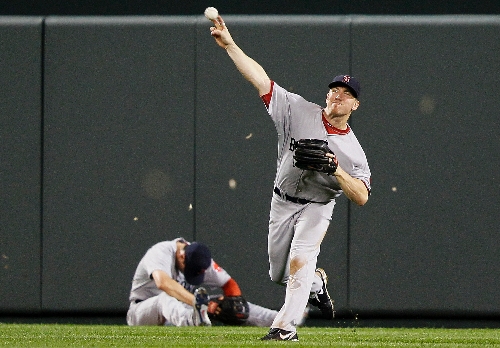 BALTIMORE — The Boston Red Sox have finally fallen all the way back to the pack, and now they've got only two games left to make it right.
The Red Sox found another way to lose, this time on a broken-bat single and an inside-the-park homer, and their 6-3 defeat against the Baltimore Orioles on Monday night dropped them into a tie in the American League wild-card race.
Boston's 17th loss in 22 games enabled Tampa Bay to pull even in the duel for the league's final playoff spot. The Rays, who beat the New York Yankees 5-2, trailed by nine games after play on Sept. 3.
The Red Sox had either stood atop the AL East or led the wild-card race every day since before play on May 24.
In spite of the epic collapse, Boston can squeeze into the playoffs by winning its last two games. Then, at worst, the Red Sox would face the Rays in a one-game playoff in St. Petersburg, Fla.
"We win every game, we're in the playoffs," right fielder Adrian Gonzalez said. "It's definitely in our hands."
Problem is, Boston hasn't won two in a row since August.
"We've backed ourselves about as far as we can go," manager Terry Francona said.
With the score 2-all in the sixth inning, Boston starter Josh Beckett (13-7) allowed four runs in an uprising that began with Vladimir Guerrero becoming the career hits leader among Dominican-born players.
Guerrero broke a tie with Julio Franco by bouncing a single up the middle, his 2,587th career hit. Guerrero then stole second base, and after a two-out walk to Mark Reynolds, Chris Davis broke his bat hitting a soft liner to right that brought home the go-ahead run.
Robert Andino followed with a deep fly to center that Jacoby Ellsbury had in his glove before crashing into the wall. Andino sprinted around the bases and made it home as the relay throw bounced past catcher Jarrod Saltalamacchia.
Boston loaded the bases with one out in the eighth, but Pedro Strop struck out Saltalamacchia and retired Marco Scutaro on a grounder.