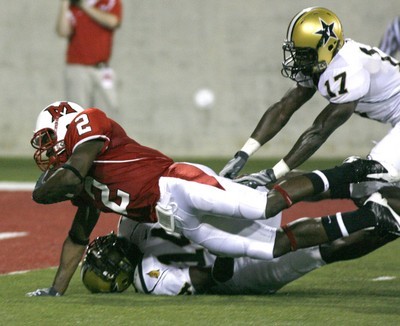 Michigan is making major changes this year under new coach Rich Rodriguez, and those changes might be slow in coming.
Switching to the spread offense will take time, so expect growing pains as the Wolverines search for the right fit at quarterback. Rodriguez went 3-8 in his first season at West Virginia before turning things around. He inherited a Michigan team that lost a wealth of offensive talent.
The Wolverines, reeling from a season-opening loss to Utah, are 141/2-point home favorites over Miami (Ohio) today, and the underdog RedHawks are one of my best bets.
Miami's 34-13 loss to Vanderbilt last week doesn't seem as damaging after the Commodores' shocking victory over South Carolina on Thursday. The RedHawks, led by quarterback Daniel Raudabaugh, had two extra days to prepare for this game and will make Michigan struggle to get its first victory under Rodriguez.
Other selections for today's games (Home team in CAPS):
• BOWLING GREEN (-5) over Minnesota: In the Midwest, Big Ten schools recruit most of the top-notch athletes with Mid-American Conference schools scurrying for the leftovers. This game features an exception to that rule.
Falcons coach Gregg Brandon was Urban Meyer's offensive coordinator when Meyer was at Bowling Green. Brandon is 39-24 in his sixth year.
Minnesota's program has regressed from an average Big Ten team into the conference doormat. Last week, the Gophers needed a touchdown in the final minute to avoid an embarrassing home loss to Northern Illinois. Now they must go on the road. The Falcons, who upset Pittsburgh last week, get a rare shot to host a Big Ten opponent and will make the most of it.
• Ohio (+341/2) over OHIO STATE: The Buckeyes have a showdown against top-ranked Southern California next week. Star running back Beanie Wells is out for this game with a toe injury. Although Ohio State coach Jim Tressel has shown a tendency to cover these big point spreads, his main concern will be to escape injury free.
• Oregon State (+151/2) over PENN STATE: This will be the first meaningful start for Penn State quarterback Daryll Clark. A 66-10 rout of Coastal Carolina was little more than a scrimmage for the Nittany Lions last week.
Penn State's assignment grows more difficult considering it suspended three players, including defensive end Maurice Evans and tight end Andrew Quarless.
Oregon State opened with a loss to Stanford, but Lyle Moevao threw for 404 yards, including 157 yards to big-play receiver Sammie Stroughter.
• Unlv (+22) over UTAH: The Rebels went 2-10 last season, and their high point was a 27-0 thumping of a banged-up Utes team that saw a heavy dose of Frank "The Tank" Summers.
This is a make-or-break season for UNLV coach Mike Sanford. In the first conference game for both teams, expect the Rebels to rely heavily on "The Tank" and cover the big number.
• TEXAS-EL PASO (+27) over Texas: This is the first time the Longhorns have played at UTEP, and these schools have not met since 1933. Two years ago, Miners coach Mike Price called a home game with Texas Tech "the biggest game in school history." In a spirited effort, UTEP lost 38-35 in overtime.
It's doubtful the Miners can put a scare into Texas like they did Texas Tech, but UTEP can stay within the number.
Barry Holthaus, a handicapper for VegasInsider.com, is providing college football analysis for the Review-Journal this season. He can be heard on the Leroy's Sports Hour at 10 p.m. every Saturday on KLAV-AM (1230).