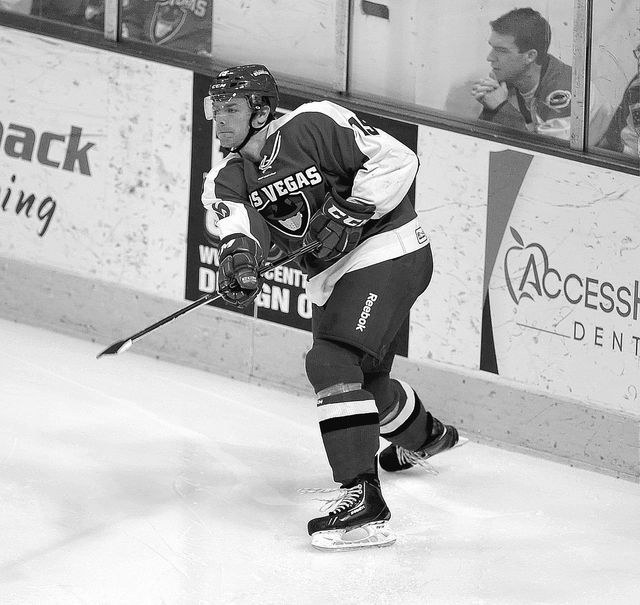 Less than a year after graduating from Harvard with a bachelor's degree in economics, Wranglers defenseman Brendan Rempel is dealing with the economic challenge of living on about $550 per week, the average ECHL salary.
"It's a case study," Rempel said jokingly. "It's going all right. I'm getting my little nest egg going. I'm trying to save up for the summer."
While many of his fellow Harvard graduates have embarked on lucrative careers in finance and other fields, Rempel chose to pursue his passion.
"My first dream was to be a hockey player," he said. "I would never be able to live with myself if I didn't see that through."
Rempel is reminded often of his Harvard pedigree by way of good-natured ribbing from his teammates, who include fellow Ivy Leaguers Charlie Cook (Cornell) and Robbie Smith (Dartmouth).
"He gives it to me as much as he can," Rempel said of Smith, whose Big Green team eliminated Rempel's Crimson squad from the Eastern Collegiate Athletic Conference playoffs in 2011.
"If I slip in any way whatsoever, I can expect them to say, 'Hey, Harvard!' just to be funny," Rempel said. "They're all good about it."
After compiling a goal and 10 assists in 81 games over four seasons for the Crimson, the 6-foot-3-inch, 220-pound Rempel made his pro debut last season for Trenton (ECHL).
He played for Evansville and South Carolina this season before getting traded to Las Vegas in late January for future considerations.
"We were looking for a big, strong, simple defenseman who doesn't get beat, and he's been great," said Wranglers coach Mike Madill, who played in the ECAC for St. Lawrence.
The conference also features Ivy League schools Yale, Princeton, Brown and Cornell.
"Hockey players who are smart enough to get in those schools are very lucky," Madill said. "They have something amazing to fall back on."
Rempel's parents — only one of whom, his father, an electrical engineer, graduated from (community) college — always encouraged their son to get a top-notch education.
"I always knew I wanted to go to a good school. It's something my parents drove home from a young age," said Rempel, 22. "They always stressed how important it was. The rule was, 'You can go play with your friends after you finish your homework.'
"I always used hockey as a gateway to get a good education."
A Willington, Conn., native, Rempel first skated at age 3 on the rink in front of New York City's Rockefeller Center and fell in love with the sport while skating on the University of Connecticut's then-outdoor rink.
He spent his senior year of high school in Ann Arbor, Mich., where he played in the U.S. National Team Development Program.
"It taught me a lot about my skill set and the mental game you need to have in order to be successful," said Rempel, a stay-at-home defenseman.
One of Rempel's teammates in the USNTDP was Las Vegan Jason Zucker, the Minnesota Wild forward who is the first player from Nevada to play in the NHL.
Together, they helped lead the U.S. to the Under-18 world title in 2009.
Rempel, who chose Harvard over Boston College and Boston University, enjoyed only one winning season in his Crimson career. Things haven't improved much with the Wranglers (13-34-6), who won for the second time in 14 games in Saturday night's 3-1 win over Idaho at Orleans Arena.
"It's a struggle, but it's good at the same time to see what you're made of and how you can better yourself despite the situation," he said.
Rempel hopes to establish himself as a solid player.
"I want to make a name for myself and prove to myself and the coaches who have given me a chance that they made the right decision," he said. "That I can play in this league."
As for the future, he still has his sights set on the NHL.
"I don't think it would be bad to be optimistic," he said. "I want to pursue hockey until I feel I've given it my best shot. I don't want to live with regret."
Despite his Harvard education, Rempel said he's anything but a cerebral player on the ice.
"Keep it simple, stupid, is my motto, basically," he said.
Contact reporter Todd Dewey at tdewey@reviewjournal.com or 702-383-0354. Follow him on Twitter @tdewey33.