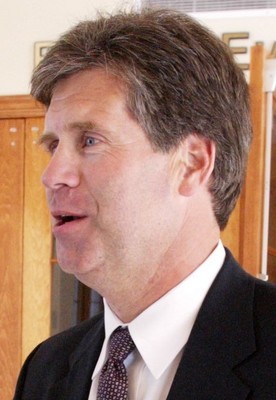 Nick Sheridan didn't know he would start at quarterback for Michigan in Saturday's opener until two days before the game.
He might not have to endure the drama again.
During the Wolverines' 25-23 loss to Utah of the Mountain West Conference, Sheridan struggled with rookie Michigan coach Rich Rodriguez's spread offense and was replaced by Steve Threet in the third quarter.
No starter has been named for Saturday's game against Miami of Ohio.
And both might have a one-year run — at most — as the signal-caller anyway.
The performance at quarterback — or lack of it — for Rodriguez helped to produce at least some good news for fans of the Maize and Blue.
Tate Forcier, the nation's No. 6-ranked dual-threat high school quarterback from San Diego, saw enough of the game to commit Sunday to attend Michigan next year.
"There's a lot of things I saw from the sideline, even though I know it's not the same from the sideline," Forcier told Rivals.com.
"All I can say is that offense isn't for them, but it's tailor-made for me."
• HAMRICK TRIPLE — Saturday was one of the best football season-opening days for UNLV athletic director Mike Hamrick, if not his best.
First, East Carolina — where Hamrick was AD for eight years before coming to UNLV in 2003 — upset No. 17 Virginia Tech, 27-22.
Then his alma mater, Marshall, shut out Illinois State, 35-0.
The perfect day concluded when his Rebels whipped Utah State, 27-17.
What were the odds of that trifecta?
• WANT JUICE? — The 21-year-old son of Roger Clemens and two teammates with the Salem Avalanche minor league baseball team were arrested and briefly jailed early Sunday after a disturbance at a restaurant in Salem, Va., according to a report in The Roanoke Times.
Koby Clemens and Mark Ori were arrested and charged with disorderly conduct after police were called to a restaurant parking lot. Jimmy Goethals was arrested and charged with assault and battery.
Could the cause of said ruckus have been a waitress asking the young Clemens if he wanted some "juice" — of course meaning orange or tomato and not the steroids his father is accused of injecting?
• POT THICKENS — ESPN's Chris Mortensen cited sources when he said Miami Dolphins running back Ricky Williams got a one-year contract extension through 2009 with a high raise to come.
Deadspin.com added that Williams, who has a history of marijuana use, guesses the raise "involves large quantities of foliage in medium-sized sandwich bags."
"One could argue that (Miami vice president of football operations Bill) Parcells has needed to mellow out for quite some time. Who in the league, then, would be better suited for the job (than Williams)?"
COMPILED BY JEFF WOLF REVIEW-JOURNAL