Ride 2 Recovery returns to Las Vegas next week
January 24, 2017 - 9:41 pm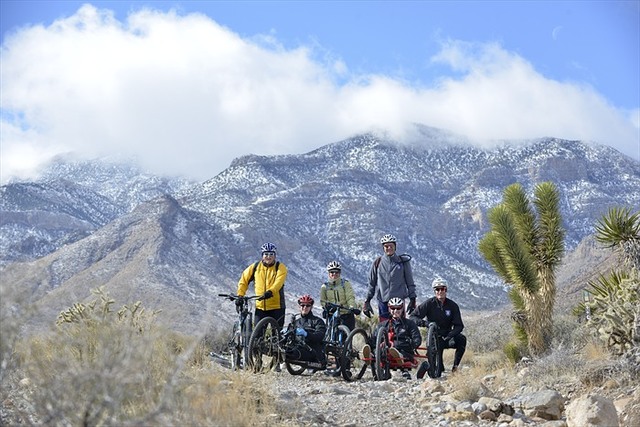 The last time Andrew Nash participated in a Ride 2 Recovery event, he rode about 10 miles.
Next week, the veteran will tackle the Project Hero 2017 Las Vegas Mountain Bike Experience from Monday to Feb. 1, and he's expecting a much more grueling experience.
"I'm going to imagine that (10 miles) each day times a couple days, and I've never really done it off road before," Nash said. "It's going to be a little different from what I've done before."
But Nash and about 39 other veterans are up for the challenge.
The event, which will start and finish at McGhie's Bike Outpost, will take riders through the Red Rock Conservation Area and is free to injured and wounded veterans as part of Ride 2 Recovery, which John Wordin founded in 2007.
It started with a trip to the Palo Alto (California) Veteran Administration, where Wordin said they were interested in alternative therapy.
"I went up and visited and saw what they were doing and saw that there was a big need particularly for adapting bikes so that warriors with physical injuries could ride together," Wordin said. "We could get them all riding in a group, and I thought that would be a great way to affect a positive impact, and it was just tremendous the response that I got."
Wordin, a cyclist himself, said a therapist at the VA had wanted to set up a cycling program and didn't know exactly how to do so.
The therapist reached out to him for his cycling expertise, and the program took off.
Shortly after, Wordin got hooked up with therapists at the Walter Reed Army Medical Center in Washington, D.C., and in March 2008, he took 10 guys to Rock Creek Park "to show the folks there, show the guys that this cycling program could be really cool," he said.
Since then, Ride 2 Recovery has spread all around the country.
It attracts serious and nonserious cyclists, young and old. Nash, who has been out of the military since July 2015 after serving about 10 years, said there's a group of cyclists in Las Vegas that ride every Saturday.
He said there's about 12 to 15 regulars.
"A lot of these guys love bike riding. It's their life, but at the end of the day, I think it's about all of us being together," Nash said. "Some of us … don't like to go out or we're not around people that much. (This is a) one time or once a weekend type deal where we can just be around other people and kind of let your guard down and be comfortable."
Nash isn't the most competitive cyclist in the group, but he said the program gets him out of the house every week, and it builds a sense of community for the veterans.
"Honestly it gets me out of my house and around people," Nash said. "I'm a combat wounded vet, and I really have a hard time getting outside my house or being around people, but a lot of these guys that ride, it's not just biking that's associated or in common.
"Most of these guys are veterans or they're combat veterans. They've been through the same stuff, so that's the part that's enjoyable about it — being around like-minded people."
Contact Betsy Helfand at bhelfand@reviewjournal.com. Follow @BetsyHelfand on Twitter.
CALENDAR
Saturday: Happy Hour Run – 5K run, Las Vegas
Feb. 4: Super Run – 5K run, Las Vegas