Riess the 'Beast' wins World Series of Poker
November 6, 2013 - 12:42 am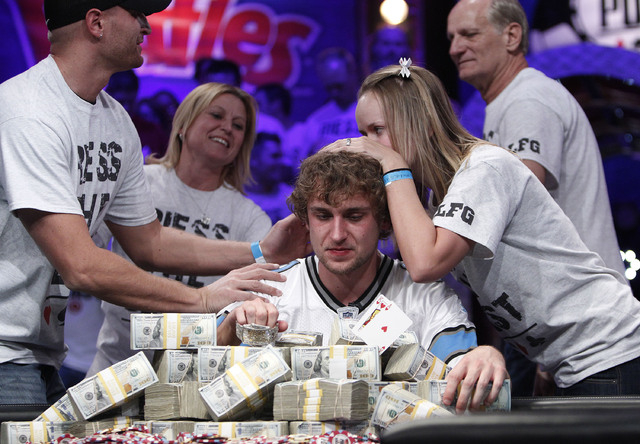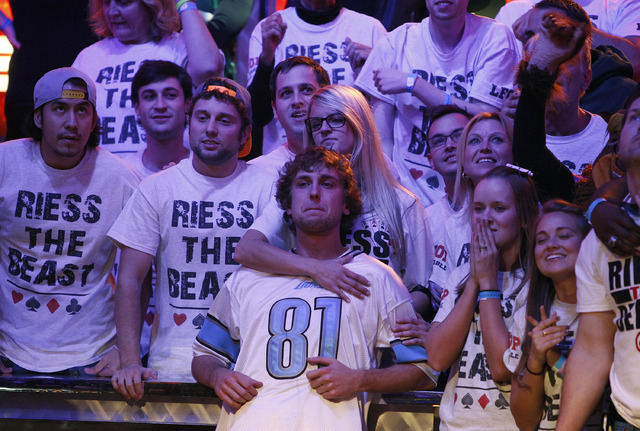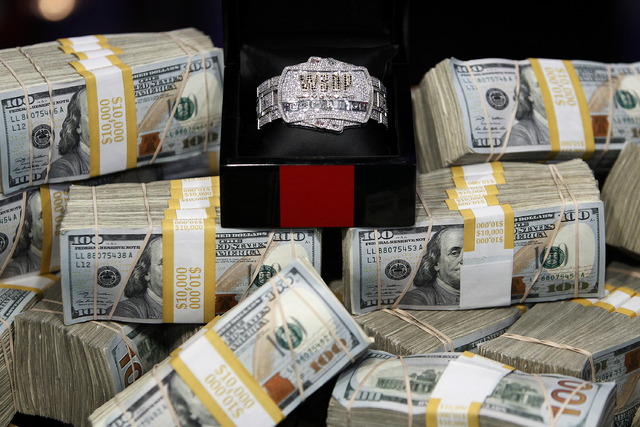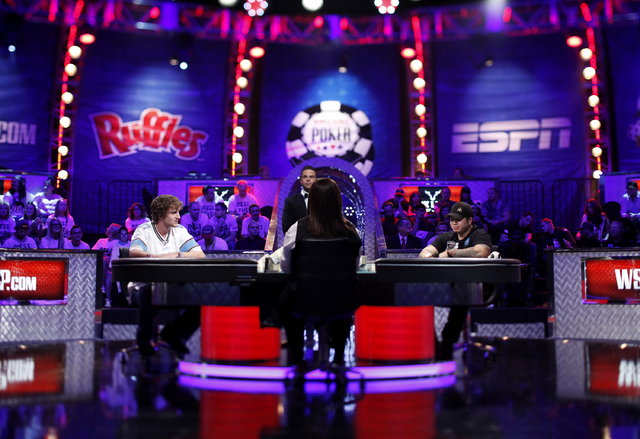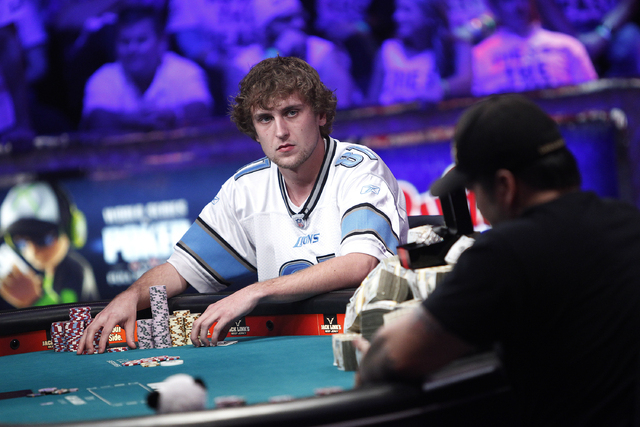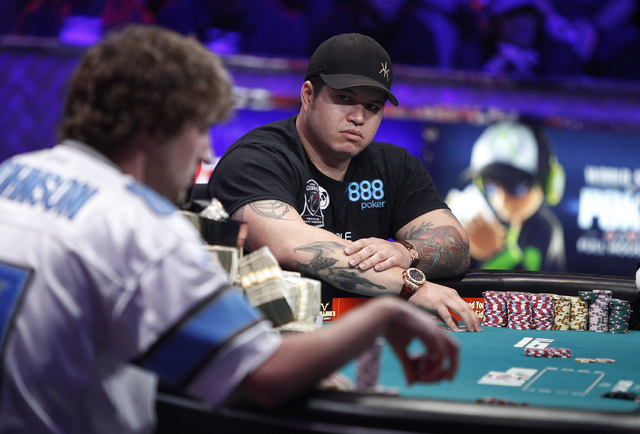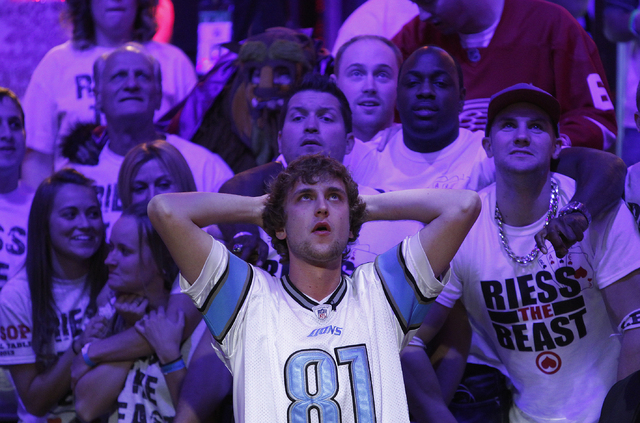 The crew from ESPN was breaking down the set late Tuesday night, and the Rio's Penn & Teller Theater was nearly empty when Ryan Riess' boisterous fans started the chant again.
It likely won't be the last time "Riess the Beast" is heard around a poker table.
Riess, a 23-year-old professional poker player living in Las Vegas, won the 2013 World Series of Poker's Main Event, defeating amateur Jay Farber in a heads-up battle that lasted nearly four hours.
"I just think I'm the best player in the world," Riess said.
Riess, who entered the heads-up showdown nearly 20 million chips behind Farber, snatched the chip lead early on Tuesday and took home nearly $8.4 million along with his first WSOP gold bracelet.
"I've been dreaming about it for a long time, ever since I was 14 and saw (Chris) Moneymaker win it," Riess said. "I just had a great feeling about it. The table was tough. Some people said it was the hardest final table, and the first day was extremely difficult. … I was extremely fortunate to catch cards, and it held. But I just had a good feeling about it."
The 44th annual WSOP $10,000 buy-in No-limit Texas Hold 'em World Championship started July 6 with 6,352 players from 83 countries, generating a prize pool of $59,714,169. The tournament culminated with the Las Vegas residents, who ran over the rest of the "November Nine" during Monday's action.
Farber, a local VIP host originally from Santa Barbara, Calif., earned $5.2 million for his first cash in WSOP tournament.
"I felt like I played well. Ryan was just a card rack all night," Farber said. "Every time I'd make a hand, he'd river a better one. So, it's really hard beat someone that's running hotter than the sun. … I knew that if I could ever catch a hand I could beat him."
Riess ended the festivities on hand No. 261 of the final table when he called Farber's all-in bet for 14.2 million tournament chips and showed ace-king. Farber was holding queen-five, and the board didn't help the muscular 29-year-old with tattoos on both arms. Riess' rooting section mobbed the floppy-haired native of Michigan, who wore a Calvin Johnson replica Detroit Lions jersey throughout the final table.
Farber pulled off an audacious bluff early Tuesday evening, betting 24.5 million on the river with no pair and momentarily regained the chip lead. Riess took control nine hands later, winning a pot worth 58.5 million.
Farber started Tuesday with 105 million and fell to 16.5 million chips at one point, but was able to climb back into contention. Farber got Riess to call a big river bet with queen high and showed a flush to take down a pot worth 49 million chips. The win gave Farber nearly 70 million in chips, but Riess applied pressure for the next hour as Farber's chip stack began to dwindle.
"Once he got up to (70 million), I started playing a lot more aggressive," Riess said. "When he was short, I couldn't really do that. I had to play a little bit smarter. But once we got higher, I decided to turn the pace up a little bit, just grind him back down to what he had before."
Riess and Farber were responsible for all seven eliminations during the first day of the final table, which ended early Tuesday. Farber eliminated David Benefield in eighth place, then steadily built his stack before he eliminated Marc-Etienne McLaughlin in sixth place in the biggest pot of the tournament to that point.
Farber was holding pocket aces against McLaughlin's pocket kings and won 79 million chips to wrest away the chip lead.
Riess held the big stack for a large portion of Monday's action. He eliminated Mark Newhouse in ninth place, then used pocket aces to knock out Dutch poker pro Michiel Brummelhuis in seventh.
Riess, whose cheering section chanted "Riess the Beast" every time he raked in chips, was also responsible for the final two rapid-fire eliminations that abruptly ended play early Tuesday morning. Riess took out France's Sylvain Loosli in fourth place, and at 1:11 a.m., his pocket 10s held up against Amir Lehavot's pocket sevens to set up the final.
Contact reporter David Schoen at dschoen@reviewjournal.com or 702-387-5203. Follow him on Twitter: @DavidSchoenLVRJ.
WSOP LIVE BLOG
Ryan Riess wins WSOP Main Event
Ryan Riess of Las Vegas has won the 2013 World Series of Poker Main Event.
Riess, 23, defeated Jay Farber in a heads-up battle that lasted nearly four hours. The professional poker player originally from East Lansing, Mich., earned $8,361,570 and his first gold bracelet.
Riess took the chip lead early Tuesday night and never let it go. On the final hand, Farber, a 29-year-old VIP host from Las Vegas, went all in with queen-five of spades and was called by Riess, who was holding ace-king of hearts.
The board of 4-J-10-3-4 did not help Farber, who won $5,174,357.
-posted 9:30pm
Reiss regains control
Ryan Riess has regained control of the WSOP Main Event final table.
After seeing his chip lead dwindle to less than 3-1, Riess has won a series a small pots and has crippled Jay Farber.
Riess has 177,600,00 chips, while Farber is down to 13.1 million.
Riess took about half of Farber's stack, showing three 9s, in the most recent key pot.
-posted 9:26pm
Farber creeping back into contention
Jay Farber is slowly creeping back into contention at the WSOP Main Event.
Farber, who was down to 16.5 million in chips at one point, won another key pot from Ryan Riess by making a flush on the river.
Farber bet 13 million after the river on a board of K-3-2-9-3 that included three clubs. Riess called after thinking for a couple of minutes and Farber turned over 9-7 of clubs to win the pot worth 49 million.
Ryan Riess 122,800,000
Jay Farber 67,900,000
-posted 8:53pm
Farber hanging on with big chip deficit
Jay Farber staved off elimination for the second time at the WSOP Main Event.
Farber, who has seen his stack slowly dwindle for the last hour, doubled up on the 58th hand of heads-up play and now has 36.9 million in chips.
Farber, holding jack-10 pushed all in after the flop of K-5-Q for his remaining 11.9 million. Riess called with K-10, but the turn was a 9 to give Farber a straight.
Riess continues to own a huge lead, with a stack of nearly 154 million chips.
Farber went all in earlier and chopped the pot with Riess when both players were holding 10-8 and made a straight.
-posted 8:25pm
Riess applying pressure at final table
Ryan Riess continues to apply pressure on Jay Farber at the WSOP Main Event.
Farber was all in for his tournament life on the 43rd hand of heads-up play and is currently at about a 5 1/2-to-1 chip disadvantage.
Farber was all in for his remaining 37.3 million chips after a flop of 10-9-7. Both players turned over 10-8 and eventually made a straight to chop the pot.
Ryan Riess 155,225,000
Jay Farber 35,450,000
-posted 8:01pm
Riess takes commanding lead on 35th hand
Ryan Riess snagged a commanding chip lead on the 35th hand of heads-up play at the WSOP Main Event.
Riess check-called a 6.7 million chip bet by Jay Farber after the flop and check-called a 13.6 million chip on the turn.
After both players checked the river with a board of 4-8-3-2-7, Riess turned over pocket jacks to win the pot of 58.5 million chips.
Ryan Riess 136,525,000 chips
Jay Farber 54,150,000 chips
-posted 7:31pm
Farber bluffs way to lead
Jay Farber pulled off a big bluff to regain some of the chips he lost earlier at the WSOP Main Event final table.
Four hands after Ryan Riess took over the chip lead, Farber made a big raise on the turn and then led out for 24.5 million chips on the river facing a board of 3-3-7-2-9.
Riess pondered the bet for close to five minutes before folding, allowing Farber to momentarily regain the chip lead.
The ESPN broadcast showed that Farber was holding 5-6 and was essentially playing the board. Riess had queen-seven for two pair.
-posted 7:23pm
Riess takes early chip lead
After a quiet start to heads-up play at the World Series of Poker's Main Event, Ryan Riess snagged the chip lead on the 20th hand.
Riess, 23, a professional poker player from Las Vegas, won a 51.7 million-chip pot with a big bet on the river, forcing a fold from amateur Jay Farber of Las Vegas.
The board showed A-8-4-7-A.
Farber, 29, opened heads-up play in the World Series of Poker $10,000 buy-in No-limit Texas Hold 'em World Championship with a nearly 20 million chip lead.
Ryan Riess 112,125,000
Jay Farber 78,550,000
-posted 7:01pm
Related Stories:
– WSOP Blog: Las Vegas residents to battle for poker's ultimate prize
– 'November Nine' resume quest to win World Series of Poker title
– The bling: World Series of Poker bracelet sticks out