Rivalry? No, family first
September 17, 2014 - 7:53 pm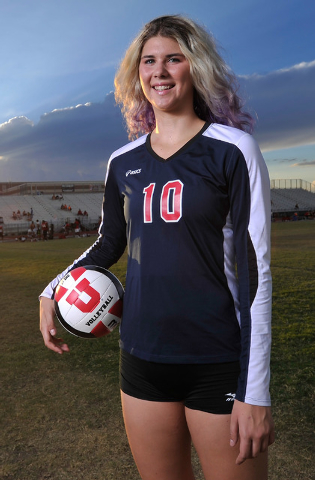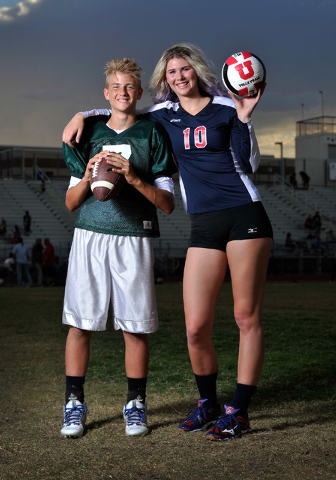 Berkeley Oblad was faced with a decision last week that tugged at both ends of her loyalty.
The senior standout for the Coronado girls volleyball team could cheer on her school in Friday's football game against Liberty. Or she could root for her younger brother, Kenyon, the starting quarterback for the Patriots.
It was an easy choice.
"Family first," Berkeley Oblad said.
Due in large part to the family's recent change of residence, the Oblads are the rare siblings playing sports this fall at different schools. And their high-profile status within two of the premier programs in the state adds a unique twist to the burgeoning rivalry between the Henderson schools.
"I always talk smack to her," Kenyon Oblad said. "I tell her how Liberty is going to beat Coronado, even in volleyball when I know they're not going to win. I constantly remind her Liberty is better.
"But I always root for her during her games."
Berkeley Oblad is a four-year varsity player at Coronado, where her dad, Jeromy, also coached freshman football. In June, the Oblads moved into the Liberty zone, forcing the family to choose between the schools.
Kenyon Oblad knew some of Liberty's players from youth football and decided to enroll there for his freshman year. The family then secured a zone variance for Berkeley Oblad, which allowed her to remain at Coronado.
The unusual arrangement has created some hectic mornings and busy afternoons for the family shuttling between practices and games.
"It is a little crazy sometimes," said Jody Oblad, Berkeley and Kenyon's mom. "We have to juggle who's picking up and who's dropping off with work, and then you throw in a 6-year-old who's at another school. But we love it. We really wouldn't have it any other way."
Berkeley Oblad, a 6-foot-4-inch middle blocker/opposite hitter, helped the Cougars capture the Division I state title last season and has orally committed to Utah. She is ranked the No. 34 recruit in the class of 2015 by PrepVolleyball.com and is a big reason Coronado (12-1) was nationally ranked in the preseason.
"Her development has been in her strength," Coronado coach Matt Johnson said. "The last two seasons, she's become much more versatile, and that came with the strength. She's definitely a big part of our offense."
Berkeley Oblad is on track to graduate early from Coronado and plans to enroll at Utah for the spring semester. The Utes lose six seniors from this year's team, meaning she has a chance to earn playing time as a freshman.
"I have family up there, and it's really like a home away from home," said Berkeley Oblad, who lived in Utah until she was 4. "I thought it would be a good idea to get up there early and train with the team if I could."
Kenyon Oblad is the leading passer in Southern Nevada with 674 yards for No. 2 Liberty (3-0) and has blended in well with many of the team's older players, according to coach Rich Muraco. Oblad struggled in a 14-13 victory over Coronado but has justified the decision to hand over the offense to a 14-year-old.
"His dad coached him a lot when he was younger and did a great job preparing him," Muraco said. "It's tough to predict the future, but obviously his genetics, if he can get even to his sister's height, he's going to be a big-time recruited kid by the time he's a senior."
Kenyon Oblad, listed at 6 feet and 160 pounds, admitted he and his older sister have a healthy rivalry. Berkeley's success on the volleyball court has served as motivation.
"She started as a freshman, and I started as a freshman," Kenyon Oblad said. "She committed (to Utah) as a sophomore, so now I'm trying to see if I can commit as a sophomore. We always have these little competitions."
Contact reporter David Schoen at dschoen@reviewjournal.com or 702-387-5203. Follow him on Twitter: @DavidSchoenLVRJ.