January 10, 2010 - 10:00 pm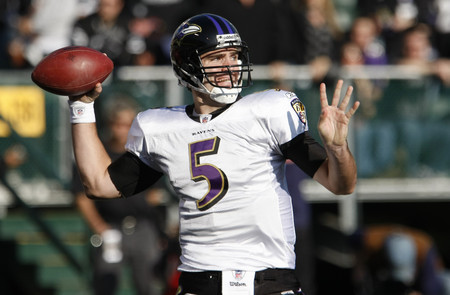 After a one-year hiatus, the New England Patriots and quarterback Tom Brady are back in the playoffs. But for how long?
The NFL postseason kicked off Saturday, and the action continues today with two potentially compelling games. Here's a preview of each matchup:
• Baltimore at New England (-31/2): The Ravens are one of the more intriguing teams for me heading into the playoffs. They gave away several games this season, either because of place-kicking blunders or penalty-riddled performances.
A handful of undisciplined efforts cost the Ravens on Dec. 27 at Pittsburgh, where they drew 11 penalties and came up short in a 23-20 loss. Baltimore had a touchdown negated and was forced out of field-goal range with another infraction.
Baltimore had similar issues Oct. 4 in a 27-21 loss at New England. The Ravens outgained the Patriots 363-319 but committed nine penalties for 85 yards and lost the turnover battle, 2-1. In the end, it came down to Mark Clayton dropping critical passes in what appeared to be a winning drive engineered by quarterback Joe Flacco.
The Patriots also have been a confounding team. At times, they could not run the ball, and occasionally their paper-thin defense was shredded. Randy Moss reportedly was pouting, although it seems that issue has been squelched. Even New England coach Bill Belichick's decisions were questioned on several occasions.
It is the postseason, though, and Brady has led the Patriots back. Brady consistently has met challenges in the playoffs, and that makes betting against him difficult.
But the bottom line for me is that Baltimore is rarely soundly beaten. If the Ravens come up short, it's because they've found a way to shoot themselves in the foot. This could be the team that gets hot at the right time and goes on a run.
Baltimore is a fashionable play now that New England receiver Wes Welker is sidelined with a knee injury. I would have backed the Ravens even if Welker were playing. Baltimore has the defense and running attack to advance.
I'm going with the underdog in this spot, but either team that advances will be no cupcake for Indianapolis or San Diego down the AFC road.
• Green Bay at Arizona (-1): Before the season, I picked Green Bay to win the Super Bowl over New England. I've just jumped off the Patriots' bandwagon, at least for this week, but remain enamored with the Packers.
If Green Bay had not taken a catnap at the end of a 37-36 loss at Pittsburgh on Dec. 20, the Packers would be entering the playoffs on an eight-game winning streak.
Aaron Rodgers has been phenomenal this season. The Packers possess big-play receivers Greg Jennings and Donald Driver, who both totaled more than 1,000 yards, and a running back in Ryan Grant who can pound out tough yards. But that's not the primary reason why I like Green Bay to win at Arizona.
The Packers' ball-hawking defense will make life difficult for Kurt Warner. Green Bay led the NFL in takeaways with 40, including 30 interceptions, and also led the league in run defense by holding opponents to 83 yards per game.
The key matchup will be a treat. Packers cornerback Charles Woodson will be stuck like glue on Larry Fitzgerald. Woodson had nine interceptions this season, and he might be the NFL's Defensive Player of the Year.
The betting public has been betting Green Bay heavily. The Cardinals opened as 21/2-point favorites, and at one point during the week, Coast Casinos had the Packers minus-1.
Arizona was last season's playoff darling, coming up just short in the Super Bowl against the Steelers. The Cardinals, from the weak NFC West, would have been hard-pressed to not make the postseason.
Anquan Boldin is nursing a sore ankle that he injured last week, and that could limit the Cardinals' passing attack. Warner is the X-factor, with his experience giving Arizona an opportunity against an aggressive Green Bay defense. I'm more inclined to think Warner constantly will be harassed and in for a long afternoon.
Who wouldn't want to see the Packers play the Minnesota Vikings and Brett Favre for a third time this season? The NFL always seems to find a way to produce the Hollywood script.
Brian Blessing, project manager for Las Vegas Sports Consultants, can be reached at bblessing@lvsc.com. Listen to the LVSC oddsmakers on "Sportsbook Radio" weekdays at 3 p.m. on ESPN Radio (1100 AM) and Sirius 98.