Rock 'n' Roll Las Vegas Marathon embraces quirky elements
November 10, 2016 - 11:33 pm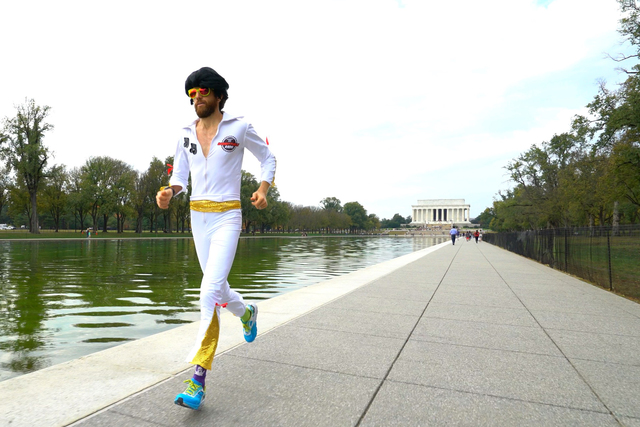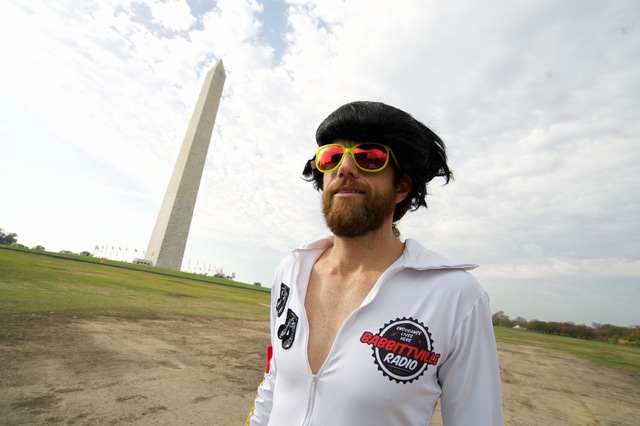 Cicely Vivers was racing in Las Vegas five years ago when she passed the run-thru wedding.
"I just thought it was the coolest thing, and I just remember thinking at the time, 'Man, I'm never going to find someone that would want to do that with me,'" she said.
A month later, she met her fiance, David Sapp, and Sunday the two will get married as they run the Rock 'n' Roll Las Vegas Half Marathon.
The run-thru wedding is one of the more unique features of the marathon, which, for all its quirks, is unlike any other.
"It masquerades under the guise of a world-class running event, but really it's a 26.2-mile mobile party," event organizer Dan Cruz said. "Unlike most marathons, this race is the one that takes place at night, which certainly lends itself to all sorts of nontraditional elements."
On Sunday, before the races begin, there will be a Snoop Dogg concert for marathon and half marathon participants and then entertainment throughout the course.
"It's really everything on the marathon upside down," Cruz said. "Most marathons, they kind of advise you to stay off your feet the day before and rest before the big race, whereas in Las Vegas, people are going to the night club on Saturday night. They're going to be out until all hours of the night. They're going to be watching Snoop Dogg, so it's kind of counterculture to the old school, if you will, marathon preparation."
The run-thru wedding will take place at Mile 3 at The Park by T-Mobile Arena.
Vivers and Sapp are one of more than 100 couples that will participate; most of those couples will be renewing their vows, though Cruz said 10 or 11 would be getting married.
For Vivers and Sapp, who will come from Phoenix, neither wanted a traditional wedding, and they'll get that in Las Vegas.
"I just thought it was so cool that you start the race as individuals and finish as a married couple," Vivers said.
In addition to the run-thru wedding, there also are four proposals scheduled for the finish line — one in the 10K, two in the half marathon and one in the marathon.
Those couples will be running alongside plenty of people dressed for the competition.
"Pick a costume, any costume, you'll see it," Cruz said.
That includes people dressed as musicians, in tutus and other eccentric gear. One runner, Michael Wardian, is attempting to set a Guinness World Record for fastest marathon dressed as Elvis, aiming for a record set by his friend Ian Sharman in 2009 at the Seattle Marathon.
Sharman finished in 2:42:52, and Wardian thinks he can eclipse that, as he's been running marathons in about 2:33:00 in the past few weeks.
"I'm pretty confident I'll be able to be faster than the 2:42 even with the costume and even having a bunch of runs in my legs, but you never know," Wardian said. "That's why you've got do it."
Wardian, who lives in the Washington, D.C., area, recently became the fastest person to run all six World Marathon Majors (Tokyo, Boston, London, Berlin, Chicago, New York City) in a calendar year.
"I thought it would be a fun way to celebrate by trying to set a world record, and I had wanted to do one as Elvis for a while, and so it worked out that the Rock 'n' Roll Vegas Marathon was the week after, and so I thought what better place than to try to set a world record in Vegas as Elvis?" Wardian said. "How cool would that be?"
Cruz said there are typically 100 to 200 runners racing as Elvis, and more than likely, Wardian will be out in front.
"It's the Elvi, it's the wedding, it's the Strip and it's the Strip at night that make this race, it's all the Vegas feel," Cruz said. "It's being able to run into a casino or stop off at a bar midrace that makes this race unlike any other in the world.
"It's a world-class event in the front from some of the fastest athletes on the planet who will be participating in the event, but it's a big old party following right behind them."
Contact Betsy Helfand at bhelfand@reviewjournal.com. Follow @BetsyHelfand on Twitter.
MARATHON MAP
HALF MARATHON MAP
10K MAP
5K MAP
MARATHON
What: Las Vegas Rock 'n' Roll Marathon
When: Saturday, Sunday
Where: The Strip
SATURDAY
5K, 6 p.m.
SUNDAY
10K, 4 p.m.
Marathon, 4:30 p.m.
Half marathon, 4:30 p.m.