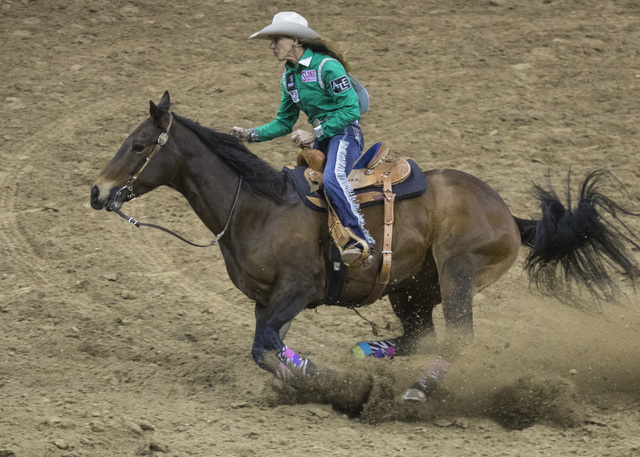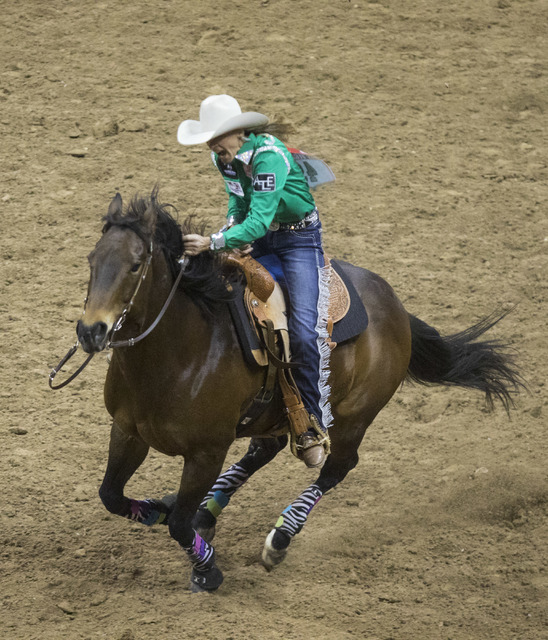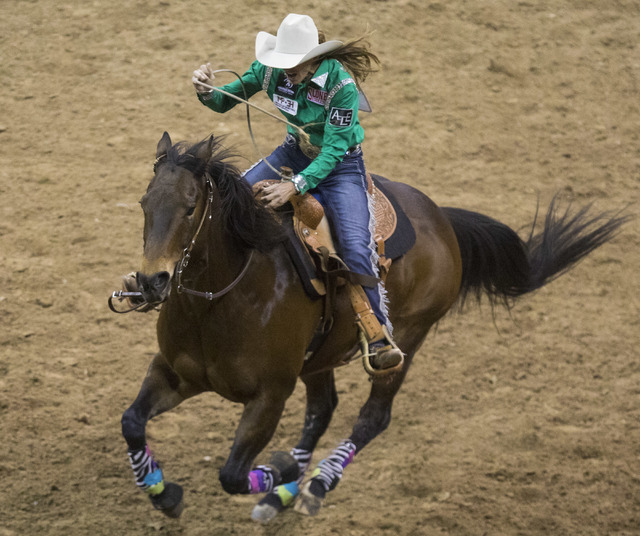 Pamela Capper knew it was time.
Her mare, Jesse, was in her prime and her kids were grown.
There was nothing stopping her from pursuing her passion full time — except for her job.
So about two years ago, she quit her job as a school bus driver to pursue barrel racing on a more regular basis.
Capper qualified for her first National Finals Rodeo this year as a 53-year-old rookie, even winning the10-day event's first go-round on Thursday.
"I was seeing how I was missing making the Finals because of the time I had to stay home for work and I knew (Jesse) wasn't going to last forever," Capper said. "They only have so many really good years and I just decided that I need to take full advantage of her time of racing, her years of racing."
Capper competed while her kids were growing up, but she stayed mainly near her home in Cheney, Washington, outside of Spokane, competing in Washington, Idaho and Oregon.
She and Jesse, who she raised and trained, won the Columbia River Circuit five years in a row from 2011-15.
"That is quite a feat in itself which really encouraged me that I needed to get her out in the rest of the world," Capper said.
Capper called Jesse a "natural," between her mind, athleticism and speed, and started focusing more and more on running her.
Her three kids — one son and two daughters — are now in their mid-20s and early 30s and as they started to get older, Capper started venturing down south for some winter runs.
She'd ask for time off in the winter from time to time to go to rodeos and then would rodeo most weekends from April through November.
She turned in multiple top-25 years before finally breaking through this year.
With the job now behind her, Capper won the San Angelo (Texas) Stock Show and Rodeo in February to kick-start her year and clinched her spot in the NFR thanks to her performance in Pendleton, Oregon, in September.
She came into the NFR in 11th place and now, after four days, in which she won the first go-round, she is in 10th place with $123,735.52 in earnings.
The event might be daunting for some, but Capper has been trying to treat it like just another rodeo.
"We still need to go out there and run the pattern. I guess I haven't let that this being the Finals change my thinking," Capper said. "The only thing I have not experienced is running 10 days in a row. That marathon of 10 days, that will be when I start realizing it."
But, of course, it's not just another rodeo for the 53-year old and her mare.
After years of working toward a goal and having the confidence to make a difficult decision and pursue a dream, Capper and Jesse are finally where they set out to be.
"I finally just decided to take a leap of faith and do my rodeoing full-time as a career because that's what my passion is — barrel racing and rodeos," Capper said.
So far, it's paid off.
Contact Betsy Helfand at bhelfand@reviewjournal.com. Follow on Twitter: @BetsyHelfand
NATIONAL FINALS RODEO
Where: Thomas & Mack Center
When: 7 p.m. Monday
TV: CBSSN
Tickets: Mad Dash (general admission, seat not guaranteed) tickets available by calling Thomas & Mack box office at (702) 739-3267 or www.UNLVtickets.com