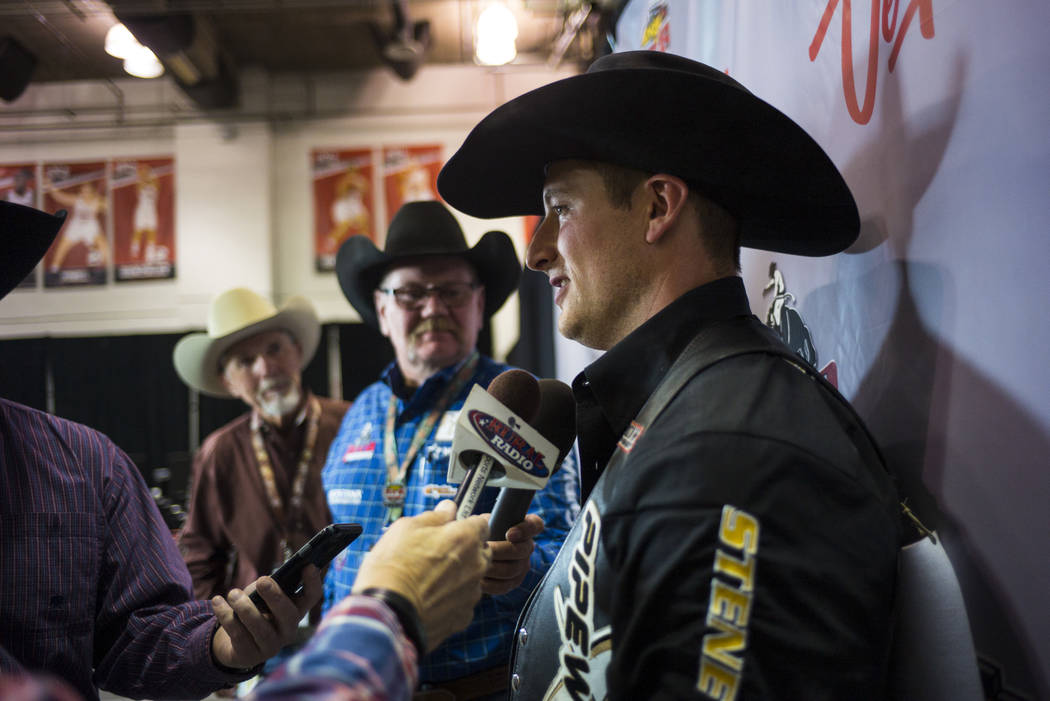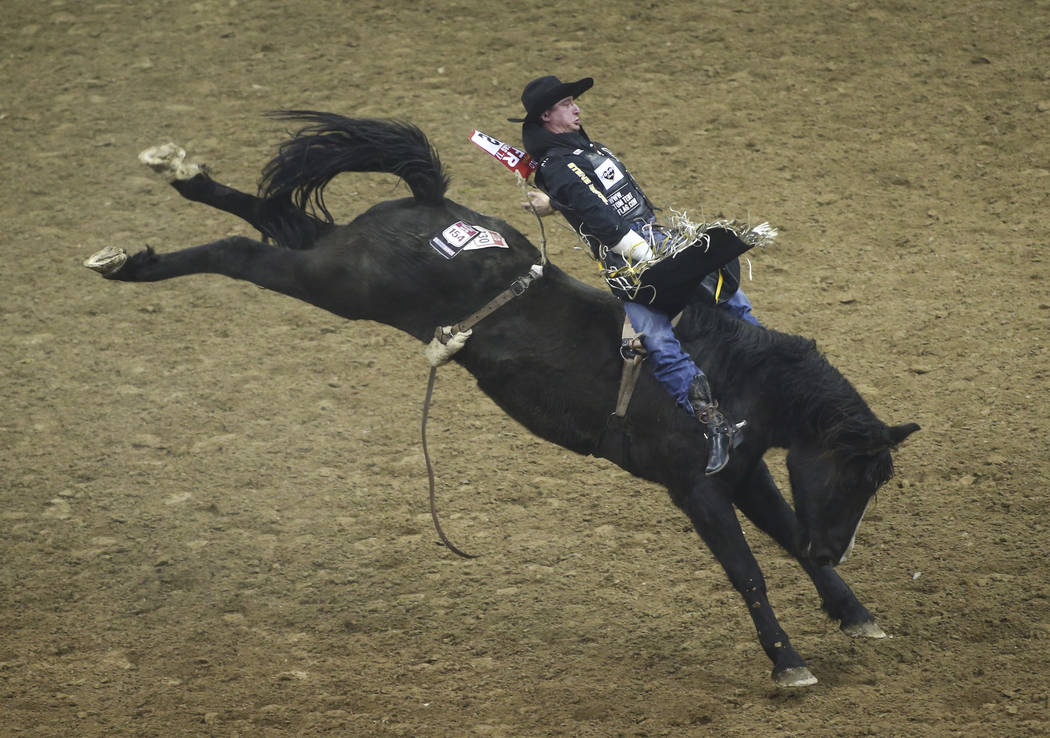 Jake Vold got red-hot in the middle of the 2016 Wrangler National Finals Rodeo, winning the fourth, fifth and sixth go-rounds in bareback riding.
He didn't waste any time in 2017.
In the first event Thursday night, Vold rode Oakridge to 87.5 points to open this year's Wrangler NFR with a victory, grabbing the first-place check of $26,231 in the process. So Vold, 30, from Ponoka, Alberta, has now won four of the last eight rounds of barebacks at the Thomas &Mack Center.
"I feel good," Vold said in the understatement of the night. "Anytime you're going for this kind of money, it keeps you fired up. I'm just having fun, enjoying Vegas."
Just as fun as that ride and the money that came with it: Vold jumped from eighth to third in the world standings, with season earnings of $138,391. He's less than $10,000 behind second-place Tanner Aus, and both of them — along with the rest of the bareback field — are just hoping to track down runaway leader Tim O'Connell, who split third for $13,327 to put his season total at $225,243.
Vold felt fortunate to come up with a winning ride, as he'd never previously climbed aboard Oakridge.
"I hardly knew anything about that horse," he said. "A few guys had seen him this summer and said he was phenomenal. He was fantastic. It couldn't have worked out better. He got pretty strong at the end. I don't honestly remember a whole lot about it. Just concentrate and get the best start I can. Keep squeezing my hands, keep my chin tucked and keep spurring. There's a lot of things going on at once."
Now it's a matter of putting together a few more rides just like that as he tries to put some pressure on 2016 world champion O'Connell, who finished last year with a whopping $374,272, more than half of which he won at the Wrangler NFR ($195,308). Vold might not need to make that much over this 10-day event, but he'll need to make quite a lot if he wants to nab his first gold buckle.
He knows how to do it, though. Along with his three go-round wins last year, he cashed in four other rounds, finished second in the average and pocketed $165,430 in that week-and-a-half, jumping from just shy of $75,000 in season earnings before the Wrangler NFR all the way to $240,161 at the end. That put him second in the world, with only the untouchable O'Connell out of reach.
Vold would love to repeat that effort, and he's certainly on the right track. But competition from O'Connell on down won't make it easy.
"It's a pretty good field of bareback riders," Vold said. "Tim's turned into a machine, physically and mentally. A guy's gonna have to come out and win quite often. That's what I'm gonna keep trying to do. You've gotta bear down every night. We're all competitors. That's why we do this."
To keep rolling, Vold has to find that balance between aggressiveness and common sense.
"Go at every one, try to win every round, but stick to the basics, stay calm and cool," he said, while reminding himself to try to have fun and soak it all in as he pursues more big checks. "This is a helluva place to be this time of year."