Barrel racer cashing in for herself, causes
December 11, 2017 - 11:46 pm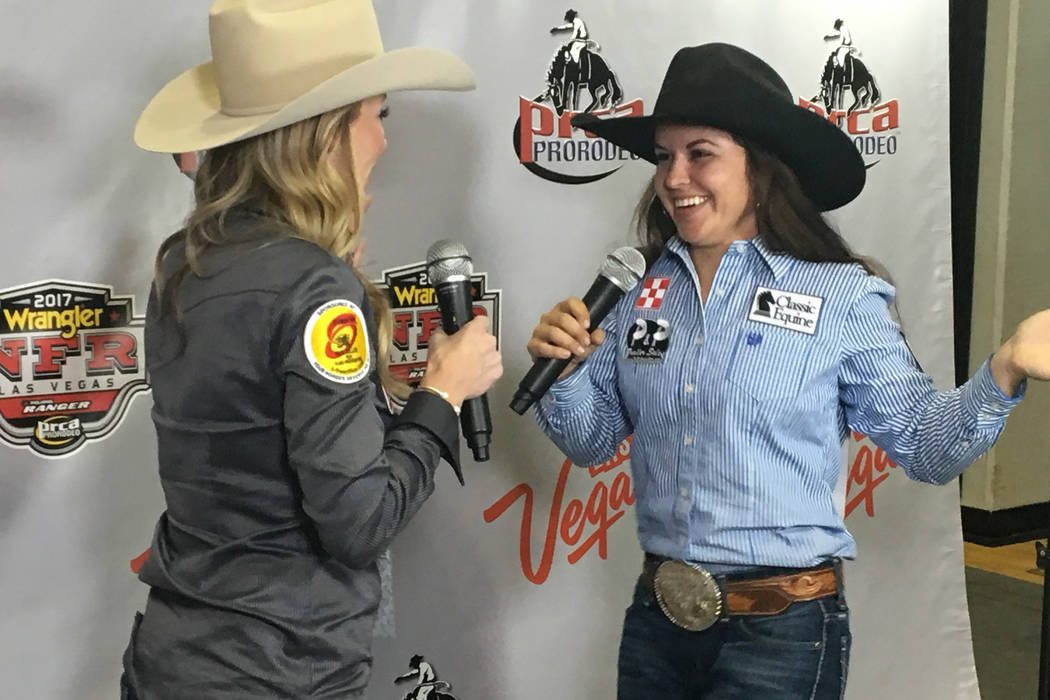 Without question, all 120 contestants at the Wrangler National Finals Rodeo have one primary goal: Make as much money in 10 days as possible.
Hailey Kinsel is no different in that respect. The 23-year-old is a first-time Wrangler NFR qualifier, and she is getting after it, with $78,538 in earnings through the first four go-rounds at the Thomas &Mack Center, more than any other barrel racer this week.
But Kinsel wanted to do something more to mark her first trip to the Wrangler NFR. So she's also trying to make money for others.
"It's called the #WeCanHelp Campaign," Kinsel said, noting her mom and her brother helped get the idea rolling a month ago. "It kind of came to us after a lot of events had taken place that were catastrophic."
So Kinsel decided to put her best foot forward by supporting victims of two natural disasters – Hurricane Harvey in the Houston area and wildfires in Montana – and by getting behind an important cause to her, childhood cancer, by supporting the St. Jude Children's Research Hospital.
"Hurricane Harvey hits close to home for me," said Kinsel, who won the college national barrel racing title earlier this year while competing for Texas A&M. "And I chose Montana because it wasn't getting much attention, and that state is important to the rodeo world."
It started out as a T-shirt campaign, with 100 percent of net proceeds – after production fees – going to her chosen charity efforts. But then a silent partner stepped in and agreed to pay all manufacturing costs, which gave the campaign a shot in the arm. So now, all proceeds from the shirts, priced at $15 apiece, will help Kinsel's chosen causes.
The campaign has raised a few thousand dollars so far and runs through Saturday, when the Wrangler NFR wraps up. Kinsel said while she'd love to raise a lot more money over the next five days, it's just as important to help people realize no cause is ever a lost cause.
"Anything we can ever do to help people, we should do, instead of sitting there hopelessly," she said. "We're trying to promote unity, to let people know we can always do something."
If Kinsel keeps up her speedy riding, she'll certainly have some more money to add to the pool, as well. Aboard her horse Sister, Kinsel took third in both the first and second go-rounds, then really got the fans rocking when she blew away the arena record of 13.37 seconds on Saturday night. Kinsel and Sister posted a blistering first-place time of 13.11 seconds, literally less than a minute after Kassie Mowry became the first to beat the record by clocking 13.36.
Moments after her record-setting effort, the understated Kinsel had to joke in order to get her head around what she'd done, just three days into her first Wrangler NFR.
"It was decent, huh? It was OK?" she said.
Kinsel then took fourth in the fourth go-round and third in the fifth go, so she's cashed all five nights, helping her jump to fourth in the world standings with $192,899 on the season. But ahead of Monday night's run, she was still buzzing about the 13.11.
"We're all kind of still on cloud nine. You have to move on mentally, but it's gonna be great no matter what happens from here on out," Kinsel said.
After all, she's literally living the dream right now. And she's hoping her fundraising efforts allow others to do likewise.
"This is a dream come true for me, and I don't think anybody's dreams should get overlooked," Kinsel said. "If I can help somebody else have their dream come true, make them feel the way I'm feeling right now, that would be just awesome."
If you want to help Kinsel help others, head over to her Facebook page and learn more, at www.facebook.com/haileykinselofficial. Along with contributing via T-shirt purchases, cash donations are certainly welcome.
"It's up to the donors for how high it gets," Kinsel said, adding $10,000 would be a nice round number. "I'd be beyond thrilled with that. Twenty-thousand would be cool. Anything would be cool. It's just fun for me to see."