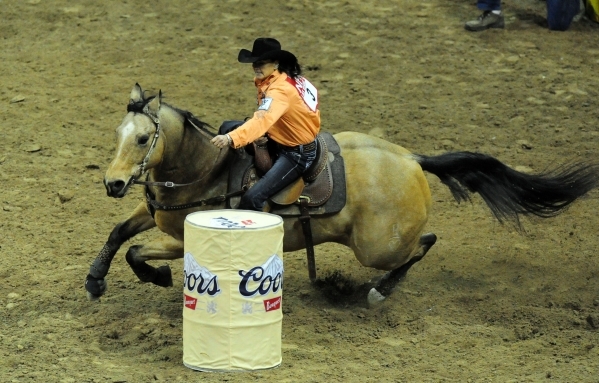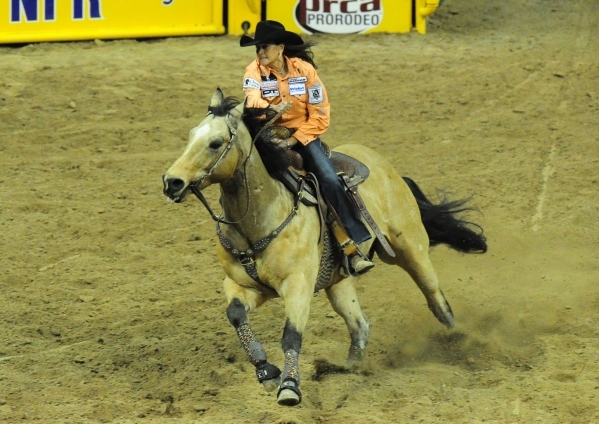 Lately, Lisa Lockhart can't do anything wrong when it comes to barrel racing — even on an off night.
Lockhart tipped two barrels during her seventh go-round at the National Finals Rodeo on Wednesday night for a time of 18.76 seconds. Luckily for Lockhart, who entered the seventh stage as the leader in the average and world standings, five other riders knocked over at least one barrel.
The announcer at the Thomas and Mack Center called it a "demolition derby." It was a rough night for the women, but it's been a good 12 months for Lockhart.
The South Dakota resident fell to fourth in the average standings (102.11 seconds in seven tries) and second in the race for the world title ($246,982). She's still within striking distance for her first world crown, trailing only Sarah Rose McDonald ($247,195) and four seconds behind Callie DuPerier (98.10) in the average rankings.
Lockhart is on top of the barrel racing summit right now. That wasn't always the case for the seasoned rider.
The Montana-raised Lockhart for many years came up short at the NFR and often finished in the middle of the pack. She has participated in every NFR since 2007, but didn't have her coming-out rodeo until last year when she took home the average title and finished a close second in the world standings to Fallon Taylor.
"Last year, we never imagined to be in the position that we were," Lockhart said. "It was just fun to be part of the game."
Lockhart and her horse, Louie, haven't looked back since that memorable 2014 NFR finish and have the inside track on capturing that elusive first world title.
At age 51, Lockhart continues to get better with every rodeo she competes in, and there's no telling when she'll step away from the sport.
If it were up to Lockhart, she would barrel race in Las Vegas for another 10 years. But she said it's up to her buckskin gelding to decide when she's done.
"My horse definitely dictates my career in rodeo," said Lockhart, who has been riding Louie at the NFR since 2010. "If you got the horsepower to go, then I'll keep doing it. It's great what we do, and I would love to continue it as long as I have the horsepower to do it."
Lockhart almost didn't get to ride Louie for her ninth national rodeo. The 12-year-old Louie became seriously ill after winning the Frontier Days with Lockhart in Cheyenne, Wyo., in late July.
"We didn't know if we would have him back for the finals this year," Lockhart said. "It was a blessing in disguise to have him back and be able to compete. We are just grateful to be here and to be playing the game and to have success, it makes it such more special."
Lockhart has made a name for herself in barrel racing because of her consistency in each round. She often finds a way to place within the top four or at least pick up a check, which made her 10th-place performance Wednesday a rare sight for rodeo fans.
She hasn't recorded a first-place finish yet, but that's OK with her.
"That's always fun (to get a first place)," Lockhart said, "and it would be OK if we don't. The ultimate goal is making money, and we're doing that."
Lockhart, who has made $95,462 through seven rounds, enjoys watching her three children compete in sports when she's not training with Louie. Her daughter, Alyssa, recently won a barrel racing event in South Dakota. She has two sons, Thane and Cade, and is married to Grady Lockhart, a tie-down roping competitor.
"I've been around barrel racing my whole life, and to see my kids compete in rodeo has been awesome," Lockhart said.
* NOTES — In tie-down roping, Matt Shiozawa took first place in the seventh go-round with a time of 6.7 seconds. It was a battle between Marty Yates and Monty Lewis, who tied with 6.9 seconds, before Shiozawa stole the show. Prestigious cowboy Trevor Brazile had a disappointing time of 8.3 seconds. … Brazile didn't come up empty Wednesday after taking first in team roping with partner Patrick Smith for a time of 3.6 seconds. … Kaycee Feild and Steven Peebles continue to duke it out in bareback riding. Feild (first in world, second in average) took first with 82.5 points, and Peebles placed fourth with 80 points (first in average, second world).
Gilbert Manzano can be reached at 702-383-0492 or gmanzano@reviewjournal.com. Follow on Twitter: @gmanzanzo24