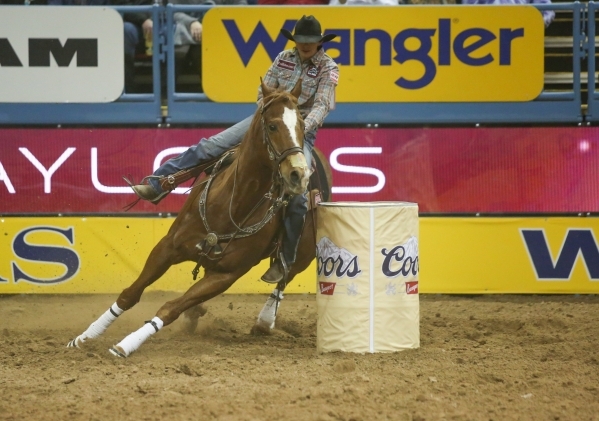 Competing in her second straight National Finals Rodeo at age 58, barrel racer Nancy Hunter hit two barrels in a disappointing run in the second round Friday night at the Thomas & Mack Center. But she had no problem putting things in perspective.
"I'm very competitive and love barrel racing and making money, but it's not life or death," Hunter said. "It's a fun game, but it's not life or death."
A longtime registered nurse who worked in the emergency room, Hunter doesn't use the words life and death lightly.
One of her four sons was diagnosed with cancer at 10 years old, another had a life-threatening bout with meningitis at 18 months old, and Hunter's daughter-in-law has had three open-heart surgeries and is awaiting a heart transplant.
"Look around and you can always find someone in a worse situation," said Hunter, who lives in Neola, Utah.
Hunter probably won't win a gold buckle here, but she hopes to make the Thomas & Mack glitter like gold in today's third round to help raise awareness for childhood cancer.
Hunter is urging fans to wear gold and donate to the cause (NFR Glitter Like Gold Facebook page). She'll wear a custom-made hat and shirt that will be auctioned off, with proceeds going to St. Jude Children's Research Hospital (stjude.org) and Huntsman Cancer Institute (huntsmancancer.org).
"My horse might need goggles I'll have so much gold on," Hunter said. "I just wanted to bring awareness. There's not enough funding for research and research is really the key to finding a cure to saving the kids and that's the whole point."
Hunter's son, Kolton, who survived his battle with Hodgkin's lymphoma and is now 26, will paint his handprint on her horse, Fuzz, and Hunter also plans to have her 4-year-old grandson put a gold handprint on her horse for a young cancer patient and rodeo fan she befriended.
Hunter also has been handing out gold ribbons that signify childhood cancer awareness that will be worn by athletes and animals alike.
Cindy Rosser, whose family puts on rodeos in California and raises bucking horses and bulls, lost her teenage son, Mikel Moreno, to leukemia. She's planning to put one of Hunter's gold ribbons on the flank of her bull, Wolf Deer.
"It fries me that we can live with AIDS now and there's a vaccine for Ebola but the treatment Mikel was on was 20 years old. It had not been tweaked in 20 years. What are we doing?" Rosser said. "I'm just on board because I think, 'Are they doing enough? Are we really trying?' You hear about stuff overseas. It just frustrates me."
Rosser teared up while talking about her son, who died in 2006.
"If you cry, you care," Rosser said.
According to curesearch.org, the overall survival rate for childhood cancer has increased from only 10 percent 50 years ago to 90 percent today, but the disease remains the leading cause of death by disease in children.
Hunter joined the Women's Professional Rodeo Association in 1976, the year after graduating high school, but spent most of the ensuing years working as an RN and raising her sons.
That changed about 10 years ago, when she and her horse-trainer husband, Fred, met Fuzz. With his help, Hunter earned $136,777 last year while placing ninth in the world and she has taken home $106,685 this year that's good for ninth in the world.
"He's changed our life," Hunter said of Fuzz. "Financially, he's helped us to survive."
Hunter was offered the equivalent of a blank check for Fuzz but politely declined.
"I just told the guy it would take a lot of money and he said, 'I'll send you the check and you just fill it out,'" she said. "(Fuzz) has earned his spot to retire at my place. He's part of our family. He's taken good care of us and will live out his life at my house."
Hunter was the oldest barrel racer at last year's NFR but is glad that's no longer the case with 60-year-old rookie Vickie Carter in the field.
"I'm not the oldest and I'm so glad," she said. "It works for me. I tell people, 'I'm 39 and holding'."
* NOTES — Clayton Foltyn was the only bull rider to complete an eight-second ride so he won all the money for the event, which totaled $84,615. "I'll pay off some debts," he said before laughing. "I probably have most of it spent." … Wade Sundell wrested the saddle bronc riding world standings lead from Cody DeMoss, who has been the world runner-up an event-record five times. Sundell, who won the first round, placed second with an 82.5-point ride on Frontier Rode's Tip Off to take a lead of about $10,000 over DeMoss, who tied for fifth.
— Contact reporter Todd Dewey at tdewey@reviewjournal.com or 702-383-0354. Follow him: @tdewey33