December 6, 2007 - 10:00 pm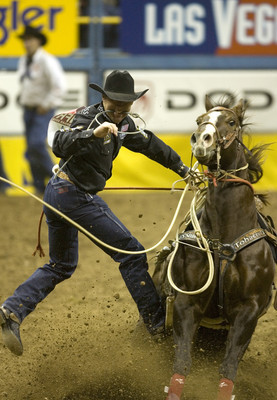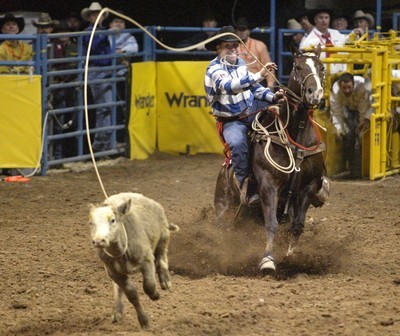 The National Finals Rodeo starts tonight at the Thomas & Mack Center, but six-time world champion Trevor Brazile collected the prize of his life five days ago.
The Texan is going for his fifth all-around world championship and is leading in the race for the calf roping title. He's ahead of NFR rookie Josh Peek by $140,000 in the all-around standings and won his second consecutive steer roping world title in November.
But a much more coveted treasure was delivered to him Saturday morning, one he'll cherish more than any he's received in rodeo. The value goes beyond any gold standard.
Brazile's wife Shada showed that her husband isn't the only one in the family who knows how to master a clock. She delivered the couple's first child Saturday, just before her husband left for Las Vegas and nearly a week ahead of Friday's projected due date.
"I'm sure he'll come a few days early, so it will work out just fine," Brazile correctly predicted last week from his ranch in Decatur, Texas. "If he comes a little early, it will be perfect."
Treston Brazile was perfect, in health and timing. He responded to the pressure by letting his father focus solely on his gold buckle quests.
Brazile said Wednesday that Treston and Shada are fine and might show up at the NFR next week — perhaps to share in a championship celebration.
"Most of our family is going to stay right (in Decatur). They said they've been to Vegas before, and this is the first grandchild on either side of the family," he said.
Brazile was able to arrive in Las Vegas early this week, when calves and steers for the NFR are worked out. Although it's critical for ropers to scout the livestock's behavior and tendencies in the arena, he was ready to head home at any moment.
The bad news for the competitors facing Brazile in the 10-day rodeo is that he now can focus completely on his performance in calf roping and team roping.
He's coming off a banner 2006 season, when his total earnings of $329,924 set a Professional Rodeo Cowboys Association record. He'll start today's NFR with $285,412 in the bank this year. He and Peek are the only contestants in the field of 118 to qualify in two events.
Brazile earned $88,953 in steer roping this year. He'll start the 49th annual NFR first in calf roping ($132,540) and 10th as a team roping header ($63,919).
His heeler since April has been 2005 world champ Patrick Smith, 27, who will compete in his fourth NFR. The Midland, Texas, roper teamed with Clay Tryan two years ago to win the title.
"It's been really good," Brazile said of his current partnership. "I've enjoyed it a lot. We're close to the same age and have a lot of the same interests. It's been fun."
Brazile wants to add two more world titles this year to become the first cowboy to win three in a year since his father-in-law, Roy Cooper, did it in 1983. And it's not impossible that he could finish with four.
"It's hard not to think about," Brazile said. "There are so many variables over the entire year and during the NFR to just win one title. Everything's just got to be so perfect. To try and win three in one year, everything's got to work just right, but I believe that it's going to happen this year."
Brazile said nothing will top this year, regardless of what happens during the 10-day Finals.
"I'm going to have a good year no matter what happens," he said, alluding to his son's birth. "He already has more spurs than most (people) collect in a lifetime. My dad's been looking for the perfect kid horse since we found out Shada was pregnant in April."
"One night after I rope, I might fly home and spend a day with Shada and the baby.
"I bet I do."
And when the NFR ends, odds are he'll also have at least one new world championship gold buckle to share with his son.
National Finals RodeoMore Info