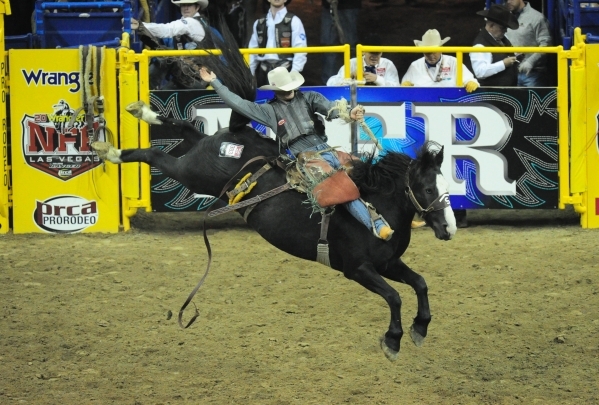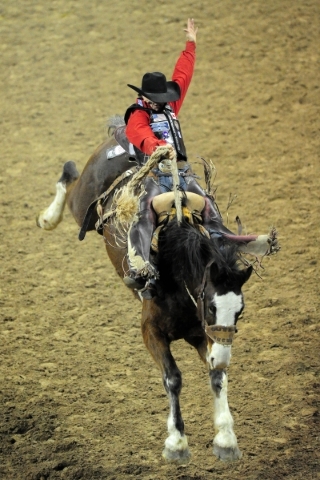 It's no easy chore for a rookie to make it to the Wrangler National Finals Rodeo, in any of the seven events. To have two in one event? And for those two to be the only PRCA rookies in the entire field at the Thomas & Mack Center?
Well, it certainly speaks highly of saddle bronc riders Zeke Thurston and CoBurn Bradshaw, who finished 11th and 14th, respectively, in the regular-season money race to reach the WNFR.
"Honestly, I'm just really excited. It's pretty cool," said Thurston, 21, from Big Valley, Alberta. "That's what everybody works for every year. If you've been rodeoing one, two, 10 years, the ultimate goal is to reach the Finals and win a world championship."
Bradshaw certainly doesn't lack confidence, but the 21-year-old from Beaver, Utah, said ending this year at the WNFR has still been an eye-opener.
"I really am surprised," he said. "I really didn't think it would happen this quick. I couldn't believe it."
Bradshaw needed a strong late run to make it into the field of 15. He finished the regular season with $66,145, about $5,500 ahead of 16th-place Chad Ferley.
"The last two weeks, I was placing in every rodeo I went to. I made a lot of money," he said.
Thurston had a little more of a cushion, with $72,278 in regular-season earnings.
"I went into the season very optimistic. I just had a super-blessed year," he said. "At the start of the year, I had some big wins at Tucson and Houston. And I had a good Fourth of July weekend — I won over $10,000. I just kept having success and kept steadily winning."
Now, the two friends and longtime rivals are battling it out for saddle bronc rookie of the year honors, which is no surprise. Just a year ago, Bradshaw edged Thurston by a half-point for the national college saddle bronc crown, 311-310.5 on four rides.
"CoBurn, he rides so good. You never count that guy out," Thurston said. "He was super steady this whole season, and then in September, he went crazy. You just couldn't beat that guy."
Bradshaw was equally complimentary of his fellow rookie rider.
"He rides really good," he said. "Zeke pushed me here. I had to take motivation from him. I think he's awesome."
The fact that one of these two will walk out of the Thomas & Mack Center as the event's top rookie makes both of them happy.
"I was kind of hoping that would happen," Bradshaw said. "Rookie of the year only happens once in your life."
Thurston said that with all the money on the line over these 10 days, ground can be gained or lost in a hurry. Indeed, Bradshaw has put together a big week thus far, jumping to sixth in the world with season earnings of $159,492, while Thurston is sitting 12th at $103,008.
"When you get to the Finals, it's anybody's game," Thurston said. "It's whoever does better over 10 days. He's such a strong competitor."
And while the rookie of the year title is certainly appealing to both riders, both also hope at some point — this year or in the future — to win the big prize: a world championship. Thurston pointed to the 2014 performance of Spencer Wright, whose sister Rebecca just happens to be Bradshaw's wife. Wright entered his first WNFR at 13th in the standings, cashed in nine of 10 rounds — winning twice — and ended up with the gold buckle.
"I'm shooting for the stars, shooting for the moon," Thurston said. "You've got to set your goals high. It keeps you working harder and getting better."
It won't be easy, with Wright back to defend his title, along with his brother Jake Wright and nephew Rusty Wright, and the ever-present Cody DeMoss.
"I think anyone's got a chance at the title, but I just plan on going out and riding, and let everything else take of itself," Bradshaw said. "You can't do anything but ride your horse."
Regardless, Bradshaw and Thurston appear certain to have plenty more head-to-head battles ahead on the PRCA tour.
"I've competed against CoBurn in high school, in the college ranks," Thurston said. "We might as well get used to each other, because we're gonna see a lot of each other."