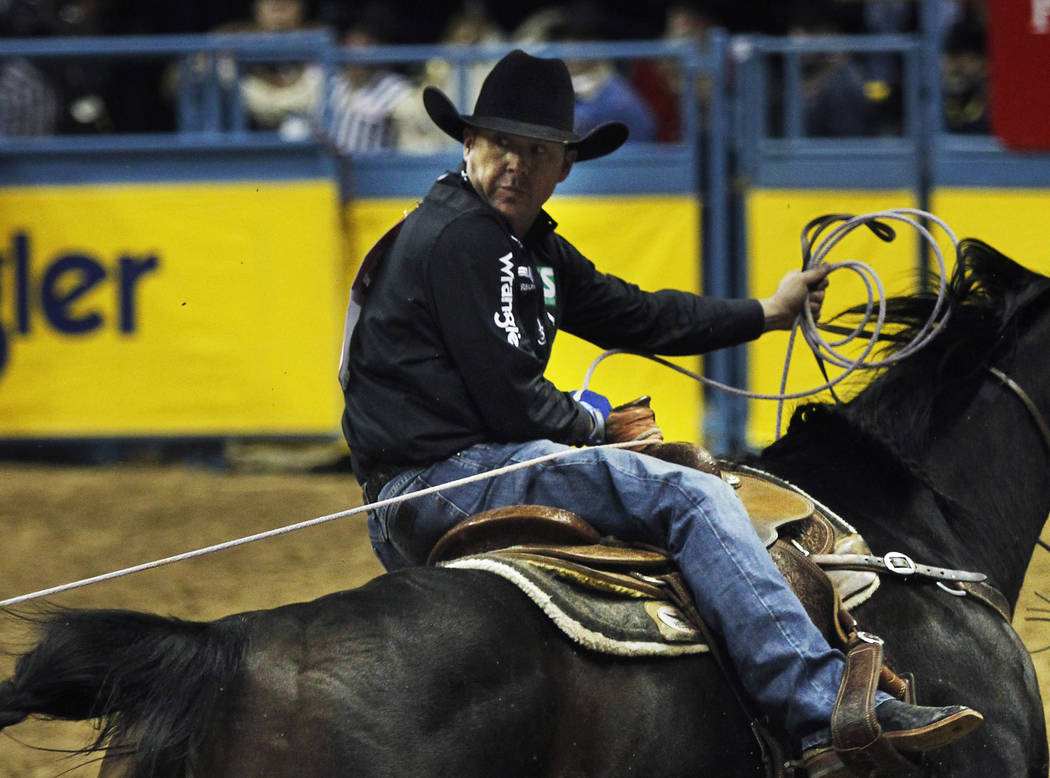 Knock, knock.
Who's there?
Two.
Two who?
Two of the best cowboys on the face of the earth, that's who.
And after a one-year absence from the Wrangler National Finals Rodeo, Trevor Brazile and Tuf Cooper are very much back in the saddle, sitting 1-2 respectively in the chase for the 2017 all-around champion gold buckle.
The Wrangler NFR's annual 10-day run begins Thursday night at the Thomas &Mack Center, with Brazile in hot pursuit of his 14th all-around championship. The roper from Decatur, Texas, has 23 gold buckles in all — a record 13 all-around titles, three in tie-down roping, one in team roping and six in steer roping. Meanwhile, Cooper is pursuing his fourth tie-down crown and his first all-around championship.
To say they're both happy to be back is an understatement.
"Anybody who's ever rode out there, just being there, it's
spectacular, knowing what everybody does to get to that point," said Brazile, who's competing in his 17th NFR and understands more than anybody else just how much is on the line.
"Some people's earnings will be doubled in 10 days. It's a lot of pressure, but that's what it's all about to win world championships."
Said Cooper, entering his ninth Wrangler NFR: "It's a dream come true to make the NFR any year. I'm very excited for the opportunity ahead."
Both sat out the 2016 season, while a dispute was settled between the Professional Rodeo Cowboys Association and the Elite Rodeo Association. But Brazile ultimately felt the break was good for him, in order to recharge the batteries.
"It wasn't hard not to compete last year. I've been out there every year since 1998," Brazile said of his long string of Wrangler NFR appearances. "Every night I go, some record or some championship was on the line. Unless people have dealt with that kind of pressure all the time, you don't know what it's like to have the monkey off your back for a little bit. I really enjoyed the year off, probably about as much as I did getting back at it this year."
And get back at it he did. Brazile is atop the all-around standings with $243,760 in earnings heading into this season-ending event. He's sixth in tie-down roping ($101,433), so he'll be among the 15 contestants going for that title, and he finished second in the world standings in steer roping ($127,538), whose finals are contested in November.
"I'd never taken a year off, so I had no idea if it would be beneficial or not. But I really thought it was," Brazile said. "I had a renewed sense of competitiveness and getting back after it. That was there right away, but it took so long to get my groove back."
Brazile said that kept him from qualifying for the Wrangler NFR in team roping and had him trailing in the all-around standings after the regular season ended in September. But he pocketed more than $62,000 at the National Finals Steer Roping to vault back into first in the all-around.
Not that he wouldn't have known how to handle it this week if he weren't in first coming in.
"I've been out there with a real big lead, or behind, or similar to this situation," Brazile said, alluding to his slim advantage of less than $14,000 over Cooper in the all-around chase. "I had a $37,000 deficit, and now I have the lead. You take it as it comes and make your plan accordingly."
Cooper is at just over $230,000 in the all-around race, largely driven by his massive regular-season haul of $190,445 in tie-down roping, nearly $50,000 ahead of anyone else in that event. That has him in position for not just another tie-down crown, but a breakthrough all-around title against arguably the greatest cowboy who ever lived.
"We played the name of the game this year. I went as hard as I could and gave it my best every time I showed up," Cooper said, noting PRCA guidelines allow for a maximum of 100 rodeos, 70 of which can count toward the all-around world standings. Cooper roped in 97 events. "Whatever the name of the game is, I'm gonna play it full-out."
Cooper said he wasn't surprised at having such a successful season from the get-go, despite sitting out last year.
"I had my goals set and woke up the very first day of the season, after that long hiatus, so excited to be able to compete every day, win money, doing what I enjoy and love," he said. "By stepping back, watching and not competing, I had a drive and fire that I probably wouldn't have had.
"This is one of the best jobs in the world, and I realized how blessed I am to have it as a job, how passionate I am about roping. That has changed my life."
While Cooper didn't compete in the 2016 Wrangler NFR, he was still in Vegas, tending to sponsorship responsibilities and such. And he was at the Thomas &Mack all 10 nights, as a spectator for a change.
"I took everything else in, enjoyed it and had a good time. I absorbed every detail I could, viewing it from a different angle," said Cooper, son of eight-time world champion roper Roy Cooper. "I was out there last year preparing for this year and the rest of my life.
"Now, I'm really looking forward to the competition, going back inside that arena, the level of focus that it takes. I'm excited to go back out and compete and have a chance to win money every night."
Lots of money, to be sure. Go-round winners collect more than $26,000, each go-round pays six deep, and of course the average at the end of the two days provides a huge payout as well – more than $67,000 for first place. So there's no doubt Cooper can make more than enough to get that prestigious all-around title.
But he'll have to knock off his brother-in-law to do it. Cooper's sister Shada is married to Brazile. So along with all the other aspects of this all-around race, you've got family ties, as well.
"I want it more than ever, I want it the very most. I'm going against the giant, the most winningest cowboy in the history of rodeo," Cooper said. "But the coolest thing is, he's family. For me and Trevor, this is just every day of our lives. He's the one who pushes me toward the all-around, and has been since I was 16 years old. This is all his doing."
Indeed, the 41-year-old Brazile has 14 years on the 27-year-old Cooper. And many of Brazile's competitors are much younger than that, though he is hardly deterred by that fact.
"It's good to know after 23 world titles that it's still that fun to me, competing against guys half my age," Brazile said, while echoing Cooper's sentiment about the two of them working together, feeding off their successes. "Iron sharpens iron. If we're sharpening each other, as long as we're getting better each day, it's a dynamic that has worked for us."
There's no question that Brazile wants not only the 24th gold buckle that the all-around would provide, but also to put together a big run in tie-down roping and perhaps grab his 25th world title while he's at it. If it's not to be, though, he's rooting hard for his wife's brother.
"If I don't win it, there's no one I'd rather see win it than Tuf. It's easy for me to root for a guy like that, because I see how hard he works," Brazile said. "Take family out of the picture. He's working his butt off."
And that's no joke.
NFR clear-bag policy
In order to enhance public safety and make venue access more efficient at the Wrangler National Finals Rodeo, Las Vegas Events announced that it will implement a new security policy regulating the size and type of bags that may be carried into the Thomas & Mack Center. The clear-bag policy will be in effect Thursday through Dec. 16.
"Following the NFL's lead, along with other professional and collegiate programs, we believe it is prudent to implement the clear-bag policy," LVE President Pat Christenson said. "Fan safety, security and enjoyment is a top priority for us. We believe this policy is an important enhancement to the security measures already put in place at the Thomas & Mack Center."
Fans are encouraged not to bring any types of bags inside the Thomas & Mack Center. However, the following are permitted:
■ Bags that are clear plastic, vinyl or PVC and do not exceed 12 inches by 6 inches by 12 inches.
■ One-gallon clear plastic freezer bags (Ziploc bag or similar).
■ Small clutch bags, with or without a handle or strap, that do not exceed 4.5 inches by 6.5 inches (approximately the size of a hand).
Exceptions will be made for diaper bags and medically necessary items, after proper inspection at a gate designated for this purpose.
Prohibited bags include, but are not limited to: purses larger than a clutch bag; briefcases; backpacks, cinch bags and fanny packs that are not clear and/or exceed the size restriction; luggage of any kind; computer bags/cases; camera bags/cases; binocular bags/cases or any bag larger than the permissible size.
Fans can carry items allowed into the arena, such as binoculars and small hand-held cameras, in a permissible clear bag. Fans can return non-permissible bags to their cars or check them in at check-in location at the Mendenhall Center lobby.
For more information and answers to frequently asked questions, go to nfrexperience.com/home/clear_bag_policy.