Brazile ready to ride again
December 1, 2011 - 2:08 am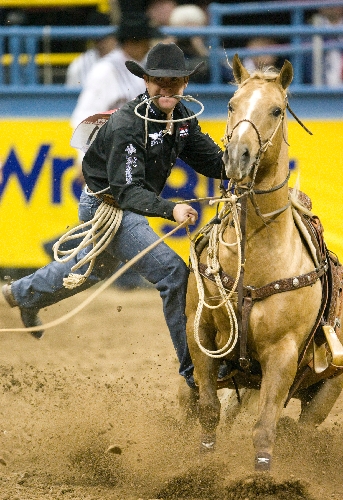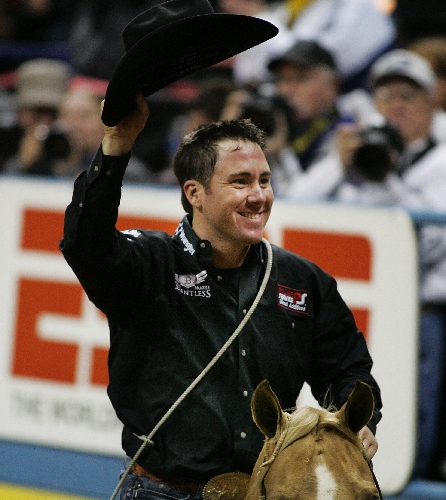 At age 35, Trevor Brazile knows one day soon he'll have to retire from rodeo, a sport he has dominated for a decade.
A couple of lingering injuries suffered late this season have pushed that reality from the depths of his thoughts — just not to the forefront of his thinking.
Brazile has won 15 world championships and $4.1 million since joining the Professional Rodeo Cowboys Association in 1996, but nagging pain to his hip and back have led him to ponder cutting back on his demanding competition schedule.
"There've been some roadblocks this year, but I've been well enough to compete. I just haven't been able to practice as much as I'd like," Brazile said Wednesday, the eve of the 53rd annual National Finals Rodeo, which begins its 10-day run at 6:45 p.m. today at the Thomas & Mack Center.
"I've flirted with going to fewer rodeos and focusing on the big ones. Someone said that if you're mediocre, you're as close to the bottom as you are to the top."
Brazile, of Decatur, Texas, was far from mediocre when he won the PRCA steer roping world championship last month in Oklahoma City.
Pain and all.
He is nearly certain to clinch his ninth PRCA all-around world championship in the early go-rounds of the NFR. He is the only one among 119 contestants who will compete in two events — tie-down and team roping — and has a $140,019 lead in all-around over top-ranked bull rider Shane Proctor, who lives in Mooresville, N.C.
Brazile is well known for a demanding practice routine, especially in the month leading to the NFR. But his workouts on horseback have been limited.
"This year, I went more for quality than quantity," said Brazile, who as a header will team rope with heeler Patrick Smith of Midland, Texas. Brazile is ranked 12th and Patrick 13th in their standings.
In tie-down roping, Brazile, a three-time world champion and winner of the last two titles, is ranked third with $92,014. He trails brother-in-law and money leader Tuf Cooper by $53,296.
"I'm the chaser this year," Brazile said of ranking behind his 21-year-old kin.
Brazile doesn't sound as if he will be that disappointed if he loses the crown to Cooper, whose brothers Clif and Clint also reached the tie-down finals.
Brazile watched the Cooper boys grow up and is replaying the experience as he raises his son, Treston, who turns 4 today.
As Treston and 1-year-old daughter Stella Bell grow, so does Brazile's desire to be home more, where he continues to breed horses.
But the quiet, poised Texan also could train bellhops. He has been checking bags in Las Vegas every year since his first NFR appearance in 1999, and each year there's more luggage.
This year, he checked more than a dozen bags into the MGM Grand, and nearly all were for his wife, Shada, and the children. A fair amount were devoted to his baby girl.
"She's got about a dozen pair of shoes and a couple pair of boots with her," he said with a laugh.
While his focus is razor sharp on rodeo once he arrives at the Thomas & Mack, his eyes are on his family the rest of the time. Like when Treston follows him to the practice arena.
"It's special to be with him so much and watch him growing up to be a cowboy," the proud dad said.
Jeff Wolf is a freelance reporter. He can be reached at nitrorodeo@gmail.com or 702-406-8165.