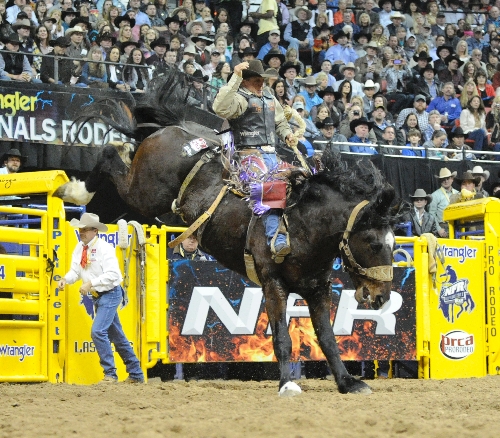 Don't call them the flying Wright brothers.
Jesse Wright, his twin brother, Jake, and older brother Cody may be soaring in the saddle bronc riding world standings, but the last thing they want to do at the National Finals Rodeo is go airborne.
"Flying ain't too good when you're in bronc riding," said Cody, a two-time world champion. "You want to stay hooked (in the saddle) here, stay on the back (of the horse)."
You could say the Wright brothers – no relation to Wilbur and Orville – are hooked on saddle bronc riding.
Six of the seven brothers in the family of 13 from tiny Milford, Utah, are Professional Rodeo Cowboys Association saddle bronc riders: the aforementioned Cody, the oldest, a 10-time NFR qualifier; Jesse, who leads the world standings; Jake, who's excelling in his first NFR appearance; Alex; Calvin; and Spencer.
The only brother not in the PRCA is Stuart, the youngest, but the high school freshman is – you guessed it – a budding saddle bronc rider, along with his cousin Rusty, Cody's oldest son and a high school junior.
Fittingly, Jesse and Jake tied for the win, with 87-point rides, in the third go-round of the NFR on Saturday before a sellout crowd of 17,702 at the Thomas & Mack Center.
"It's awesome to split it with your brother," said Jake, who climbed to fourth place in the world standings. "We're just having fun, and when we get our two sweet buckles, hell, we can go on a date. We can go on a couples retreat."
An inspiration to his brothers, 35-year-old Cody – who finished sixth Saturday and is in sixth place in the world standings – said watching his 23-year-old twin brothers compete has inspired him.
"It pushes me to be better, and hopefully I can ride longer," he said. "Maybe I can ride until my boy hopefully can make it here."
Jesse, who last year set NFR records for saddle bronc riding earnings ($160,962) and average (848.5 points on 10 head), still aspires to be like his oldest brother.
"He's an awesome guy, and I hope I'm riding as good as he is when I'm older," he said. "He still rides like he's 20."
While the siblings are supportive of each other in competition – Cody, Jesse, Jake and Alex travel together during the year and even share a credit card for expenses – all bets were off at the family dinner table when they were kids.
"If you come in last, you ain't getting much," Jesse said. "Once you get done saying the prayer, it's game on, so if you ain't there for it, you're getting scraps."
Jake, who also tied for first in the second go-round, isn't about to concede the crown to Jesse – or his status as his older brother.
"(By) two minutes. I hang it over his head sometimes and he don't like it," Jake said. "I just say, 'I'm older and I'm smarter, and you're younger and you're dumber, so you've got to listen to me.' "
Jake bailed out Jesse once at the college finals rodeo, registering for him when he was running late.
"He was going to get fined, so I went in there as him and signed in," Jake said. "They had two pictures in the paper as Jesse and Jake, and it was me twice."
The more reserved Jesse said he and Jake always have been tight.
"We grew up doing everything together," he said. "It's awesome having a twin."
Bill Wright started the saddle bronc riding tradition for his sons, competing in the event in high school and college.
"Dad never really pushed it on any of us," Jake said. "But my dad said, 'Whatever you're going to do, you're going to do it good.' "
That explains why Cody's wife, ShaRee, makes sweatshirts for the brothers each year with the phrase, "Doing it the Wright way."
Contact reporter Todd Dewey at tdewey@reviewjournal.com or 702-383-0354.
54th National Finals Rodeo
WHEN: Fourth round, 6:45 p.m. today
WHERE: Thomas & Mack Center
V: GAC (374)