Bull rider, 20, shows scary-good talent at NFR
Updated December 9, 2018 - 11:29 pm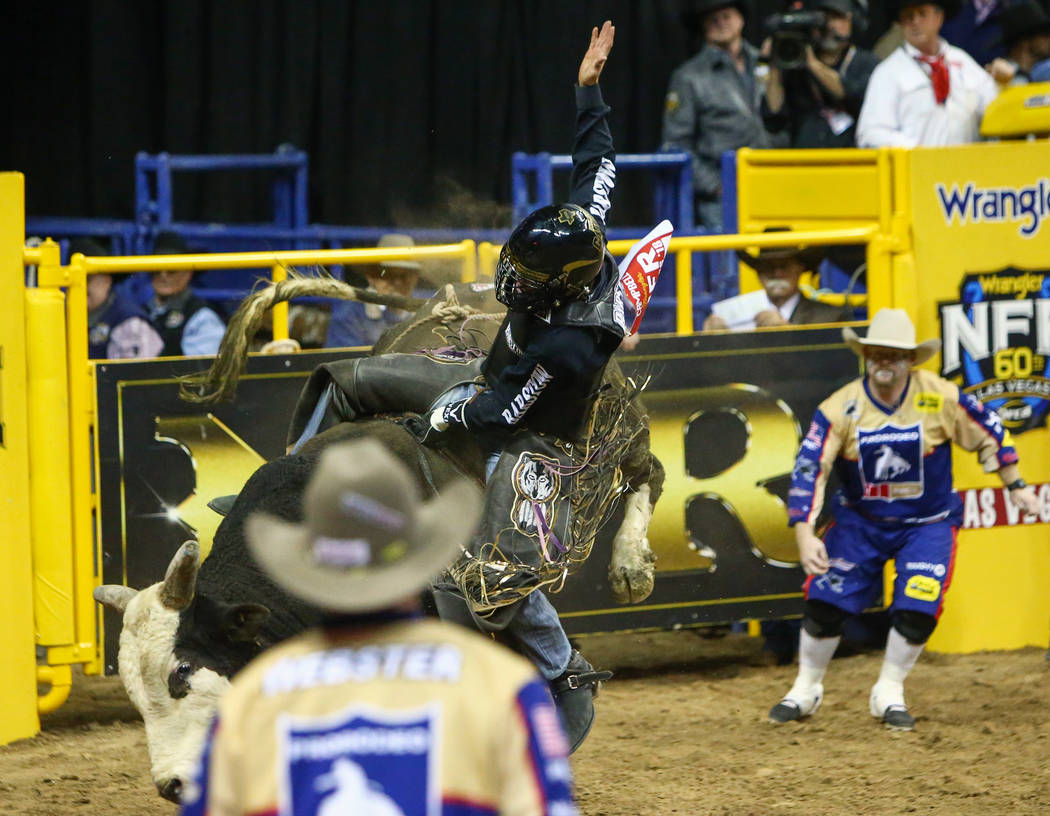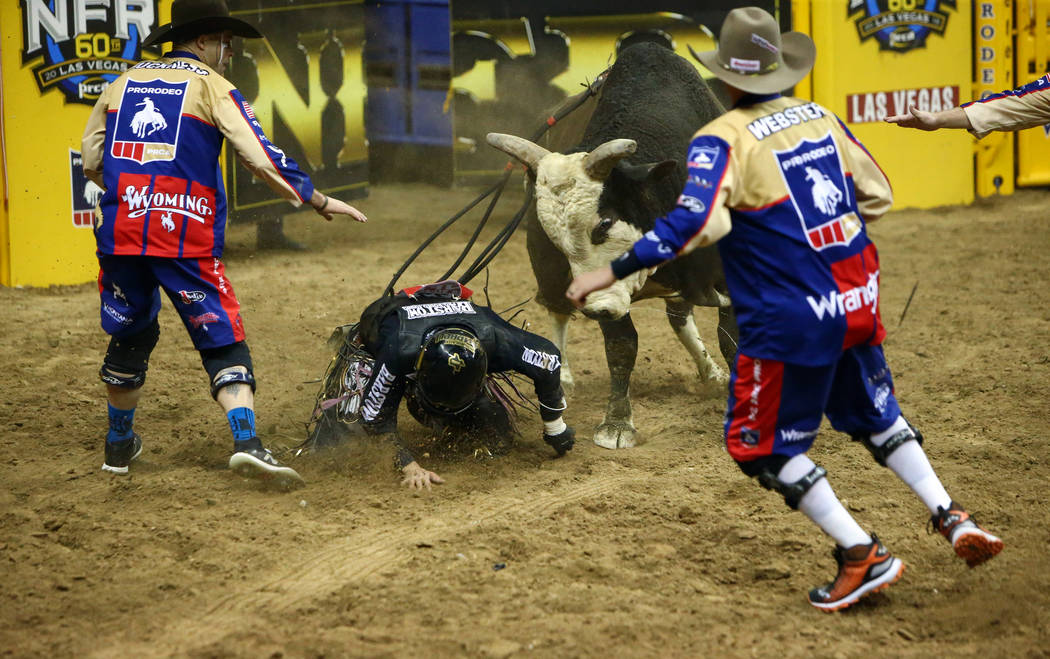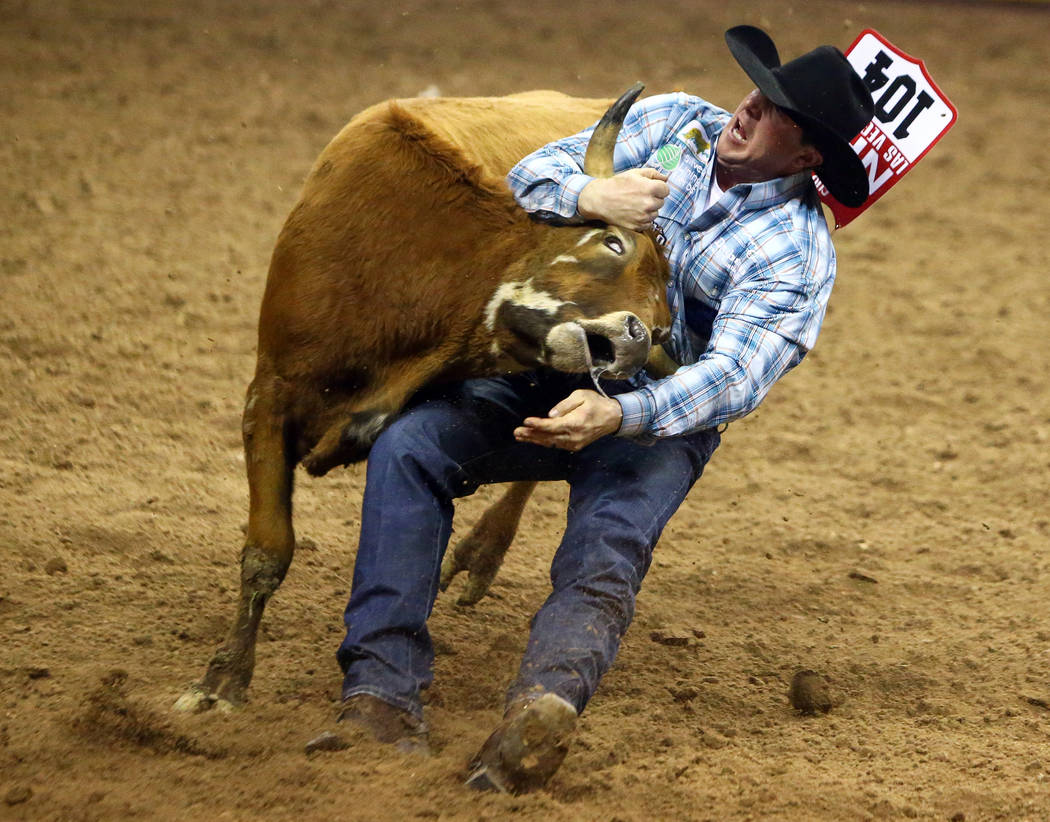 Boudreaux Campbell is in his second National Finals Rodeo and still hasn't experienced all Las Vegas has to offer.
"I'm usually just walking around or shopping or just seeing as much as I can when I'm here," the 20-year-old bull rider said before failing to cover Lumberjack in Sunday's fourth go-round at the Thomas & Mack Center. "There's a lot to do here in Vegas, but next year will definitely be pretty fun when I'm 21.
"Hopefully I'll make it back."
There's nothing to suggest he won't be able to qualify for years to come.
Campbell, nicknamed "Boo," was a two-time high school state champion in Crockett, Texas, and turned pro while he was still pursuing his diploma. He would make a five-figure check on the weekend and be back in school on Monday morning.
"It was a lot of fun," he laughed. "I got in a lot of trouble. I tried to go to college, but I wasn't a very good student. I wanted to do everything but school."
He already knew what he wanted to do so as soon as he graduated in June 2017. He started traveling to more rodeos and quickly found enough success to make the NFR last year.
"This was always Plan A," he said. "I never thought of a Plan B. I never had a backup plan. If you start setting backup plans, it distracts you from your main goal. It's not an option for me. This is what I want to do."
Campbell credits his father Jay with teaching him the finer points of the sport and transporting him to rodeos all over the country as he pursued his dream.
"He's given me everything," Campbell said. "He said he never rode really good, but he sure does help me out a lot. He can watch it and be able to tell me what I do wrong. He's been a huge help in all of this."
Campbell insists he's here to do more than just compete. He dreams of being great.
"It was such a blessing to make it last year, but right away as soon as I made it, I knew I could ride with these boys," he said. "I knew I was here for a reason. I just have to show it. I want to win multiple world titles."
Campbell believes he could be retired by 30 and spend his later years raising cattle on a ranch in Texas.
He's well on his way.
He entered Sunday's go-round 12th in the PRCA standings for the year with $116,431 in earnings despite being bucked off each of the first three bulls he drew at the NFR.
Campbell grew up playing football, baseball, basketball and ran track, but nothing could compare to the feeling he got from covering a bull.
Qualifying for the NFR at 19 years old last year reinforced his confidence. Then, after being bucked off the bull in rounds two through eight, he earned a share of the ninth-round victory.
It helped prove he belonged.
At least until the nightly ceremony when the rest of the night's victors accepted the celebratory bottles of whiskey that go to the go-round winners.
Maybe next year.
Contact Adam Hill at ahill@reviewjournal.com or 702-277-8028. Follow @AdamHillLVRJ on Twitter.
Brazile takes over all-around lead
Trevor Brazile is trying to make sure he goes out in style.
The 42-year-old Texas resident, who plans to retire from full-time competition after this week's National Finals Rodeo, took over the all-around lead with his win in tie-down roping during Sunday's fourth go-round at the Thomas & Mack Center.
"They don't pay you for your bio here," the 23-time world champion said. "You have to compete and you have to finish the course every night and I didn't do that (Saturday night). I should have done well and I didn't. Tonight, I tried not to take anything for granted and completed the course."
His $26,231 haul for the win brought him to $36,231 for the event and $270,385 on the year, moving him past his brother-in-law Tuf Cooper ($263,184) for the season lead.
Brazile's 6.8-second run was the fastest of this year's NFR through four go-rounds.
Other go-round winners: Caleb Bennett, Tremonton, Utah, in bareback riding (86.5); Curtis Cassidy, Donaldo, Alberta, in steer wrestling (3.6 seconds); Lane Ivy, Dublin, Texas, and Buddy Hawkins II, Columbus, Kansas, in team roping (4.1 seconds); Rusty Wright, Milford, Utah, in saddle bronc riding (87.0); Jessie Telford, Caldwell, Idaho, in barrel racing (13.49 seconds); and Garrett Tribble, Bristow, Oklahoma, in bull riding (87.0).