Bulls, students keep rider on toes
December 3, 2011 - 2:02 am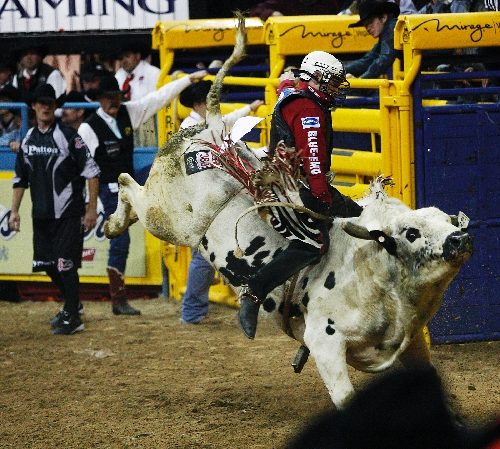 Shane Proctor is not intimated by 1,200-pound, snot-snortin' bucking bulls.
This year alone the 26-year-old figures he had ridden about 200 of the rankest bulls on the planet before the 53rd annual National Finals Rodeo opened two nights ago.
One bull was gnarly enough and wide enough to give Proctor a groin tear in September during a Professional Bull Riders event. That kept him grounded for only three weeks.
There are times, however, when Proctor was unnerved at work and worn out when he got home.
It can be challenging to be a substitute school teacher and a little intimidating to face an elementary school classroom.
"Shoot, the hardest work you'll ever do is teaching second- and third-graders," he said. "Those little kids can keep you on your feet all day."
That's how the native of Grand Coulee, Wash., spends some of his days away from rodeo arenas when he's home in Mooresville, N.C.
High school students might attempt to take advantage of a fill-in, but Proctor said elementary kids expect the same performance from a part-timer as from their regular instructor.
"The school I subbed at had computers for every student. That's where they did their homework and it was hard to keep them on task," Proctor said.
Some bulls might have longer attention spans. At least at the Thomas & Mack, he can narrow his focus to one bull.
Proctor doesn't teach because he needs some extra jingle in his britches, considering he earned $250,000 in the PBR this year despite missing the two events at the end of the season and the last three rounds of the World Finals in October.
It was Proctor's best PBR season, but those accomplishments could be surpassed by the time the NFR ends next Saturday night.
After placing fifth among 15 riders to win $4,615 in Friday night's second go-round of the National Finals Rodeo, Proctor pushed his season earnings in the Professional Rodeo Cowboys Association to $190,508.
Last year was his first competing in the PRCA, but he managed to compete in 42 rodeos and placed 23rd in the world standings and missed the NFR while the bull-riders-only circuit remained his priority.
This year's PRCA season started strong when Proctor won all three rounds and the title at Denver. He added titles in San Antonio, Texas, Reno and 14 others.
Proctor is poised to dethrone three-time reigning world champion J.W. Harris, who was bucked off for the second straight night Friday and trails Proctor by $59,465.
Although a PBR championship pays a $1 million bonus spread over 10 years, Proctor said his respect for the sport of rodeo and its history would make a PRCA world championship gold buckle priceless.
"Growing up, every December I got pumped up to watch all 10 rounds of the NFR. That's what my heroes did, they rode bulls," Proctor said.
He competed in every rodeo event while at Montana State University, and in 2005 he finished in the top 12 in all roughstock categories — bareback, saddle bronc and bull riding — in the College National Finals Rodeo.
"I'm a rodeo fan first and then a bull rider. I love watching all the events," Proctor said.
"You need to know the history of your sport before you can progress to the level we're trying to get to. You need to know where the sport comes from to get where you want to go."
It's the same outlook he takes toward teaching when he trades jeans, boots and a helmet for proper school attire.
"I put on the long-sleeve shirt, tie and nice slacks every day I teach," Proctor said while wearing a new pair of custom boots emblazoned with dice that will never step into a classroom.
"My parents are teachers, my sister is a teacher and my brother-in-law is a teacher. I've understood teaching from their perspective and learned that you have to take control of the classroom first and foremost."
He's also been keeping tight control of his bulls at the NFR.
Jeff Wolf is a freelance reporter. He can be reached at nitrorodeo@gmail.com or 702-406-8165.