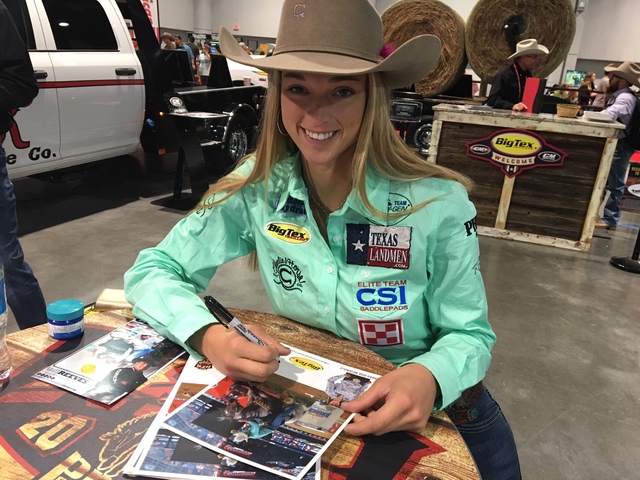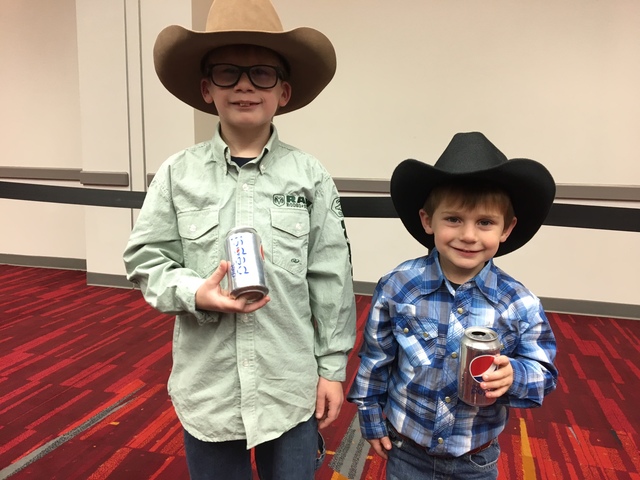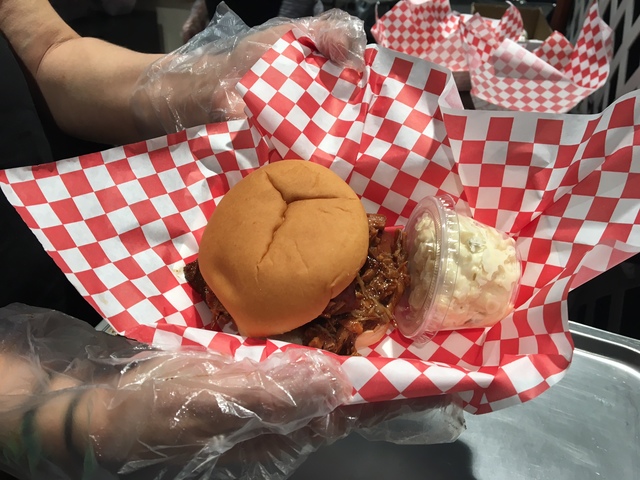 Las Vegas is known for its huge convention scene. Events such as the Consumer Electronics Show, the SEMA Show highlighting the auto industry, and the National Association of Broadcasters convention regularly fill up this town.
But make no mistake about it, Cowboy Christmas is right up there with the best of them. This year's expo, joined by the Hunter & Outdoor Christmas Expo, has the South Halls of the Las Vegas Convention Center bursting at the seams. For 10 days, the place is a corral of cowboys and cowgirls, a haven of 10-gallon hats, a river of Wranglers, and there's a truckload of things to do, see and buy — including trailers for those trucks!
The first Saturday of the Wrangler National Finals Rodeo is about the busiest day inside the South Halls. Here's a spin around the place, through the eyes of vendors, consumers, a Wrangler NFR competitor and the incomparable Flint Rasmussen.
TAKING A SHINE
Lisa Shirley hails from Charlotte, North Carolina, and is experiencing her first Cowboy Christmas, working for a company I'd never previously heard of: Riders Leather Seal. That's probably because I don't own a pair of cowboy boots. But if you do own a pair of cowboy boots, boy howdy you need this product.
Shirley and a couple of her co-workers were demonstrating how it works right there, with real potential customers. A gentleman with some very beat-up boots was stunned as his well-worn footwear was made to look darn-near new in a matter of a minute or so.
It was pretty cool to see that, but I was more interested in Shirley's overall impressions of Cowboy Christmas.
"It's awesome. There's everything here," she said. "Boots, clothes, saddles, hats. It's a one-stop shop for Christmas, for anybody looking."
There are also plenty of things beyond the typical Western wear. So what's the strangest thing Shirley has seen? In the massive expanse of the South Halls, it just happened to be in the next booth.
"There's two alligators next to us all day," she says, pointing to her right. And sure enough, as I look over, one of the alligators — probably a couple feet long, and with its mouth securely fastened — is in the arms of a patron checking it out. "We were holding them and playing with them all day. It's the weirdest thing, but definitely cool."
Shirley and her crew have had long, busy days introducing people to their product, but she's managed to get out of the convention center a bit, too.
"I went to the Taco Bell Cantina. It was fun, cool, very big," she said of one of the Strip's newest attractions, while noting crowds were epic everywhere. "Everything is busy all the time. People are just everywhere."
Including at her booth, so I let her get back to work.
BARREL OF FUN
Cowboys and cowgirls competing in the Wrangler NFR — or any rodeo, for that matter — are just about the most accommodating athletes you'll ever meet. Even during this week, with so much on the line in terms of money and world championships and such, they go out of their way to do autograph signings, and there are a bunch of contestants on hand throughout the day Saturday.
That includes barrel racer Sarah Rose McDonald. But there's one problem: she's lost her voice, as noted by a sign on the table where she's perched. But it doesn't stop her from signing posters and handing them out to fans, or posing for a photo or two. And in whispered tones, she manages to talk a little about the expo.
"Other than the arena, Cowboy Christmas is my favorite," said McDonald, from Brunswick, Ga. "Just lots of people, lots of vendors, lots of great fans that come in here."
McDonald had a huge week at the 2015 NFR, winning three go-rounds en route to finishing third in the world standings. She's won $37,500 so far in this year's NFR, including a speedy second-round time of 13.56 seconds for a second-place check of $20,730.
With all the weight of competition this week, she finds Cowboy Christmas a welcome distraction.
"You don't want to think about barrel racing the whole day. You'll think about it too much," she said, before mentioning the most interesting item she'd signed so far. "We had a stick horse a second ago. That was pretty cool."
GOOD EATS
Making your way around the spacious South Halls can certainly leave you pining for a bite to eat, and Cowboy Christmas has that covered, too. Austin Blues Barbeque was definitely a popular spot, and it's where I ran into Zane Young, a 21-year-old Iowa State University student who also rodeos for the Cyclones.
Young, his girlfriend Kelsi Gerels and other family members were taking a break from the shopping and sensory overload.
"It's amazing. I just think the vastness of it is impressive," Young said. "It's not any one certain thing, but just the sheer amount is spectacular. You've got three or four Wrangler booths. I'm gonna buy a coat later."
And what about the lunch you just polished off?
"I had that barbecue," Young said. "I would recommend that."
THAT'S THE TICKET
The Wrangler NFR is among the toughest tickets in town to get, but among many things the event has done well is set up a ticket exchange at Cowboy Christmas. If you are willing to attend on that first Sunday or one of the weekday go-rounds, you can get tickets — sometimes pretty good ones.
That's what Vito Scattaglia was seeking on Saturday afternoon, hoping to score four Sunday seats, including two for his grandsons Michael, 8, and Thomas, 4. This isn't Scattaglia's first rodeo; he's been coming to the NFR for 28 years and has found the ticket exchange very much to his liking.
"It's very good. If you're not looking for Friday or Saturday, it usually works out beautifully," he said. "You've just got to be patient."
Scattaglia, from Canyon Country, California, just wants to make sure the two youngsters are close enough to soak it all in, and maybe learn some valuable lessons while doing so.
"For the kids, it's the experience of the whole event – the competition, the teamwork, and respect," he said.
FLOCKING TO FLINT
Speaking of experience, Cowboy Christmas even has live shows throughout the day. The biggest attraction is usually Flint Rasmussen's "Outside the Barrel," which airs live on RFD-TV each day at noon. Rasmussen, the renowned rodeo clown/barrelman/bullfighter, brings his wit and rodeo perspective to a few hundred eager fans, filling every seat, every day, with plenty more standing wherever they can to take in the show.
This year, as with the previous seven, Brady and Carey Kolden are on hand. In fact, it's must-see TV — in person — for the couple from Couer d'Alene, Idaho, who are celebrating their 27th anniversary.
"We set our whole day around it," Carey said. "He's just fun, and it's relaxing."
Brady concurs, adding: "We come to the show because Flint keeps it real. He's down-home, he's a country guy, he enjoys people, he enjoys what he does."
Much like Cowboy Christmas itself, "Outside the Barrel" had humble beginnings, but has evolved over 12 years into a mainstay of the Wrangler NFR experience.
"Through the years, we've gone from something set up in the back corner here, just hoping people happen upon us, to now having people when they schedule their trip to Las Vegas, they make us part of the day," Rasmussen said backstage after Saturday's show. "When people are coming here on purpose, that means we're making their day better. That's the goal."
Oh, they're coming there on purpose, for Rasmussen's show, the boot-shine vendors, the autograph sessions, the shopping, the food, and as a means to get tickets to the rodeo. Indeed, Cowboy Christmas is as much a part of the Wrangler NFR as the competition itself.