Cowboy Christmas in Las Vegas has anything you need
Updated December 8, 2018 - 7:05 pm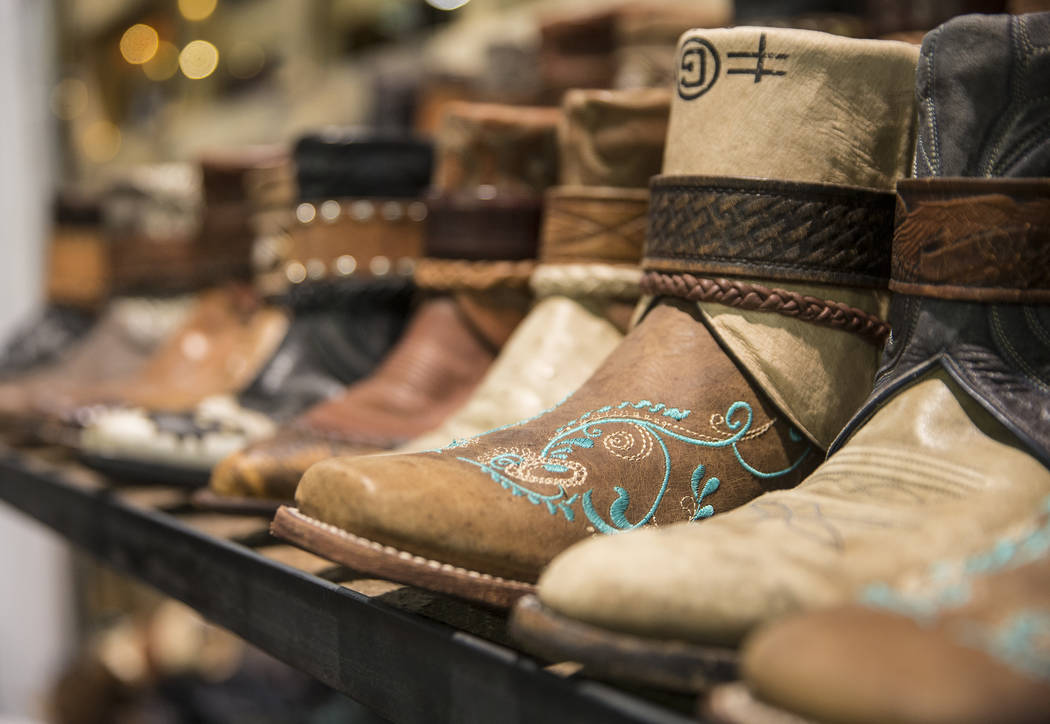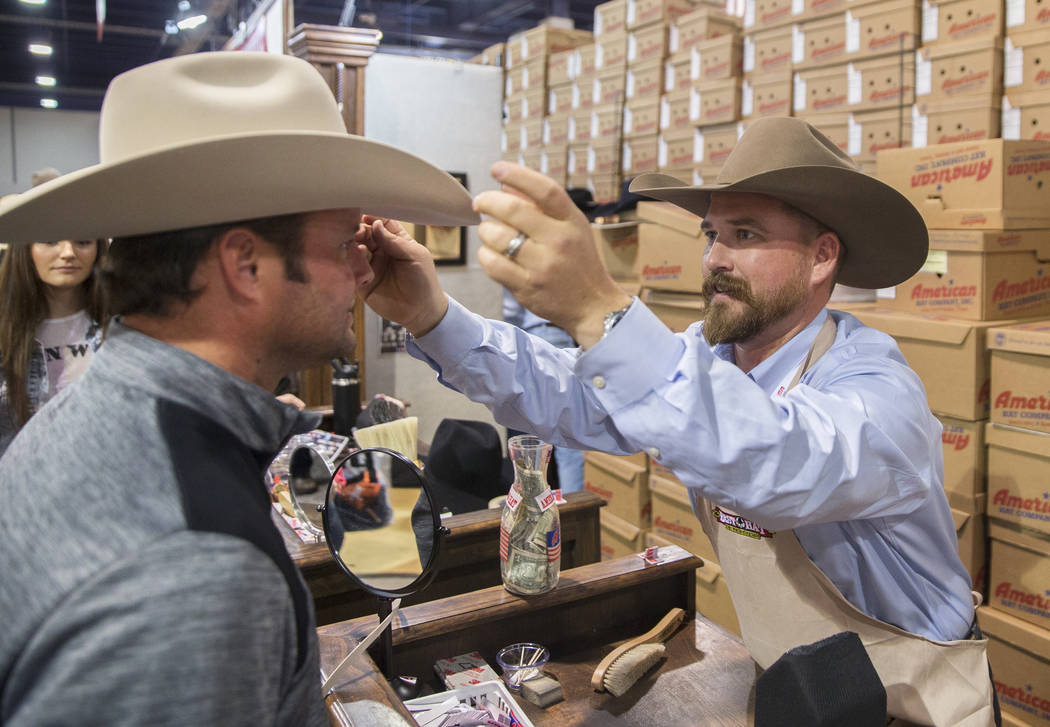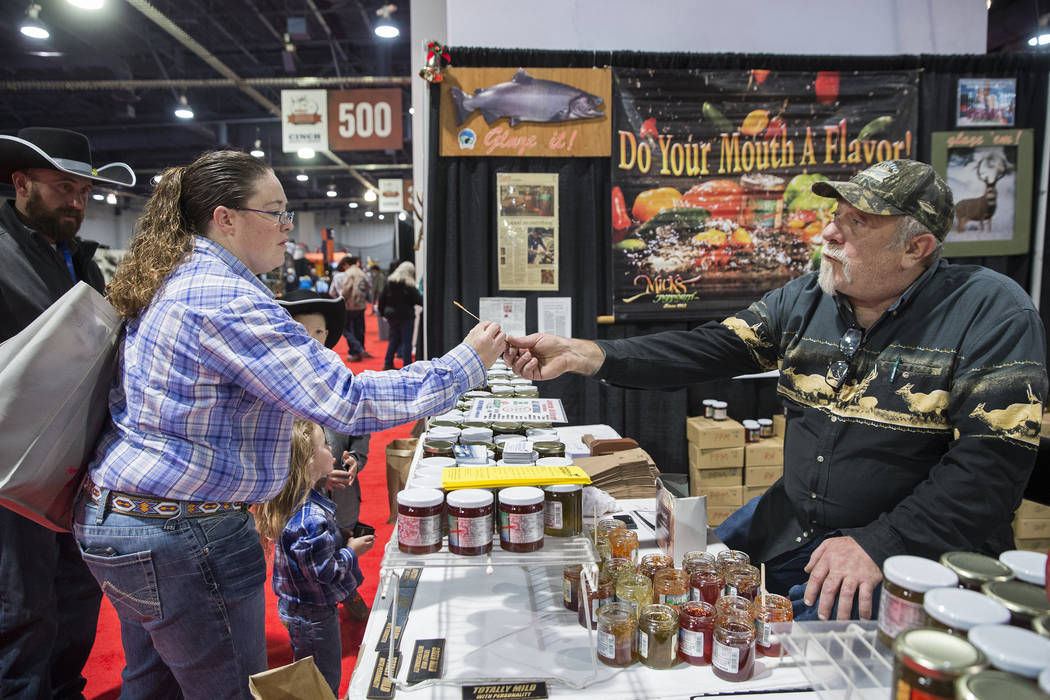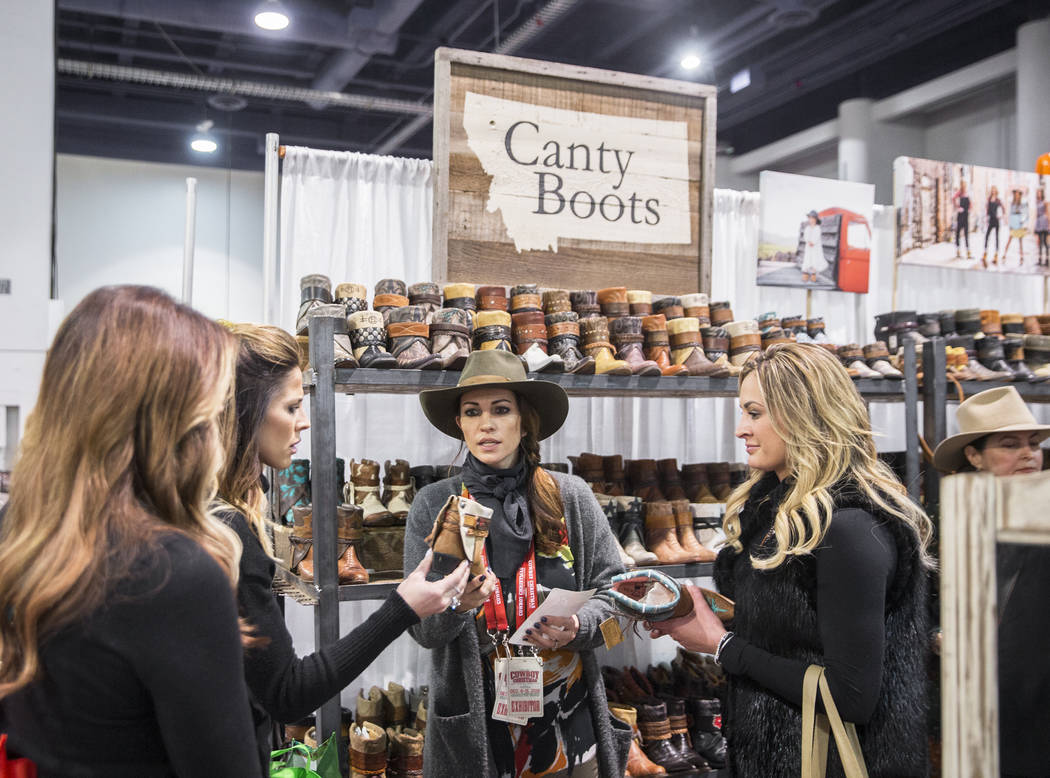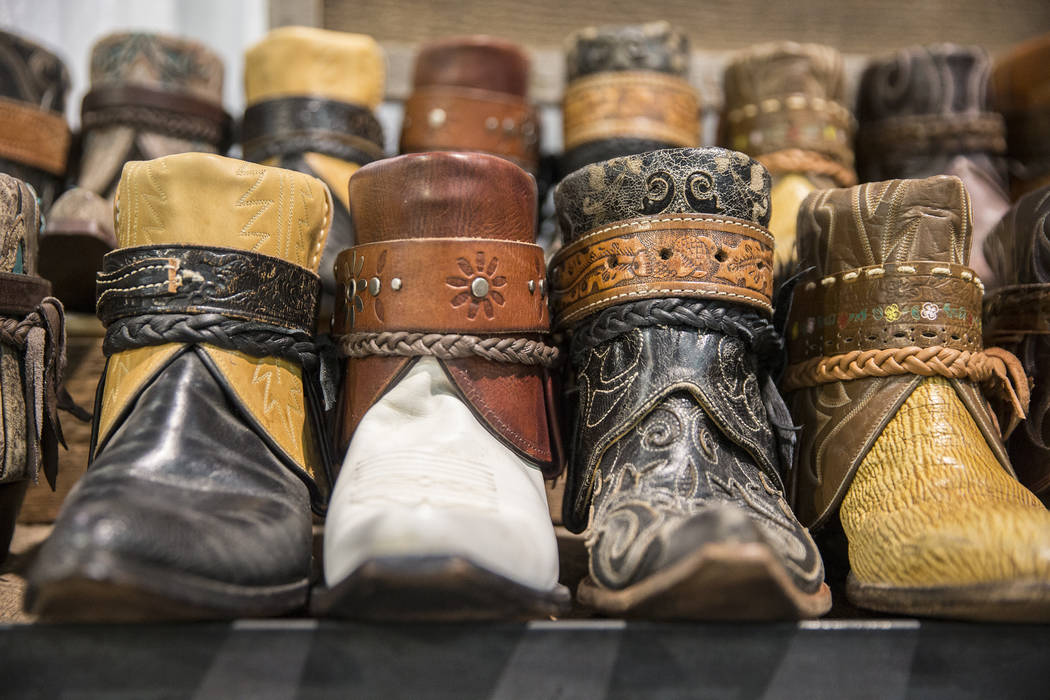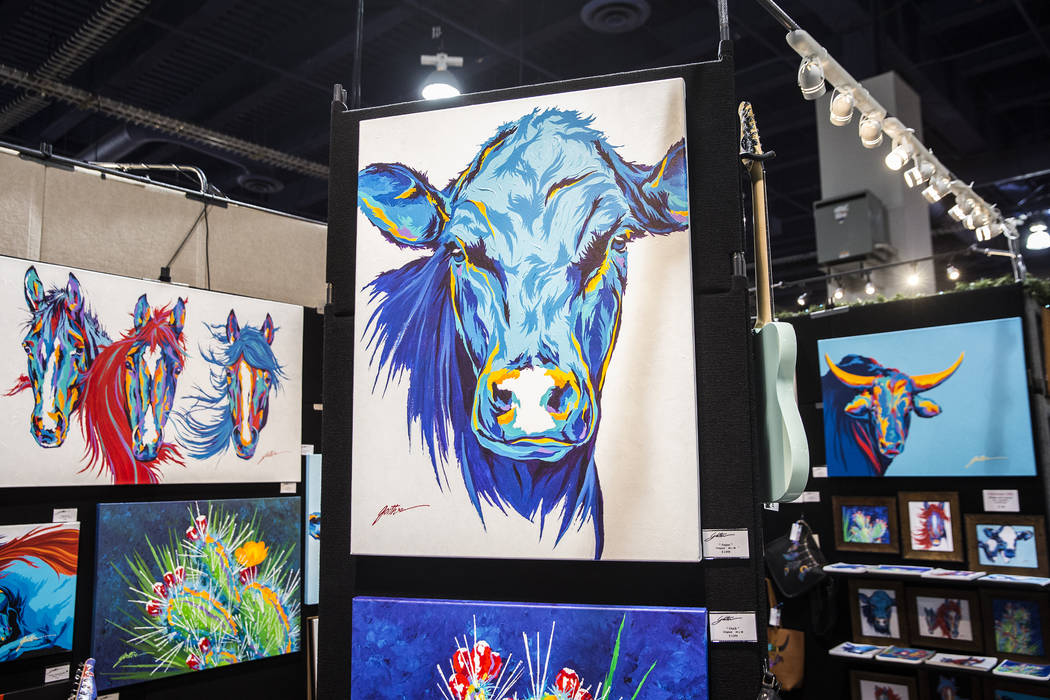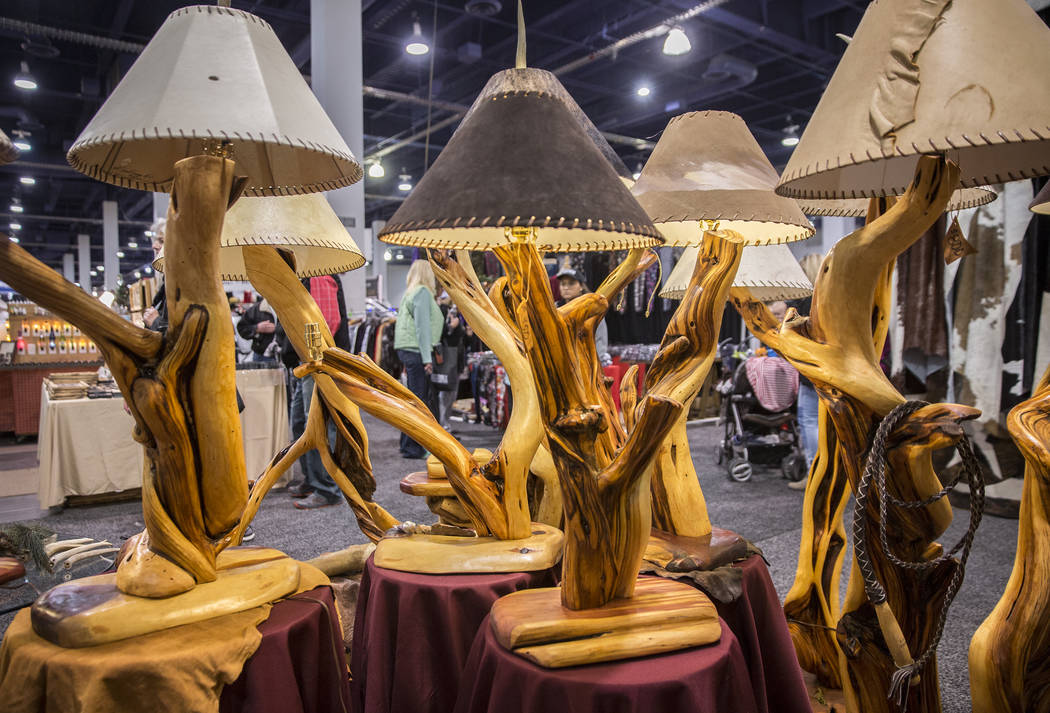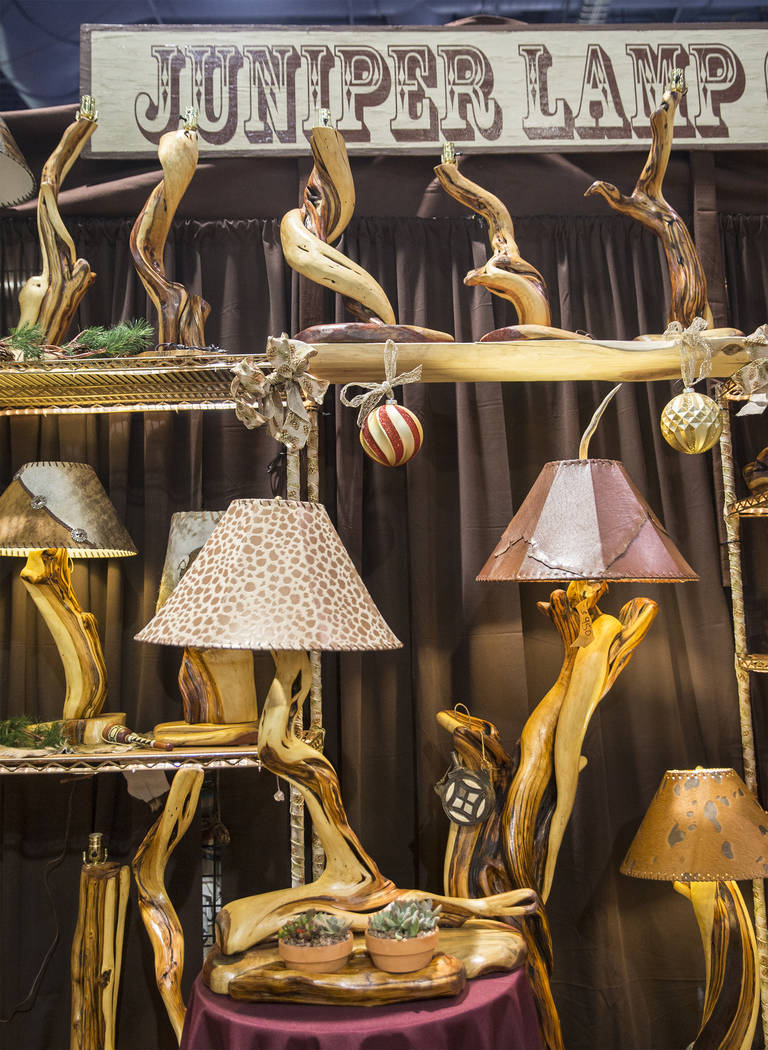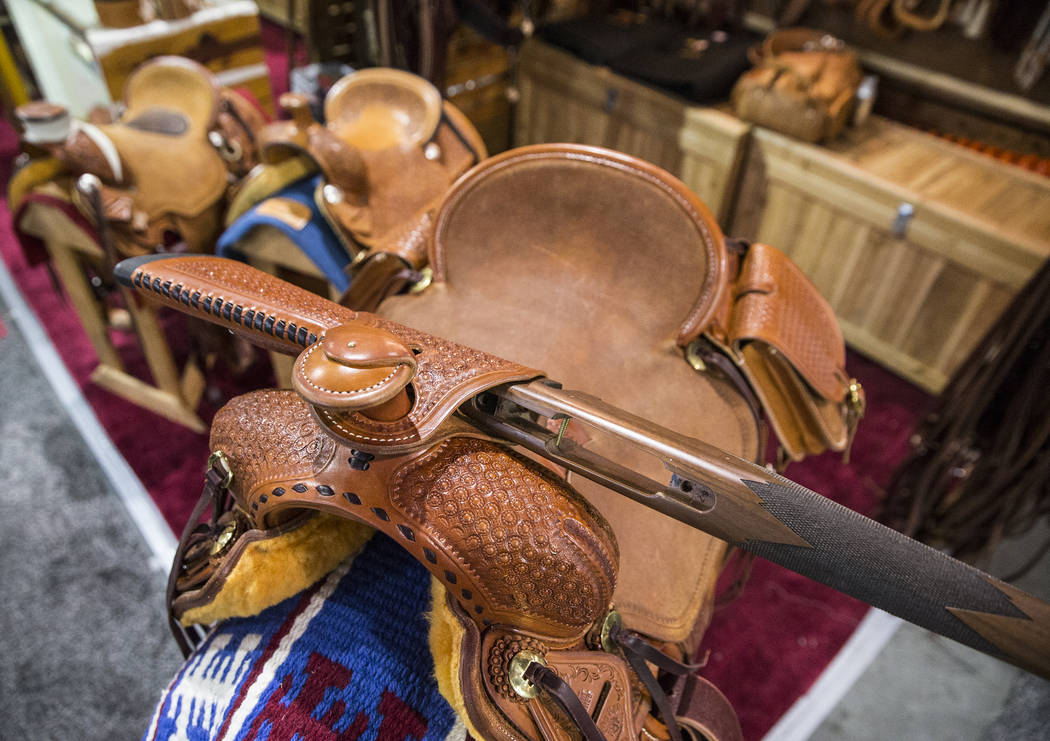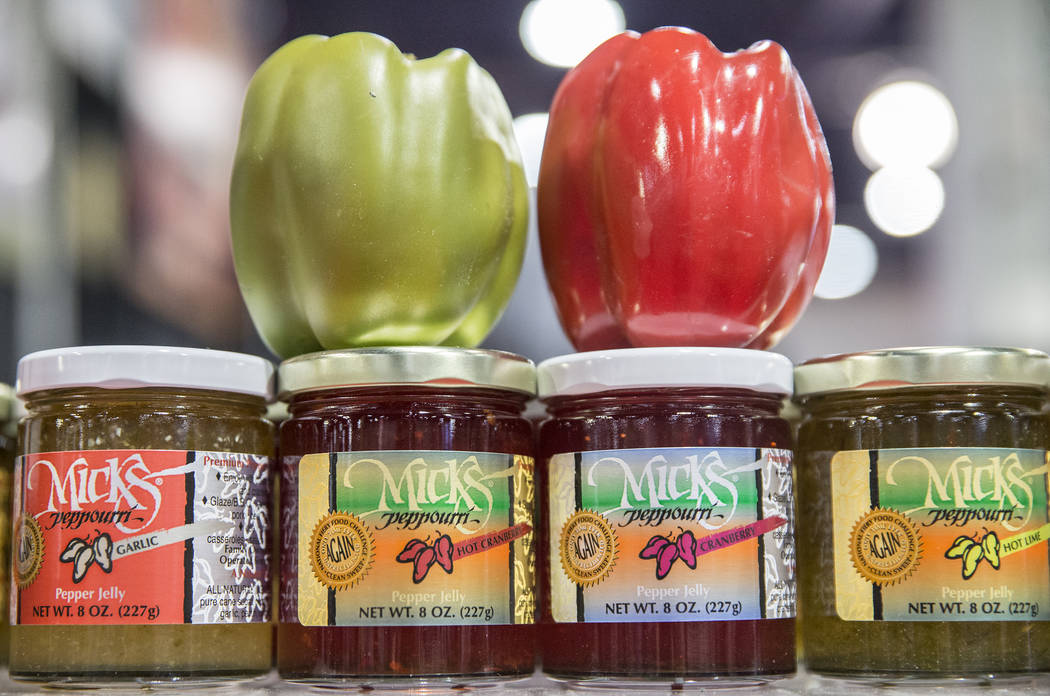 The halls are filled with wide-brimmed hats and cowboy boots — and that's just what the shoppers are wearing.
Over the 10 days that the Wrangler National Finals Rodeo is in town, more than 200,000 Western aficionados will explore seven and a half football fields' worth of practically any good you can imagine.
They'll take in aisle after aisle of saddles, turquoise jewelry, beef jerky, camping grills, cowboy hats, luxury RVs, rhinestone T-shirts and cowhide furniture.
Many of Cowboy Christmas' 300-plus vendors begin work as early as February in preparation for the NFR shopping extravaganza at the Las Vegas Convention Center South Hall, their biggest event of the year.
Both the vendors and attendees journey from across the U.S. for Cowboy Christmas. And with more merchandise than one could feasibly see in one day, there's literally something for everyone.
For the fashionable cowgirl
On a convention hall floor echoing the constant click-clack of classic cowboy boots, Canty Boots stands out with unique flourishes.
"Canty means cheerful and lively," Canty Boots owner Nikki Edmundson says. "Which is what I'm trying to do with these boots."
Since 2011, Edmundson has been breathing new life into worn and vintage leather pairs from her home in Montana. She inverts the shaft and adorns boots with paint, staining, carvings, belts, animal hides and metal medallions. Often, boot parts are swapped to create designs with brightly colored shafts and neutral toe boxes.
She spends most of the year creating the 500 pairs she brings for Cowboy Christmas, her biggest event of the year.
For the barrel racer
At 15 years old, Abby Armstrong has outgrown her current cowboy hat. She selects a cool gray beaver fur felted number with a round dome and wide brim and brings it over to Tye Chesser, who's standing over a steam iron.
Chesser, a sales representative for American Hat Company, asks Armstrong what she needs it for. "Do you want to look classy or hip? Kind of ranch-y?"
Armstrong explains that she's a barrel racer and needs to be able to pull the hat far down on her face so it doesn't fall off. Chesser heats the crown of the hat over the steam and begins shaping the fabric, moving it on and off Armstong's head to get the shape just right. "You see that?" Chesser asks, pointing at two symmetrical indents in the hat's crown. "Those are shaped to give you enough room that you can pull the hat down to your eyebrows."
He asks Armstrong where in Texas she's from — regions in the U.S. have different hat styles. She replies it's a small town near Dallas. He's not heard of it.
He folds the sides of the hat up, creating a 90-degree point where the brim lays flat at the center. Armstrong pushes her new hat on and beams, "Way better!"
Armstrong's mom likes it, too, and tells her she can wear it through the end of NFR, but then it's going back in the box and under the Christmas tree.
She promises to act surprised when she opens it.
For the home decorator
Las Vegas locals Ronda Korish and Darren Lambert create lamps that would look just as at home in an Oregonian forest as they would in your living room.
Each of Juniper Lamp Company's creations starts with a juniper tree from Bend, Oregon. Lambert strips and power-washes away the tree's ugly bark, then coats the twisted, striated limbs with teak oil. Lines of dark wood mark the tree's age in the otherwise tan and auburn branches.
Korish covers lampshades in glossy leather, textured buffalo hides and speckled paper.
For the art lover
Amid aisles of landscape paintings, Lyndon Gaither's portraits of cows and horses pop in front of backgrounds of teal and cerulean.
"There is so much traditional brown art in the Western style," Gaither says. "I wanted to make something different."
He motions toward a painting titled "Three Amigos." Three horses sit side by side, their faces shaded with lilac and orange, their manes a deep shade of red. Gaither grew up on a farm in Texas, where he started dabbling in art. Most recently, he's expanded his vibrant Western style to portraying cactus. Depicted with electric green, cactuses are spotted with acrylic purple paint in front of a black speckled background.
For the big spender
For the cowboy who needs to haul his family of five and each of their horses, the Twister Trailer, based in Kansas, will do it in luxury. The back holds stocks for all five horses — because if you can afford the $229,999 price tag, you can probably afford five horses — and the front sleeps up to five people with a queen bed, two bunk beds and a sleeper sofa. The trailer is equipped with three TVs so everyone (minus the horses) has something to watch as well as a bathroom and kitchen complete with everything but an oven.
For the foodie
Ginger and Walter Mick started Micks Peppouri 35 years ago as a retirement project in Yakima, Washington. Now their pepper jellies are sold in places such as Italy, France and Australia. Ginger, who recently celebrated her 96th birthday, eagerly passed out samples of mild lime and cherry bell pepper jellies and hot garlic and raspberry jalapeno jellies. Ginger says the initial recipe took two years to develop.
"Now we mostly sell the jellies to restaurants who use it to glaze meat and fish. We like to eat it with cream cheese and crackers."
For the horse
It took Tommy Conway four and a half months to build one saddle. It's constructed with four shades of brown leather, embossed with intricate floral designs and laced with hand-stitched and plaited lacing — 100 yards of lacing to be exact.
"I wake up every morning and go to work," says Conway. "I work out of my backyard." That's where he creates an assortment of saddles, reins, rigging handles and handbags. Conway holds up a picture of a glittering white and gold belt buckle, the first-place prize from the Wichita Falls Boot and Saddle Show. The winning saddle sits on a wooden frame in front of his booth. He's been at it for 35 years, and most of that time goes to preparing inventory for Cowboy Christmas.
Contact Janna Karel at jkarel@reviewjournal.com. Follow @jannainprogress on Twitter.