Cowboy king Trevor Brazile to ride off into sunset after NFR
Updated December 8, 2018 - 11:21 pm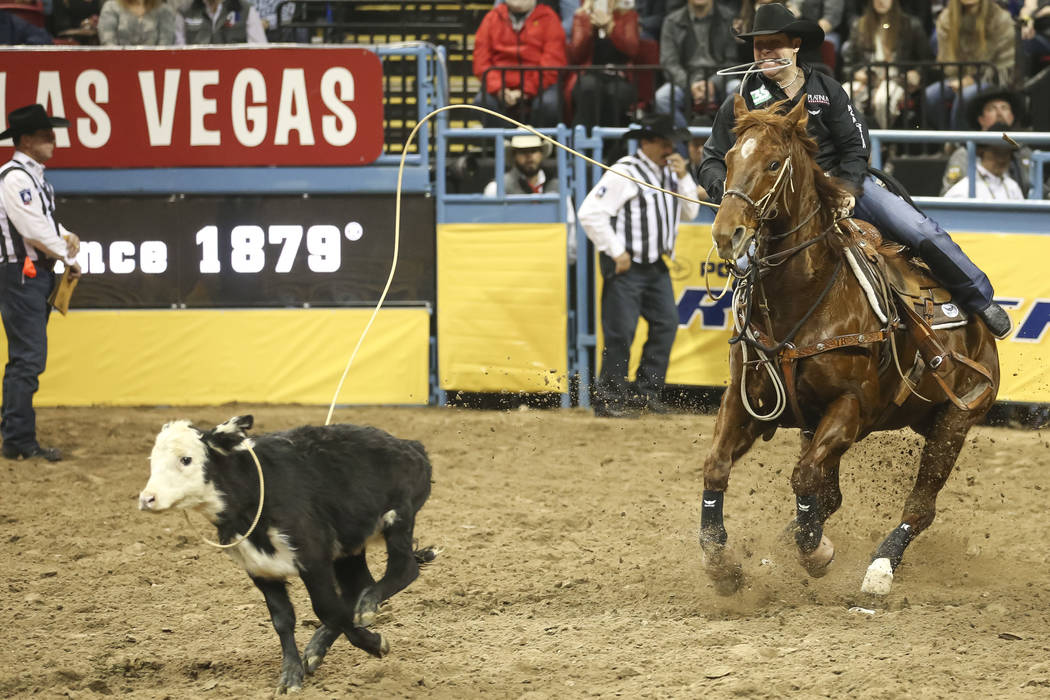 Trevor Brazile never imagined he would become King of the Cowboys.
The 23-time world champion, who will retire from full-time competition after the National Finals Rodeo at the Thomas & Mack Center, would have gladly settled for being a professional cowboy.
"Honestly, I had a goal to be able to make a living rodeoing," said Brazile, 42. "Being able to sustain a living doing what I love and being on a horse every day and traveling the country, that would've been a blessing beyond measure."
It's hard to believe now that Brazile has rewritten the pro rodeo record books, but early in his career, the Decatur, Texas, roper had doubts about whether he could make it in the Professional Rodeo Cowboys Association.
"There were times I thought I was going to have to pick up another line of work," he said. "It was really hard for me to get going at first and to learn how to win at the professional level.
"I'd won at the junior, high school and collegiate levels, but it just seemed like it took a minute for me to win (in the PRCA)."
Brazile joined the PRCA in 1996 and won his first all-around world title in 2002. He has won a record 13 all-around crowns in 14 years to shatter Ty Murray's mark of seven.
"Ty Murray was not only a legend in our sport, but he was such a hero to me," Brazile said. "To be able to surpass that (record) was my greatest achievement."
Brazile also has won 10 individual event gold buckles — in steer roping, tie-down roping and team roping — on his way to becoming rodeo's first $6 million man.
While he's still healthy and in contention for his 14th all-around title, Brazile plans to drastically reduce his schedule next year to spend more time with his wife, Shada, and their three children — Treston (11), Style (8) and Swayzi (3).
"I've had my time," he said. "My friends and family have sacrificed for my success for so long, and now it's time for me to do the same for their goals and dreams."
Brazile said he has been competing in 75 to 80 rodeos a year. He plans to scale back to less than a third of that next year, meaning this year's NFR probably will be his last.
"I'm not saying never," he said. "As of right now, there are two rodeos — The Houston and The American — that if a guy won both of those, he's already qualified for the National Finals. But to pull off something like that would be a feat in itself."
Sounds as if Brazile has a new goal. He said what he'll miss most is competing on his sport's biggest stages.
"That's why I'm going to try to get somewhat of a fix being able to get into the big events," he said.
Brazile is off to a rough start at the NFR, failing to place in the first three rounds of tie-down roping.
But he's still within striking distance of Tuf Cooper, who happens to be his brother-in-law, in the race for the all-around world crown. He trails Cooper by about $19,000, which is less than the prize money for one go-round win at the NFR ($26,230.77).
"Everybody wants to go out guns blazing and having the best NFR I've ever had," Brazile said. "I've been here enough to know I've had good and bad. It's as much the process as the result, and I want to enjoy every bit of it."
Despite having the same number of gold buckles as swimmer Michael Phelps has Olympic gold medals (23), Brazile has remained a humble King of the Cowboys.
"This sport can humble you fast," he said. "From rodeo to rodeo, there are so many ups and downs and variables, if you don't learn to stay grounded early, it's a long ride."
Brazile expects his likely last ride in Las Vegas to be an emotional one.
"I'm sure the emotion will hit me periodically when the realization of that comes, because I love it," he said. "If you don't love competing in Vegas, there's something wrong."
More NFR: Follow at reviewjournal.com/nfr and @RJ_Sports on Twitter.
Contact reporter Todd Dewey at tdewey@reviewjournal.com. Follow @tdewey33 on Twitter.
Texan scores 90 to win saddle bronc riding
Isaac Diaz rode South Point to a win in saddle bronc riding in the third go-round of the National Finals Rodeo on Saturday night before a crowd of 17,031 at the Thomas & Mack Center.
Diaz, who scored 90 points, then took a ride to the South Point, which hosts the go-round buckle presentation each night.
"South Point will take you to the South Point, they say," said Diaz, 32. "That's a good name for that horse.
"That horse will give you every opportunity to win. Anybody here would've had the same amount of points on that horse. That horse is a little tricky out of the chute, but after that she does everything you could ask in a bucking horse."
The Desdemona, Texas, cowboy earned $26,230.77 for his victory and is fourth in the world standings with $160,970.32, about $35,000 behind event leader Ryder Wright.
"I try not to keep an eye on it, but the whole year has been unreal," said Diaz, making his first NFR appearance since 2015. "If I can go into round 10 with a shot at it, that would be a dream come true."
Diaz and wife Britany, a two-time NFR qualifier in barrel racing, are expecting their first child in January.
The other go-round winners were: Tim O'Connell, Zwingle, Iowa, in bareback riding (88.50 points); Scott Guenther, Provost, Alabama, in steer wrestling (3.3 seconds); Derrick Begay, Seba Dalkai, Arizona, and Cory Petska, Marana, Arizona, in team roping (4.0 seconds); Marty Yates, Stephenville, Texas, in tie-down roping (7.0 seconds); Amberleigh Moore, Salem, Oregon, in barrel racing (13.59 seconds); and Sage Kimzey, Strong City, Oklahoma, and Tyler Bingham, Honeyville, Utah, in bull riding (88.0 points apiece).