Eighth day of NFR ushers in new event leaders
December 14, 2017 - 11:11 pm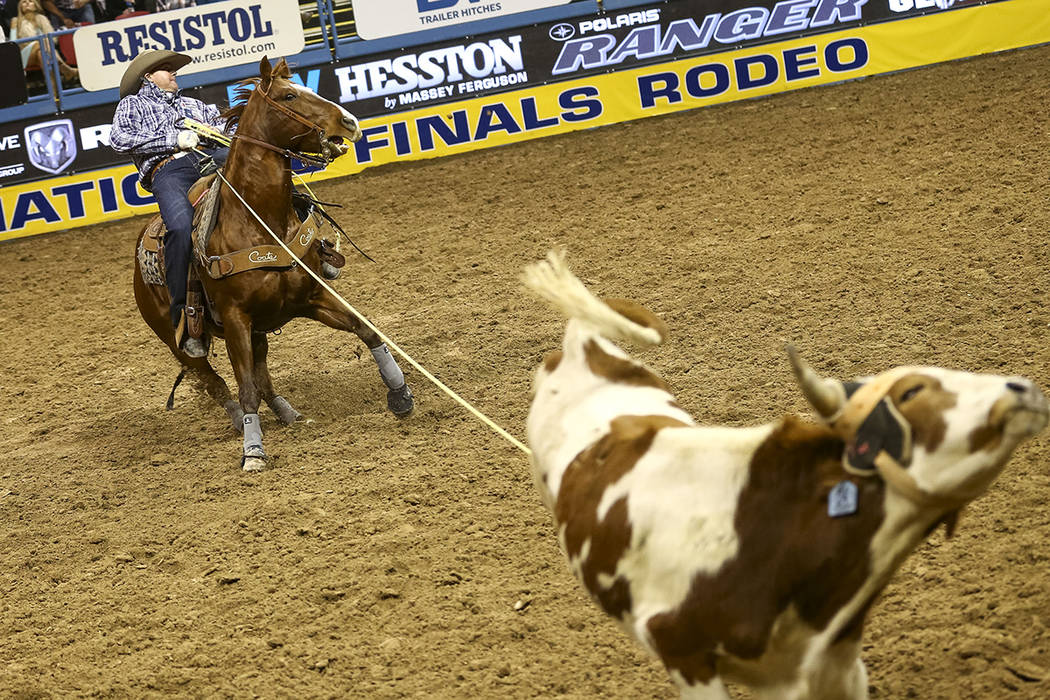 The eighth day of the National Finals Rodeo at the Thomas & Mack Center ushered in some new event leaders.
In team roping, an event which has shifted back and forth, header Luke Brown is now the leader of the pack. Cory Petska leads the heelers. The two are not roping partners.
Brown and his partner, Jake Long, along with Clay Tryan and Jade Corkill tied for first, posting a time of 4.10 seconds Thursday.
Saddle bronc rider Ryder Wright, just 19, won his third go-round with a score of 92.0 to move past Jacobs Crawley.
Richmond Champion won his second bareback riding go-round (88.0) after also tying for first in the second go-round.
Chason Floyd topped the steer wrestlers (3.70 seconds) and Caleb Smidt and Cory Solomon tied for first at 7.60 seconds among tie-down ropers.
Amberleigh Moore won her third barrel racing go-round at 13.54 seconds and Jordan Hansen posted an 86.0 in bull riding to lead the bull riders.
Trevor Brazile added to his All-Around lead and now leads Tuf Cooper by $32,353.65, a lead which is not safe as Cooper stands to earn a hefty check as he is near the top of the tie-down roping aggregate standings.
Contact Betsy Helfand at bhelfand@reviewjournal.com. Follow @BetsyHelfand on Twitter.