Expect the unexpected on final night of NFR
December 12, 2014 - 10:57 pm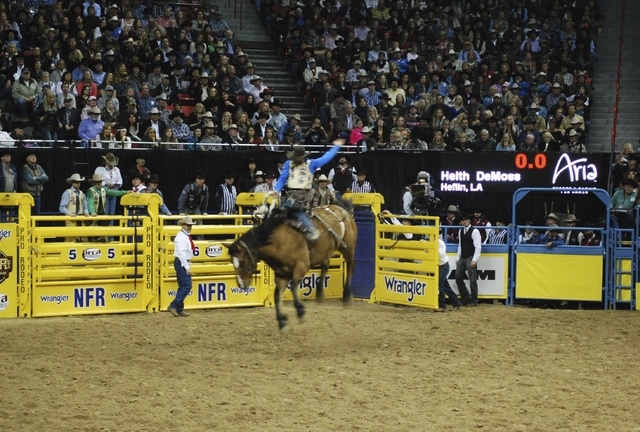 Well, folks, we've come to the culminating day of the 2014 Wrangler National Finals Rodeo.
The 30th installment of the world's richest rodeo has been quite the ride, full of thrills, spills, surprises and heartbreak. So, pretty much your typical Wrangler NFR.
The hardware will go out tonight as a handful of talented contestants will realize lifelong dreams and become world champions. It's a title they will carry for the rest of their lives.
Trevor Brazile clinched gold buckle No. 2 of the year Dec. 6 when he secured his 12th all-around world championship, and rookie bull rider Sage Kimzey became the first ProRodeo cowboy to win a world title in his first year since ProRodeo Hall of Famer Joe Beaver won the tie-down roping in 1985 at the first Finals in Las Vegas. Kimzey won Round 9 to lock up the Wrangler NFR average crown, a feat not even Bill Kornell could accomplish while becoming the first rookie bull rider to win a gold buckle in 1963.
In addition, multiple-time world champion bareback rider Kaycee Feild and steer wrestler Luke Branquinho put themselves in solid position to add to their legacies tonight.
Feild won Round 9 with an 85.5-point ride on J Bar J Rodeo's Dirty Rags to push his season earnings to $231,230 and take over the top spot in the Wrangler NFR average from Austin Foss, who is second with $184,475. Foss needs Feild to buck off in Round 10 to have a chance to steal the gold buckle, but the Spanish Fork, Utah, cowboy is primed to win his fourth consecutive world title and fourth Wrangler NFR average in a row.
If Feild can do that, he will become just the second cowboy in the history of ProRodeo to win four straight Wrangler NFR average titles. ProRodeo Hall of Fame team roper Leo Camarillo accomplished the feat from 1968-71.
"They were saying that Austin (Foss) and Winn (Ratliff) were ahead of me (in the average)," said Feild, whose father, Lewis, won the first three all-around titles in Las Vegas from 1985-87. "I was mad, and that fired me up. I got in the chute with a different attitude tonight."
A fourth consecutive gold buckle for Field will mark the first time any bareback rider has won four in a row since Hall of Famer Joe Alexander notched five straight from 1971-75. He would join Jim Shoulders, Eddy Akridge, Marvin Garrett and Bobby Mote with four world championships and would be just one off the event record held by Bruce Ford and Alexander, and that is at the ripe old age of 25.
"I stubbed my toe a few times this week, and I was really disappointed in how everything was going," Feild said Friday night. "It got better tonight, and now I'm really looking forward to tomorrow. I'm real excited about tomorrow."
Branquinho finished second in the ninth round and leads the world standings with $153,648, $19,242 ahead of second-place Trevor Knowles. Branquinho has a massive lead in the average race, while Knowles is 11th and third-place Nick Guy stands seventh, so it would take a huge hiccup by the Californian in Round 10 to open the door for anyone else.
Clay Tryan and Jade Corkill lead the team roping standings with $163,354 apiece and are also No. 1 in the average, with Trevor Brazile and Travis Graves just $3,725 behind and ranked fifth in the average. With $19,002 up for grabs in the final round, Brazile and Graves have a shot to leapfrog Tryan and Corkill, but a businesslike run from the leaders should seal the deal.
Brazile missed his head-catch attempt in Round 9, a mistake that soured him and made him mad at himself.
"My partner has roped so good all year and is the best heeler who hasn't won a world championship," Brazile said of Graves. "I thought this was the year we could get it done, and I just hate to be the one who dropped the ball. (In Round 10) I'm going to try to win the round."
Saddle bronc riding will be a nail-biter, as world standings leader Heith DeMoss holds a slim $7,784 lead over Cort Scheer. DeMoss is 10th in the average, while Scheer is second, and third-place Wade Sundell — who won Round 9 — is seventh in the average and also has a chance.
The smart money is on Scheer, but anything can happen inside the Thomas &Mack Center once the bronc riders nod their heads. Fourth-place Spencer Wright is just more than $12,000 behind DeMoss and leads the Wrangler NFR average, so a good ride from him could result in a gold buckle for the Milford, Utah, cowboy.
Two-time world champion tie-down roper Tuf Cooper is in the driver's seat for another gold buckle and leads the world standings with $193,002 heading into Round 10. He is second in the Wrangler NFR average and can clinch the championship with a solid run, but if he stubs his toe, second-place Brazile — who is third in the average — or third-ranked and average leader Matt Shiozawa could make a move to the top.
Brazile spilt Round 9 with Cade Swor to keep pace with Cooper and Shiozawa.
"I didn't think I'd do well in the calf roping because I was so mad from the team roping," he said. "I'll look at it (the standings), and we'll see what we can do."
Barrel racing remains a largely two-woman battle heading into the final performance, and Fallon Taylor holds a $221,886-$213,717 lead over Lisa Lockhart. Lockhart leads the average while Taylor is second, and third-place Kaley Bass is also third in the average and within striking distance if the top two gals knock over barrels.
Regardless, the event will have a first-time world champion tonight.
Another interesting race that culminated Friday night was for the Ram Top Gun Award, which goes to the top money earner in a single event. Kimzey clinched that prize with $126,734, as Lockhart ($92,100) and Wright ($91,487) can't catch him.
The winner gets a 3500 Ram Heavy Duty Longhorn Laramie truck, a special Montana Silversmiths custom buckle and a Ram Truck Top Gun-branded gun from Commemorative Firearms. Sherry Cervi won last year, with Mary Walker in 2012, Feild in 2011 and Brazile claiming the inaugural one in 2010.
Having said all this, we could see some more surprises tonight, and a name I haven't mentioned could slide into the gold-buckle spot. That's what makes this rodeo so magical and compelling, and the Thomas &Mack should provide the best show in town.
Neal Reid is a Colorado Springs, Colo.-based freelance writer who spent five years as editor of the ProRodeo Sports News. He has written for Western Horseman, American Cowboy, The Ketchpen, Persimmon Hill, USA Today, Newsday, PBR.com, MLB.com, ESPN.com, ESPNW.com, the Colorado Springs Gazette and Denver Post, among others. Reid, a member of the Rodeo Historical Society, covered the 2014 Olympic Winter Games and Paralympic Winter Games in Sochi, Russia, for the Olympic and Paralympic News Service and is covering his 11th Wrangler NFR. Follow him on Twitter @NealReid21.