Family inspires steer wrestler Gee's return to National Finals Rodeo
December 3, 2011 - 10:32 pm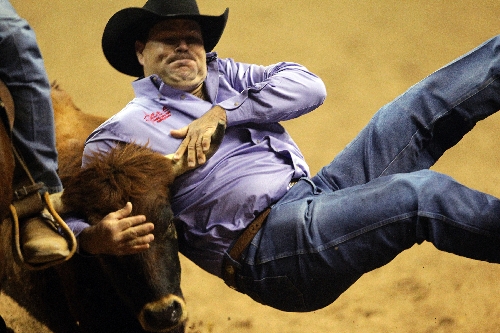 Rodeo teaches life lessons much like those learned by working on a ranch or farm, industries upon which the West was built.
Mickey Gee learned one of those lessons Saturday during the third night of the 53rd annual National Finals Rodeo at the Thomas & Mack Center.
On Saturday, before a crowd of 17,430 — including the two most important ones in his life — Gee took 20.2 seconds to bring down a 300-pound steer.
That was much slower than the 3.5 seconds it took Shawn Greenfield of Lakeview, Ore., to win the go-round.
Gee, a former Professional Rodeo Cowboys Association steer wrestling world champion, said his horse, Fifth Wheel, was a little slow leaving the chute.
It took the horse about 10 seconds to catch the steer, and Gee then grabbed its horns. He never let go. He finally put the animal down when he cornered it against steel rails that encircle the arena dirt.
The 36-year-old welder and part-time rodeo pick-up man was ready to tell what went wrong to his daughter, Hadley, 7, and especially his son, Cooper, 4.
"I'll explain a little bit, but he'll think I won anyway," Gee said. "He thinks I win every time."
Gee smiled. He might say you can't always win but you can always try.
"I might talk to him about 'try' and never giving up, but he might be too young to understand," Gee said. "If you don't have 'try,' you don't need to be in this business."
This is Gee's third time qualifying for the NFR. He backed off rodeo after his daughter was born because being home paid greater dividends than being on the road.
He qualified 15th this year for the 15-man field, just as he did in 1999 when he won it all.
That Finals was momentous for Gee. The Dean, Texas, native arrived not expecting much, just happy to be in the world's biggest rodeo.
Gee progressively moved up the standings until he stood on the top rung as the world champion after winning the 10th and final round to earn the gold buckle. He set NFR records that year by winning $77,244 and needing only 42 seconds to turf 10 steers.
His time Saturday was nearly half as long as what it took him 12 years ago to pin 10.
The 5-foot-11-inch, 235-pound cowboy made it back to the NFR one other time, in 2003, and was the best bulldogger over the 10 days. He placed third in season standings.
Most special to Gee that year was his father, Dennis, was the hazer who rode to keep the steer in line to be caught. It was a Gee sandwich with some lean beef in the middle.
After that, family and a guaranteed paycheck came before rodeo. He competed in a few rodeos but never enough to qualify for the NFR.
This year, with encouragement from his wife, Amber, he rodeoed the hardest in eight years because they wanted their children to experience the NFR when he was competing.
To hear "Mickeeeee Geeeeee" reverberate through the arena when he was introduced before nearly 18,000 fans, most of whom knew what it meant for their daddy to be a world champion even if they didn't.
"They see all the (first-place) trophies, buckles and saddles at home, but I don't think they understand what they mean," he said, also seeming not to care.
He had something else to think about. He knew he had another rodeo later that night — and every night he has been here — that will last about half an hour.
"I'll have to play rodeo with Cooper as soon as we get back to the hotel room," Gee said. "My boy wants to be a bulldogger."
The rodeo cowboy doesn't fall too far from the horse.
Jeff Wolf is a freelance reporter. He can be reached at nitrorodeo@gmail.com or 702-406-8165.