Fans flock to Las Vegas for NFR parties, not just rodeo
December 9, 2018 - 2:59 pm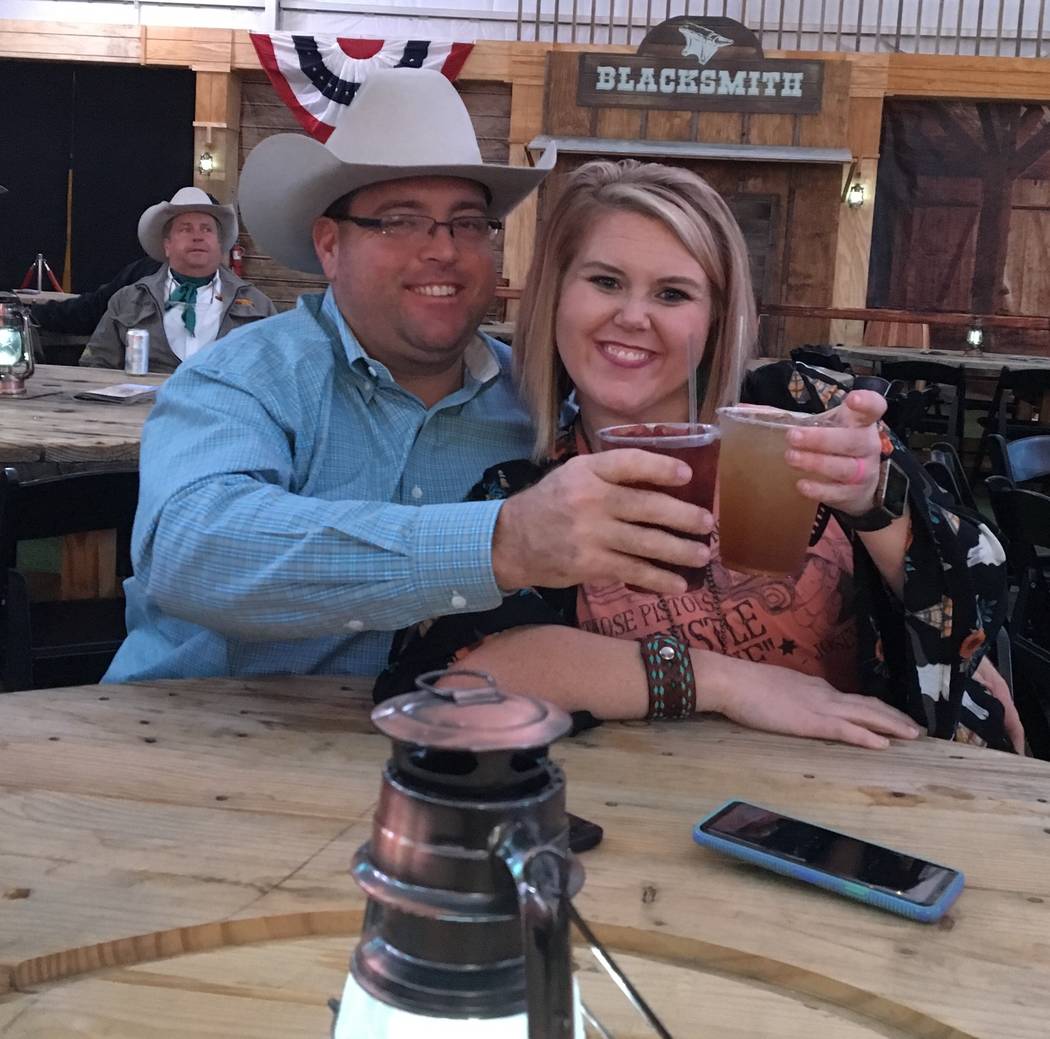 Perhaps the best thing that ever happened to the Wrangler National Finals Rodeo was event officials deciding it would be a good idea to make the nightly go-rounds available on a live TV feed to hotel properties all over Las Vegas.
After all, for the last 32 of the Wrangler NFR's 34 years at the Thomas & Mack Center, selling out the arena hasn't been a problem. But there are thousands upon thousands of fans who travel to Las Vegas every year, who don't have tickets each night and want to see the rodeo.
The live feed has become a spectacle unto itself, creating viewing parties all over town, some quite large. And the viewing parties then turn into after-parties, where the cowboys and cowgirls really kick up their heels.
This intrepid reporter took it upon himself to hit five venues for viewing parties and after-parties on Friday night. From north to south, from downtown to the South Point, here's how that raucous evening unfolded.
6:05 p.m., Downtown Las Vegas Events Center
Tater and Courtney Wilbanks settle in at a table with a few friends, about an hour before the Wrangler NFR's second go-round begins. They are regular attendees, traveling from Beebe, Ark., and their group has a great view of the big screens, thanks to that early arrival.
It's the ninth Wrangler NFR for Tater and Courtney, and this downtown viewing party has emerged as their favorite.
"It's free and it's handy," Tater says, noting their group walks over from The Plaza Hotel to make an evening of it at the DLVEC. "There's no crowd, you go right there to the bar to get you beer, go back to your seat, get you some nachos, go back to your seat. No up and down stairs, and no lines."
Courtney points out perhaps the biggest advantage of this viewing party: the actual viewing.
"This is the spot to come to," she says. "If you don't have tickets to the rodeo, you can come here and watch the feed. It might be even better than at the rodeo. It's like you're sitting in the Gold Buckle Zone at the arena. I don't know if I want you to publish this. We may have a hard time getting a seat!"
Courtney then departs for a minute to get the first drinks, and tries to surprise Tater by not telling him what kind of adult beverage she's brought back to the table.
But he quickly figures it out, with arguably the quote of the whole night.
"It's Cherry Coke and rum," Tater says. "Or as we call it back home, coffee."
7:30 p.m., Gilley's Saloon & Dance Hall, Treasure Island
The viewing party is well underway at this point, but Gilley's provides more than just a place to watch the world's best cowboys and cowgirls compete. Party attendees can try to show their rodeo mettle on the venue's mechanical bull.
And Heather Kisor of Kasota, Minn., is all in after watching husband Aaron Kisor take the bull for a spin.
"My husband's boss got my husband on it. And I said, 'Oh, the hell with it, I'm doing it,'" Kisor says. "I got on it, and I lasted four seconds longer than my husband!"
It's the first year Kisor is in Vegas for the Wrangler NFR, and honestly, it's merely a coincidence, as she joins her husband here for a well driller's convention. But she's quickly hooked by the rodeo atmosphere.
"Little did I know I'd be coming to Gilley's and end up riding a mechanical bull," she says. "I could never do anything like this back home. It's pretty much kind of like a dream come true. We come from a town of 660 people. There are two bars and no gas stations. And we come to the town that seriously never frickin' sleeps. The fun never stops!"
8 p.m., The Mirage sportsbook
The Mirage offers one of the most unique viewing parties/after-parties, as the Wrangler NFR takes over the sports book for 10 nights. The seats and dance floor are packed with rodeo fans all night long, first watching the rodeo, then enjoying a live concert.
But over the past couple of years, Brandon Noel and Donna Collins of Oakdale, Calif., figured out a way to make it almost like dinner and a movie — albeit a movie of the world's top cowboys and cowgirls, shown competing on the sports book's massive big screens.
You see, adjacent to the book is California Pizza Kitchen, and there are a few tables that offer a perfect view.
"This was my idea," Collins says, as she and Noel munch on pizza and take in the rodeo.
Says Noel: "She's the brains of the operation."
No question.
8:35 p.m., The Orleans
When you see a guy with two fistfuls of Bud Lights, well, you've got to talk to him. That's the case with Robbie Sutton, joined by wife Julie Sutton and friends Brittney Loosli and Justin Jensen at the Honky Tonk Saloon, which hosts a nightly viewing party.
You'll never guess what he likes best about this spot.
"It's easy to get a drink," Sutton says with a laugh, before seriously explaining the attraction of spending rodeo nights at The Orleans. "You come watch the rodeo, there are lots of TVs, not a lot of people in the way. You can see it better than if you're at the rodeo. It's outstanding. I love it. It's top shelf!"
Perhaps the best part: it becomes a roaming party, as once the nightly go-round viewing ends inside the Honky Tonk Saloon, many patrons make their way to the very crowded and lively "Buckin' Bash with Justin Rumford" just a couple hundred feet away at the Bourbon Street Lounge.
Rumford, a seven-time entertainer of the year as a rodeo clown and barrelman, opted to take time off during the Wrangler NFR to become the new host of this after-party. And it's proved to be a smart move, as the room was packed Thursday night and is filling up rapidly as 10 o'clock Friday night approaches.
"Thursday night was one of the best Bashes we've ever had," Rumford says. "There are a lot of great parties around town, and everybody has different tastes. We understand there are a lot of different places people can go. We just want a laid-back experience."
Or as laid back as it can be with Rebel Soul rocking the joint to the point where even Rumford — not much for dancing — is out on the floor with one of the party patrons, cutting a rug.
"Kick your boots up, get a drink, eat a cheeseburger and have a great time," Rumford says. "There's no pressure here."
11:20 p.m., South Point
After each night at the Thomas & Mack Center, many in the rodeo crowd crush into the South Point Showroom for the buckle presentations to winners of each event in that night's go-round, followed by a late-night country music concert. Seats become quite a hot commodity, so you tend to make new friends in a hurry if you've got any vacancies at your table.
Or even if you don't have any vacancies.
That's how it works out for John Greco of Park City, Utah, seated in what's become his regular spot, along with friends Scot Corbin and Melissa Williams — and six perfect strangers, all jammed into a booth that's really built for perhaps five at most.
"Until about 30 minutes ago, we didn't know any of these people," Greco says. "They all just showed up."
Indeed, when you're at the Wrangler NFR, you're always among friends — even those whom you just met.
More NFR: Follow at reviewjournal.com/nfr and @RJ_Sports on Twitter.