Feild wins fourth straight bareback, average titles
December 13, 2014 - 10:10 pm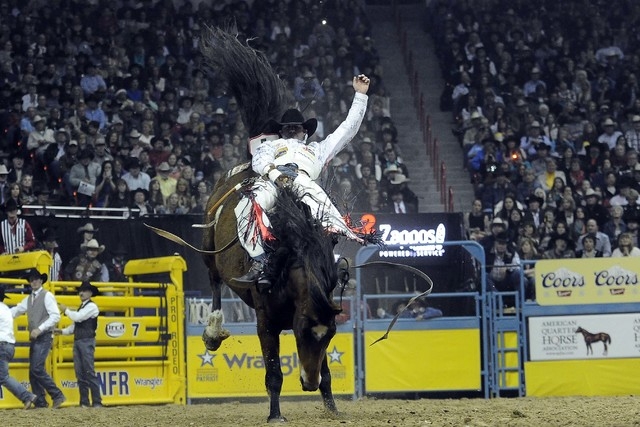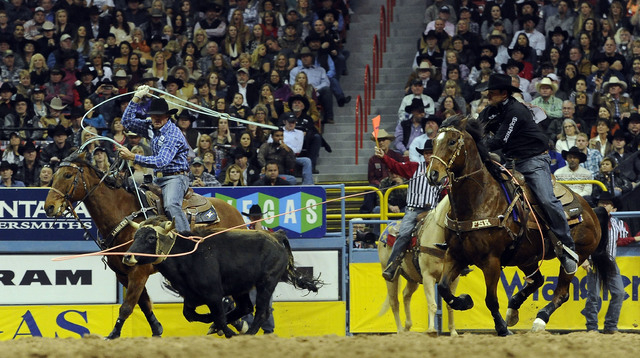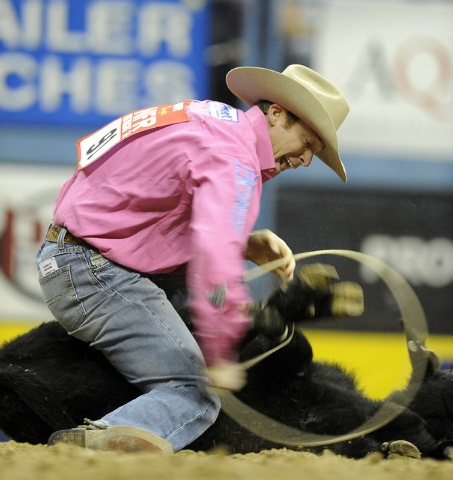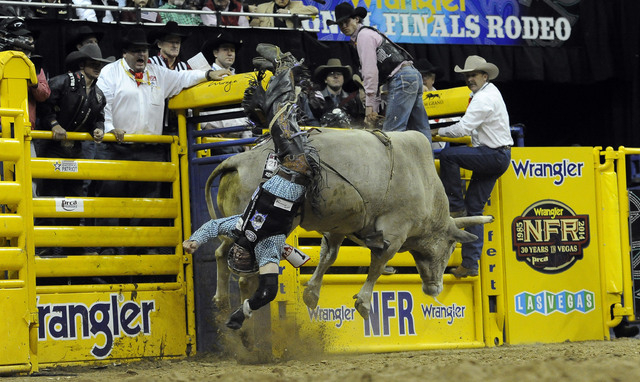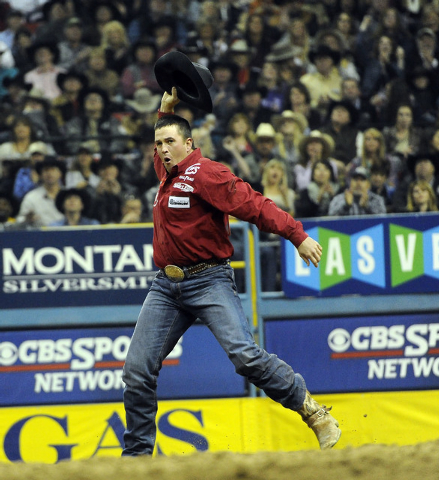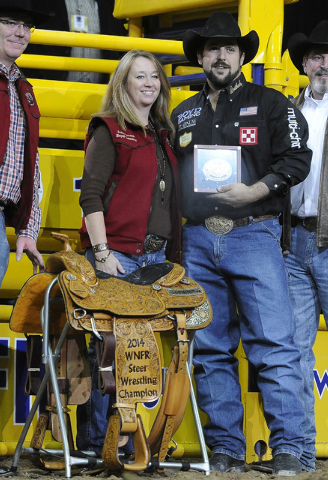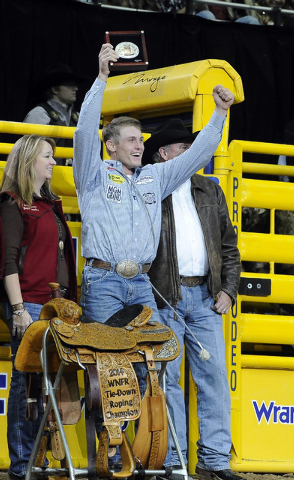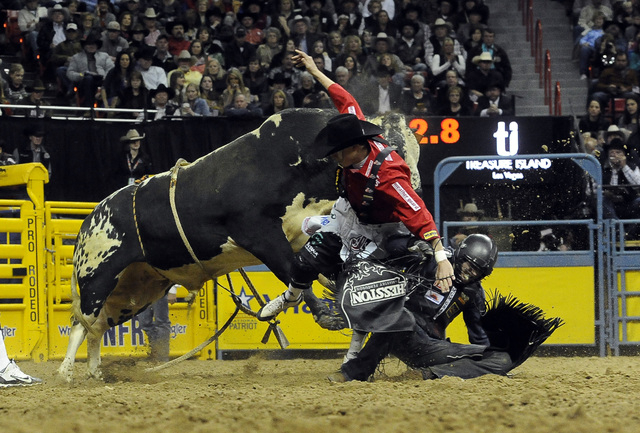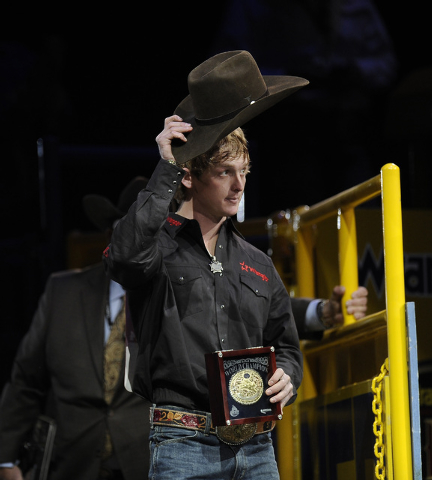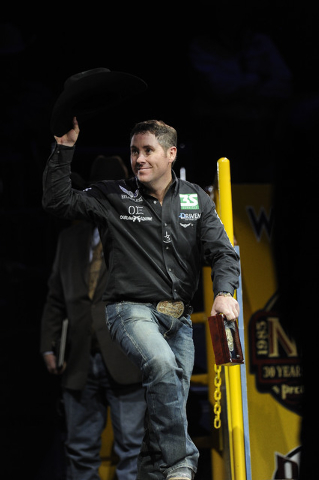 In 1985, the year the National Finals Rodeo arrived in Las Vegas, Lewis Feild won the first of his three all-around world titles at the Thomas &Mack Center.
Thirty years later, Kaycee Feild, Lewis' son, did his dad one better, becoming the only cowboy ever to win four straight bareback riding world titles and NFR average championships.
Feild, who finished the NFR with 818.5 points on 10 head, also became only the second man ever to win four consecutive average crowns, joining team roper Leo Camarillo (1968 to 1971).
Feild, 27, placed second in the 10th round Saturday night, scoring 86 points on Pete Carr's Classic Pro Rodeo's Scarlet's Web before a sellout crowd of 18,095 at the T&M — which drew an NFR-record, 10-day total attendance of 177,565.
Feeling some pressure from world runner-up Austin Foss before Friday's ninth round, Feild won the round with an 85.5-point ride on J Bar J's Dirty Rags to take the average lead for good.
"The last two nights, it made it fun for me," Feild said. "I was kind of down on myself a little bit in the middle of the week. I didn't want to end it that way.
"To finish the way I did, it was probably the most emotional NFR I've ever had, and it was probably the happiest I've ever been at the end of it."
Feild earned $294,979 this year, including $122,596 at the NFR, en route to hitting a special four of a kind in Las Vegas.
"It's amazing. It really is," Feild said. "When I started my career, I set some goals to be better than anybody else in the bareback riding, and (winning) four straight as young as I am, it's looking pretty good for me to achieve my goals."
Lewis Feild, who also won two bareback riding world titles in 1985 and 1986, said watching his son win gold buckles is "way more fulfilling" than winning them himself.
"When your own kid reaches that pinnacle, it takes it to a whole new level," he said. "People come up to me and start to say, 'I think he's better,' then they feel like they're going to insult me. But that's the greatest compliment I could have. And he is better than me. His riding has far surpassed mine."
Feild, who credits his father for a lot of his success, competed Saturday wearing a shirt covered with the names of U.S. soldiers he visited as part of the Wrangler Patriot Tour. Feild has visited troops stationed in the Middle East and elsewhere since 2010.
"I credit those guys a lot to my career success I've had," he said. "As soon as I went over there, I went from being a boy to a man really quick, seeing what those guys go through. It made rodeo a lot easier for me."
And a lot harder for the other bareback riders.
ALL-AROUND
Trevor Brazile added to his PRCA record collection when he clinched his 12th all-around world title on Dec. 6, bringing his gold buckle total to 21.
Brazile, who won his fifth steer roping title in November, fell short in his bid to win his third Triple Crown, finishing second in the world in tie-down roping and team roping (header). But he still earned $494,369 this year — the second-highest total in PRCA history, behind himself.
TOP THREE: 1. Trevor Brazile (Decatur, Texas) $494,369; 2. Tuf Cooper (Decatur, Texas) $246,448; 3. Clayton Hass (Terrell, Texas) $124,530.
STEER WRESTLING
Luke Branquinho rallied to win his fifth world title after suffering a regular season-ending back injury in July. Entering the NFR in eighth place in a tight race, the Los Alamos, Calif., cowboy earned checks in seven of 10 rounds to sweep the average and world titles.
Elko native Dakota Eldridge took third in the average and fifth in the world ($136,726).
WORLD CHAMPION: Luke Branquinho
NFR WINNER: Luke Branquinho
10TH GO-ROUND WINNER: Dru Melvin
TEAM ROPING
Fallon native Jade Corkill and partner Clay Tryan — the only team to catch all 10 head en route to winning the average — held off a late charge by Brazile and partner Travis Graves to win the world title. It was the second straight gold buckle for Tryan and third in a row for Corkill.
"You win it once and it doesn't sink in. It still wasn't real for me last year," said Corkill, 27. "Three in a row make me feel like I'm doing the right thing."
Corkill and Tryan also set a team roping earnings record with $220,057.
WORLD CHAMPIONS: Clay Tryan (header) and Jade Corkill (heeler)
NFR WINNERS: Clay Tryan (header) and Jade Corkill (heeler)
10TH GO-ROUND WINNERS: Brandon Beers (header) and Jim Ross Cooper (heeler)
SADDLE BRONC RIDING
Spencer Wright, the youngest of the record four Wright brothers who qualified for the NFR, won the world title in his first NFR appearance. Wright, 23, placed fifth in the final round (79 points on Burch Rodeo's Lunatic from Hell) to edge Cort Scheer for the average (807.5 points on 10 head) and the gold buckle. The Milford, Utah, cowboy, who didn't lead the standings before Saturday, joins his older brothers Cody (2008, 2010) and Jesse (2012) as world champs.
WORLD CHAMPION: Spencer Wright
NFR WINNER: Spencer Wright
10TH GO-ROUND WINNER: Cody DeMoss
TIE-DOWN ROPING
After a disappointing 2013 NFR, Tuf Cooper bounced back to claim his third tie-down roping gold buckle in four years. The Decatur, Texas, cowboy edged Brazile, his brother-in-law, in the average (89.70 seconds on 10 head) and world standings ($241,734).
WORLD CHAMPION: Tuf Cooper
NFR WINNER: Tuf Cooper
10TH GO-ROUND WINNER: Cody Ohl
BARREL RACING
Fallon Taylor won her first gold buckle five years after breaking her neck and 19 years after making her first NFR appearance. Taylor, who gave up barrel racing after 1998 to become a professional model, suffered a broken neck in 2009 after getting bucked off a horse. She placed second Saturday (13.96 seconds) to edge Lisa Lockhart, who placed sixth (14.02), for the gold buckle.
WORLD CHAMPION: Fallon Taylor
NFR WINNER: Lisa Lockhart
10TH GO-ROUND WINNER: Mary Walker
BULL RIDING
Sage Kimzey, 20, not only became the second rookie bull rider to win a world title but he did so in dominant fashion, earning the Top Gun Award as the top money earner in any event ($175,465). The Strong City, Okla., cowboy cruised to the average crown with 671 points on eight head.
WORLD CHAMPION: Sage Kimzey
NFR WINNER: Sage Kimzey
10TH GO-ROUND WINNER: Tyler Smith
Contact reporter Todd Dewey at tdewey@reviewjournal.com or 702-383-0354. Follow him on Twitter: @tdewey33.