Florida's allure for NFR cowboys: Double your money, and then some
December 18, 2013 - 8:32 pm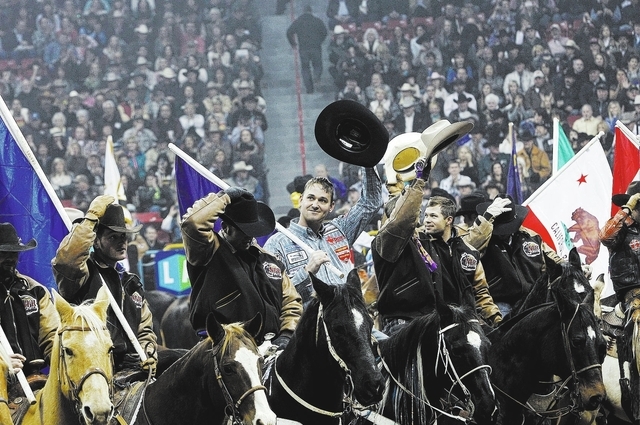 Veteran rodeo man Bob Thain read Osceola County, Fla.'s list of incentives to lure the National Finals Rodeo from Las Vegas and concluded the NFR's governing organization — the Professional Rodeo Cowboys Association — likely created the list.
"Apparently that county is bending over backwards," said Thain, a former 19-year PRCA board member and 1999 Pro Rodeo Hall of Fame inductee living in Reno. "To me, the PRCA wrote that."
Osceola County's commitment of NFR financial goodies for the PRCA is spelled out in a Memorandum of Understanding obtained by the Review-Journal. Osceola County commissioners met at high noon on Sunday to approve the MOU — the same day the PRCA board voted 6-3 to reject Las Vegas Events' offer to keep the coveted Super Bowl of rodeos in Las Vegas for 10 years after 2014.
Osceola County's biggest incentives have been widely known since Sunday: $16 million in annual purses and administrative costs where Las Vegas offers $6.2 million in purses in an overal compensation package of $15 million. And that new 24,000-seat arena to open in 2016.
"We wanted to get their attention," Osceola County Commission Chairman Fred Hawkins, Jr. said Wednesday.
Las Vegas Events has stressed that its total offer is $4 million less than Osceola County's, but that's not the whole story.
Under its proposed deal, Osceola County will:
■ Increase the total prize money pool for contestants by more than 2 ½ times.
■ Provide a minimum of $3 million annually for sales and marketing of the NFR until the arena sees two consecutive sellouts. Should the sellouts not happen, the county will increase its sales and marketing to the level needed to sell all seats the following year.
■ Spend a minimum of $1.5 million for sales and marketing if a sellout does happen for two straight years.
■ Solicit sponsor room proposals from hotels that have NFR event facilities acceptable to the PRCA. The agreements with sponsor hotels will prohibit events during the NFR that are not sanctioned by the PRCA.
■ Not contract with any sponsors that conflict with PRCA sponsors.
■ Make its Osceola Heritage Park facilities available to the PCRA for NFR-related activities during the NFR and for a week prior to the event. The facilities include the 8,000-seat Silver Springs Arena, Exhibition Hall and Livestock Pavilion.
■ Set a minimum average ticket price of $71 for general seating and a minimum average ticket price of $125 for suite seating. The minimum average prices will increase by no less than five percent in 2020 compared to the 2015 prices.
■ Provide 300 NFR tickets per night to the PRCA.
The MOU also names the American Music Resort Properties, LLC, as a partner because the company plans to build a $1.5 billion complex that will include the arena, hotels, retail space, restaurants and performance venues. The site is on US 192, a commercial highway leading to Disney World.
Osceola County will buy the arena from American Music Resort for $50 million, according to the MOU. Since the new arena won't be ready until 2016, the NFR would use the Orlando Magic's NBA arena in downtown Orlando in 2015 if the PRCA chooses Central Florida over Las Vegas.
Hawkins said talk between his county and PRCA Commissioner Karl Stressman began to heat up in early October, when the PRCA's Championship Challenge rodeo was in Osceola County. Subsequent discussions led to the MOU approved Sunday.
Hawkins discounted concerns that NFR cowboys, stock contractors and fans who mostly live west of the Mississippi River will face a hardship travelling to Central Florida. He said tourism taxes will pay for the arena and NFR incentive package.
"We are in the tourism business," Hawkins said. He noted major companies have already contacted Osceola County about being NFR sponsors.
Osceola County commissioners authorized their county manager to negotiate a final agreement with the PRCA and American Music Resort in the next three months.
While the PRCA board rejected Las Vegas Events' offer on Sunday, the governing panel also unanimously decided to make a counteroffer to Las Vegas. Las Vegas Events President Pat Christenson said he is willing to consider a PRCA counteroffer, but it must be made within two weeks.
If the PRCA moves its premier event to Osceola County after 29 years in Las Vegas, Christenson said Las Vegas Events will create a competing rodeo event for the same two-week period in December starting in 2015.
Thain, the rodeo veteran, said the Osceola County offer of $16 million in prize money compared to Las Vegas' $6.2 million purse offer is a powerful lure.
"It's crunch time right now," Thain said. "We're in the fourth quarter, and there will be no fifth quarter."
Contact Alan Snel at asnel@reviewjournal.com or 702-387-5273. Follow @BicycleManSnel on Twitter.