For many WNFR fans, best seat is in front of the screen
December 13, 2017 - 10:54 pm
Updated December 14, 2017 - 12:39 pm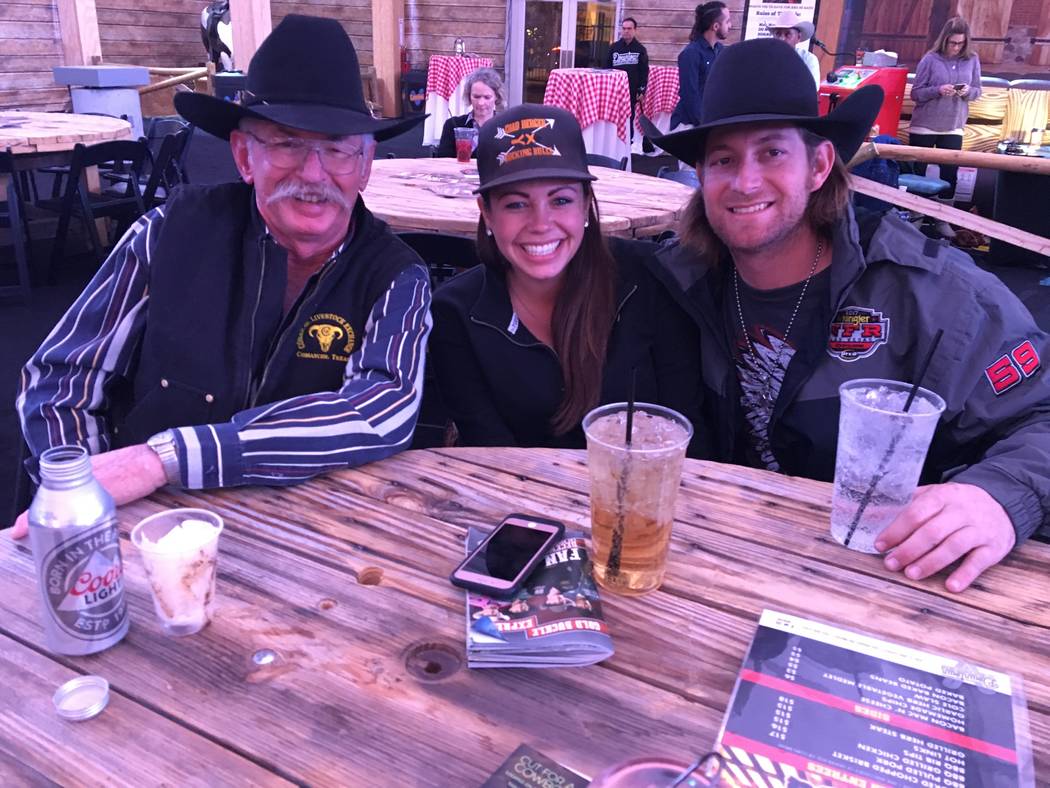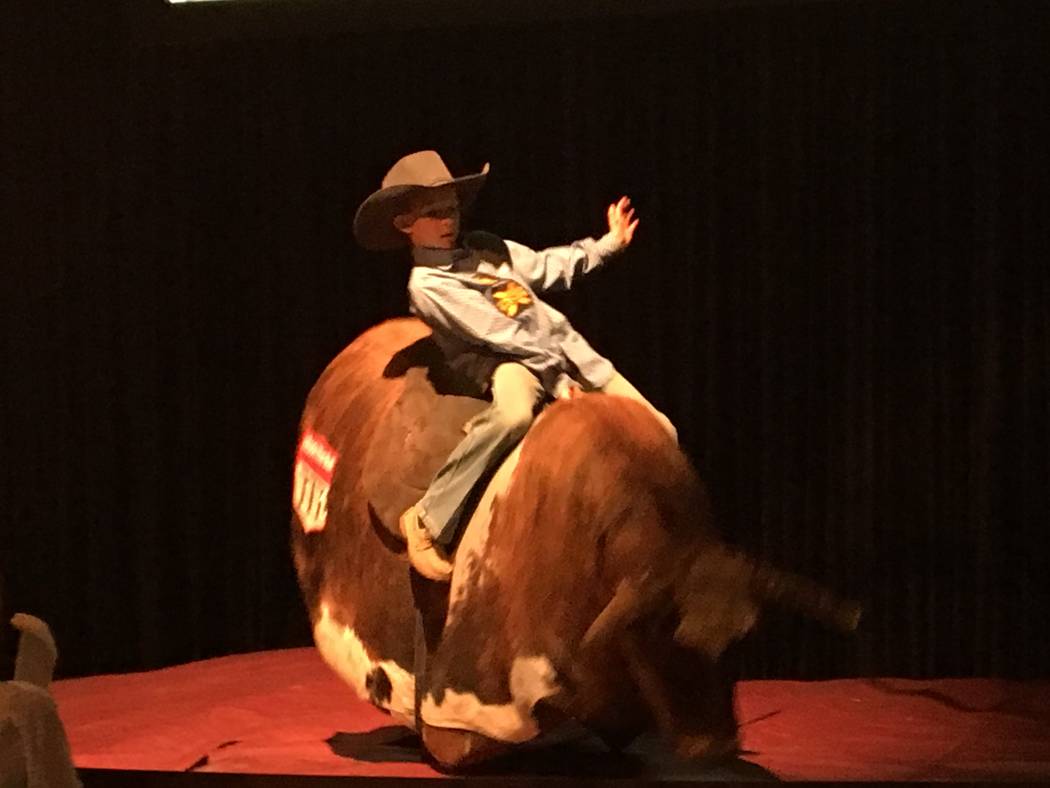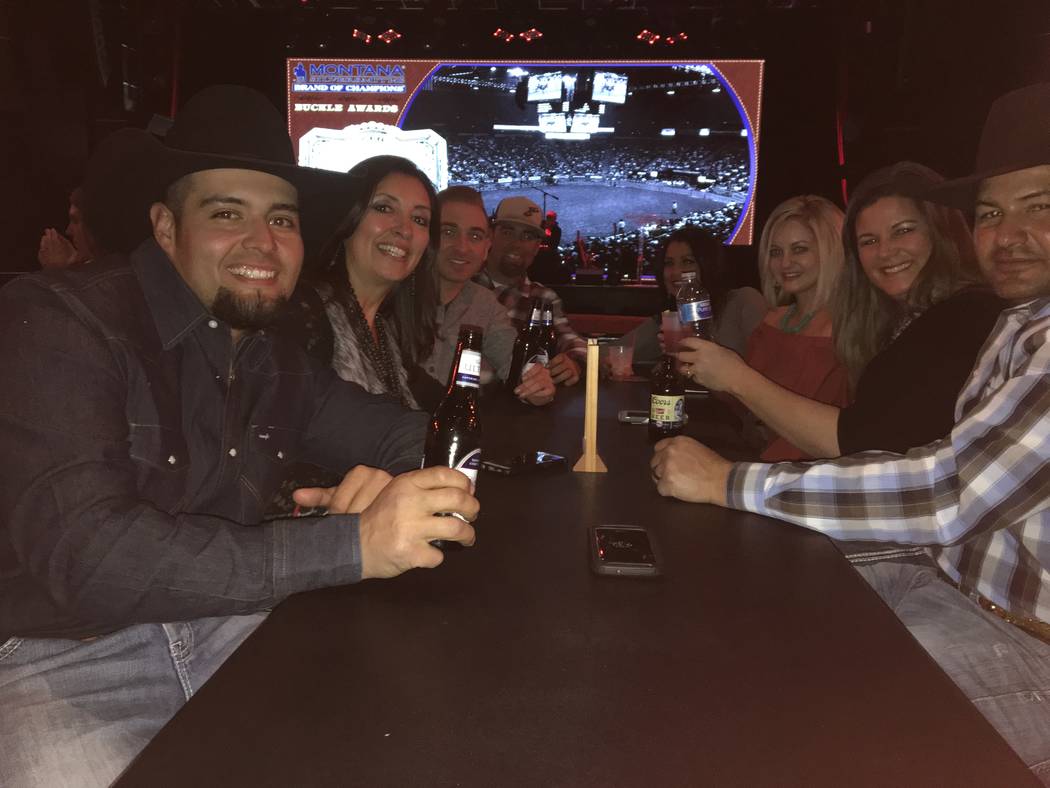 There is no getting around the fact that, for 10 nights every December, the toughest ticket in town is for the Wrangler National Finals Rodeo.
By the time the 2017 Wrangler NFR sees its final round of ridin', ropin' and wrestlin' on Saturday night at the Thomas & Mack Center, the sellout streak will have reached 310 consecutive nights.
Beyond the 18,000 or so rodeo fanatics who pack the Mack each night, there are literally thousands more who are in Vegas for the WNFR but don't have a ticket. Interestingly enough, some of them prefer not to have a ticket — at least not to multiple nights.
That's because they'd rather settle in to a front-and-center seat, at no charge, at one of the many viewing parties around town. These venues pack 'em in, too. A Tuesday night excursion proved this, from the Fremont Street Experience to the Strip to Blue Diamond Road and finally to the South Point, where the night ends — or really just gets started — for a lot of cowboys and cowgirls.
6 p.m., Downtown Las Vegas Events Center
This is one of the newer viewing parties in town, and one of the more full-service ones, with plenty of food options to go along with drink specials. A huge enclosed venue is set up on the events center grounds, with perhaps three dozen round, rustic, wooden tables that seat eight people apiece.
The room is split down the middle, with a big bar and a 25-foot viewing screen on each side. You're not cramped in the space, as there's plenty of room to roam. And with 45 minutes until the WNFR's sixth go-round begins, you can still have your pick of tables.
So Kobi Works and his girlfriend, Tiffany Chavez, and buddy Randy Denning grab a spot right in the middle of the east section. There are no bad sightlines here, but this table might just be the best of all.
"I'd heard this viewing party was good," Works says, noting this is the first time he's been to town for the WNFR. "But …. this is great. I love it. You can see the rodeo real good. This right here is perfect. Better than my 53-inch TV at home, plus I'm in Vegas."
Works, Chavez and Denning are part of a rather large contingent from Comanche, Texas, most of whom will soon join them at the viewing party. Works says somewhere between 30 and 40 people are here from the small Lone Star State town. How many people live in Comanche?
"Forty-nine," he says.
Then he laughs it off and admits the population is around 4,000. Still, it's a pretty good turnout from Comanche, with the live feed straight from the arena about to begin.
"We're getting a better feed, because we're not 300 feet up in nosebleed seats. We're right here," Works says while settling in with a very tall drink. "I love Vegas. I love dice. I love drinking. And we all love the rodeo."
7 p.m., Gilley's, TI
Arguably nothing in this city oozes cowboys and cowgirls as much as Gilley's Saloon, Dance Hall and Bar-B-Que. So it's not surprising that, 15 minutes into Tuesday's WNFR performance, the place is slammed, with hardly a seat to be found.
As with most viewing parties, it's free to get in. And since Gilley's is a full-on restaurant, there's a whole menu of food and drink options. However, most of these folks are ordering the standard bar fare. There are tons of plates of hot wings, coupled with a lot of cool drinks.
Gilley's fills the main part of its room — in front of the stage, where there's always a concert after the viewing party — with individual seats, like a mini-auditorium, with a big screen perched at the front. A bunch of tables for two or three surround that area, and dozens of people are lined up along the bar behind that.
And off in the corner of the room, facing the opposite direction, are several more tables and another big screen. That's two viewing parties for the price of one!
Jamie Holeman and Michele Thornhill are in the main viewing area at one of the hightop tables, each sipping a cocktail as the bareback riding plays out on the big screen. I ask if I can impose on them for a moment, and I get a typical rodeo-world answer.
"As long as I can drink and do this, we're fine," says Holeman, who hails from Houston and is out here on her eighth straight trip to the WNFR, so she's well aware of the viewing parties all over town.
"We hit 'em all. We do the one downtown quite a bit," she said. "I'm here for a week, so I'll be doing one every night. Normally, we make it to Gilley's at the end of the night, to see the band. It's a nice setup here, lots of TVs, great drinks. And we found a table!"
She and Thornhill, who moved from Houston to Vegas 10 years ago, are both on the committee for the Houston Livestock Show and Rodeo, so they often have their fingers literally in the dirt. Thornhill is glad that's not the case tonight at Gilley's.
"Oh, I love it. It's an awesome party," Thornhill says. "Sometimes, the tickets to the rodeo are so expensive. So to be able to watch here and get the experience, this is pretty much just as good, and not as dirty. We're dressed like girls. We're clean. We don't have to work. And we can take the money we saved and gamble it and drink it!"
Before departing, I ask if I can snap a quick photo of these longtime friends, and I get a snappy answer from Holeman.
"We need to do it before we get the drinky face!"
That's my cue to git along, little doggie.
7:55 p.m., The Mirage Race & Sports Book
This has got to be the most unique viewing party space. The iconic sportsbook at The Mirage — with its massive TV screens, Big Betty couches and interactive tabletop TVs on the main floor, along with an elevated VIP area of more comfortable couches set up stadium-style — is a fantastic place to take in the big game.
When rodeo is the big game, however, the room gets turned upside down. Gone are all the couches and interactive tabletops, replaced with a couple hundred temporary individual chairs and a big dance floor for the party that comes after the viewing party. Oh, and that elevated VIP area? It becomes the stage for the nightly concerts, which highlight the party that comes after the viewing party.
Funny, though, for all the great amenities this room has to offer, Joanne Hoffman and her crew from Omaha have a little different way of determining just how good the party is.
"We look for hats. Cowboy hats. Young hats. Good-looking black hats," Hoffman says. "That's where we start, and we go down from there."
OK, then. Let's move along to one of her friends, Sally Thompson.
"They have a good, fun crowd here, and as soon as the rodeo is over and the music starts, there's a lot of good dancers," she says. I presume most of those good dancers are in good-looking black hats. "They're party people, here to have a good time."
She has come to Vegas for the WNFR pretty much every year since the mid-1990s, so she's seen the landscape change for the better for rodeo fans.
"At first, the city didn't have a lot of viewing parties. It's really evolved since then, and it's really nice. And a lot less expensive," Thompson says, noting the parties are a great girls night out. "Once I got divorced, I had a whole lot more time! It's just a lot more fun with a bunch of ladies."
Joining the group at a hightop, stand-up table were a couple more Midwesterners, friends Abby Namken of Fairmont, Minnesota, and Amber Funk of Hayes, South Dakota. The action on two big screens was a difference maker for Funk.
"We went to the rodeo Monday night, and that's why we came back here tonight. You can see better," she says. The concert replete with dance floor is a big attraction, too. "We dance all night here."
Namken added: "They're all late nights here. It's just a fun time."
8:30 p.m., Silverton
This is another hidden gem among viewing parties, though word is quickly getting around. Walking into the Veil Pavilion, the barrel racing is just underway at the WNFR, and it's a fairly full house. There are three big screens across the front of the room, and there's a mechanical bull anybody can jump on and take for a ride. Since it's all ages, of course, a couple youngsters are trying their luck on the bull.
Fred North, his wife Cindy, and friends Al and Denise Hawkins drove up from Riverside, California, to take in the rodeo, and they couldn't have done better at the arena, as they take up a table front-and-center.
"You're not sitting in nosebleed seats, trying to see the rodeo. You can see it better — up close and personal," Fred North says. "And you're not fighting the crowd coming out of the arena. Plus, it's easier to get a cold beer."
Without question, the proximity and price of adult beverages are pretty popular aspects of these viewing parties. But I've got one more stop, so I'm not going to partake just yet.
9:30 p.m., South Point
I finally arrive at what's affectionately termed "The Tip of the Strip." The South Point is absolutely the hub of what becomes Cowboy Town in Vegas each December. Throngs of cowboys and cowgirls crowd the gaming tables in the center of the casino, take over all the bars and pack in 3,000 people or more for the nightly viewing parties in the ballrooms.
And once competition ends at the Thomas & Mack Center, the South Point Showroom is at the top of many folks' destination list. The Showroom has a viewing party, as well, and then it hosts the nightly buckle presentations for go-round winners in each of the seven events, followed by a live concert.
The schedule says the awards festivities start at 11 p.m. But well before that, hundreds of people are already getting their party on. For many, camaraderie is the big draw on this night.
"There's nothing like coming to Vegas, the biggest party city in the United States, and all of us have one thing in common, and that's rodeo," says Doug Gonzales, who's at a tableful of fellow residents of Las Lunas, New Mexico. "I'd rather stay here at the South Point than go to the actual rodeo. It's a better atmosphere. You can hang out and talk to people and meet people from a lot of different states.
"And the drinks are cheaper!"
There's that drink theme again. I'm starting to get a little parched at this point.
Mark Owens of Montgomery, Alabama, and Ernest Lee of McAlpin, Florida, are on a business-and-pleasure trip — Owens works for Lee, who heads up a company called RodeoTax.com. So apparently, the two of them help all these cowboys and cowgirls keep the IRS off their backs.
It's all pleasure on this night, though, waiting for the buckle presentations and the Sierra Black concert afterward, in yet another venue with a big dance floor ready for some Texas two-steppin'.
Owens, Lee and fellow rodeo travelers Debi Magilligan and Frae Wittwer are seated in a reserved booth that steps right onto that dance floor and is just a few more steps from the stage. They've reserved those seats for the entirety of the 10-day rodeo.
"It's the comfort level," Owens says. "It's like we're at the rodeo. There's no difference here, except it's on a huge screen. We get up and scream, just like we're there at the arena."
Lee then chimes in: "I sit in Section 106 at the rodeo, right at the front. And this is better!"
As the room continues to fill up just before 11 o'clock, he makes perhaps the point of the night about why people enjoy the viewing parties and, in this case, the South Point after-party.
"There's a reason they wait two hours to do the buckle presentation," he says, alluding to the clogged crowd-and-traffic arteries trying to get out of the Thomas & Mack Center at 9 p.m., when each performance ends. It can take quite a while to navigate all that and get down to the South Point.
Those who instead hit the viewing parties and after-parties avoid the crush.