Friendship helps steer Branquinho to repeat at NFR
December 15, 2012 - 11:39 pm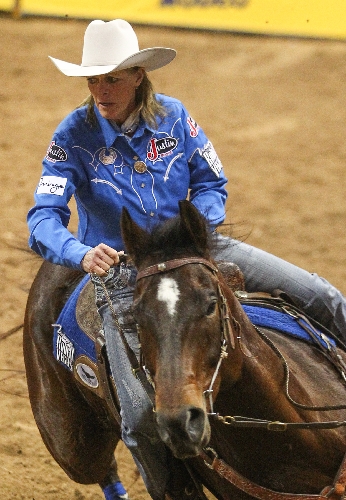 Traveling together on the Professional Rodeo Cowboys Association circuit, steer wrestlers Luke Branquinho and Les Shepperson have become close friends.
That friendship never was more evident than in the 10th and final round of the 54th National Finals Rodeo on Saturday night before a sellout crowd of 17,867 at the Thomas & Mack Center.
Riding Shepperson's horse Dillon, Branquinho – whose horse Gunner was hurt in the eighth round – tied for fifth place in the event to seal his second straight steer wrestling world title and fourth overall.
Shepperson, who won the NFR average title and placed third in the world, let Branquinho use his horse despite dueling with him for the title.
"I can't thank him enough," Branquinho said. "You couldn't ask for a better guy to do that, especially with him being in the situation where he could've won his first world championship.
"His heart is as big as that gold buckle that I won, and that just goes to show you how good a guy and travel partner he is."
As they had all year, Branquinho and Shepperson also hazed for each other at the NFR, guiding each other's steers.
"We try to help each other as much as we can on each steer," Shepperson said. "It works out well for both of us."
Shepperson earned more money at the NFR – $80,047.06 – than he did the rest of the year.
Branquinho overcame a slow start this season – he wasn't in the top 20 in July and entered the NFR in fourth place – to become the first bulldogger to win back-to-back titles since Ote Berry in 1991.
"This one was special because of the way I started the year off," said Branquinho, 32, from Los Alamos, Calif. "I had a lot of ups and downs where I wasn't winning."
Branquinho – who won the fourth round and placed in six others – edged Casey Martin by nearly $14,000 en route to his fourth steer wrestling title, which ties him with Berry and Jim Bynum for second place all time behind Homer Pettigrew, who won six times in the 1940s.
ALL-AROUND
Trevor Brazile wrapped up his 10th all-around world title and seventh in a row – both records – in the fifth go-round. The roper had shared the mark of six straight with Ty Murray (1989-94) and Tom Ferguson (1974-79).
TOP THREE: 1. Trevor Brazile (Decatur, Texas) $298,626.46; 2. Bobby Mote (Culver, Ore.) $210,506.03; 3. Steven Dent (Mullen, Neb.) $161,446.15.
BAREBACK
Kaycee Feild became the first bareback rider to win back-to-back world titles since three-time world champion Will Lowe, who won his second straight crown in 2007 and was the runner-up this year.
Feild delivered an 85.5-point ride on Scarlett's Web to tie for third place in the 10th round and seal his victory. He also captured his second straight NFR average title with 834 points on 10 head.
WORLD CHAMPION: Kaycee Feild
NFR WINNER: Kaycee Feild
10TH GO-ROUND WINNER: J.R. Vezain
TEAM ROPING
In the first split team roping world title since 2007, Jade Corkill of Fallon claimed the heeler crown and Chad Masters won the header title – denying Trevor Brazile and partner Patrick Smith of gold buckles. A win by Brazile would have tied him with steer roper Guy Allen for most world titles, with 18.
Corkill teamed with partner Kaleb Driggers to win the 10th go-round, with a time of 4.0 seconds, to pull out the first world title for a Nevadan since 2008, when Logandale's Brandon Adams claimed the heeler crown in team roping. Corkill was runner-up to Adams but would not be denied this time.
"I've worked so hard to try to get this," the 25-year-old Corkill said. "I've been here five times with a chance to win this, and there have been times I thought I roped good but things didn't go my way.
"This was the first time I've come here when I was truly OK with whatever the outcome was. I think I've matured over the years My son, Colby, being born last year has a lot to do with that I think."
WORLD CHAMPIONS: Chad Masters (header), Jade Corkill (heeler)
NFR WINNER: Chad Masters, Clay O'Brien Cooper
10TH GO-ROUND WINNER: Kaleb Driggers, Jade Corkill
SADDLE BRONC RIDING
Cody DeMoss, the only rider to make qualified rides in each of the 10 rounds, won his first NFR average title in style, winning the 10th round with an 86-point ride on Painted Feather. But he still had to settle for second place in the world – for the fifth time in his career – behind Jesse Wright, who held on for his first gold buckle by $796.93.
WORLD CHAMPION: Jesse Wright
NFR WINNER: Cody DeMoss
10TH GO-ROUND WINNER: Cody DeMoss
TIE-DOWN ROPING
Tuf Cooper held off Justin Maass – who finished the regular season in first place – to win his second straight tie-down roping world title. Cooper took sixth in the final round to ascend to second in the average race. Maass, who didn't place, fell from second to fourth.
WORLD CHAMPION: Tuf Cooper
NFR WINNER: Adam Gray
10TH GO-ROUND WINNER: Cody Ohl
BARREL RACING
Mary Walker, an NFR rookie at 53, capped an incredible comeback season by winning her first barrel racing world championship.
Walker dominated the event – she won the Top Gun Award as the NFR earnings leader with $146,941.10 – after sustaining serious injuries last year in a fall during a barrel race that left her confined to a wheelchair for four months.
The fall took place less than two months after she lost her only child, 21-year-old PRCA steer wrestler Reagon Walker, who was killed in a car accident. Walker is married to 1981 world champion steer wrestler Byron Walker.
WORLD CHAMPION: Mary Walker
NFR WINNER: Brenda Mays
10TH GO-ROUND WINNER: Carlee Pierce
BULL RIDING
Regular-season champion Cody Teel edged three-time world champion J.W. Harris for the world title by $1,056.39. In an NFR dominated by the bulls, who bucked off 108 of 150 riders, Teel and Harris had only one qualified ride each over the final seven rounds.
Neither rider stayed on for eight seconds Saturday, and the average payout was the difference, with Teel placing sixth in the event and Harris seventh.
WORLD CHAMPION: Cody Teel
NFR WINNER: Beau Schroeder
10TH GO-ROUND WINNER: Shane Proctor
Contact reporter Todd Dewey at tdewey@reviewjournal.com or 702-383-0354.