Frost crafting his bull-riding resume in the footsteps of famous relative
December 3, 2014 - 10:48 pm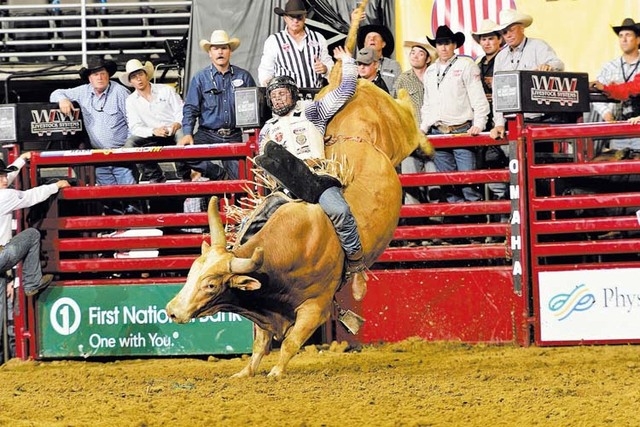 If you're a bull rider, and you're last name is Frost, it's not enough to just compete. You've got a namesake to live up to, and you've got to ride every bull as if it were your last.
That's how Lane Frost did it, and no one can say he didn't die doing what he loved. Frost, the 1987 PRCA bull riding world champion whose life was featured in the 1994 classic rodeo movie, "Eight Seconds," had his last ride at the Cheyenne Frontier Days, on July 30, 1989. Of course, he made it through the mandatory eight seconds and scored 91 points aboard a big-bucking Brahma named Takin' Care of Business.
But after Frost dismounted, the bull turned and plowed into him, breaking several of his ribs. Frost got to his feet to try to run off the arena dirt, then fell back to the ground, with the broken ribs puncturing his heart and lungs. He was rushed to the hospital, but the heart injury was irreparable.
Frost died at age 25.
Just shy of three years later, on July 8, 1992, Joe Frost was born, a second cousin to Lane, as Joe's grandfather and Lane's dad were brothers. Twenty-five years after Lane's passing, Joe will be on the arena floor at the Thomas &Mack Center, competing in the Wrangler National Finals Rodeo for the first time. As a bull rider, of course.
"Right now, I'm pretty excited," Frost said in mid-November, as he was making his final preparations for his first NFR. "I'm gonna let myself be excited for that first night. But once it starts, I'm gonna have to show up and ride 10 bulls, one at a time."
And though he never met his second cousin, don't think for a minute Lane won't influence him.
"The movie 'Eight Seconds,' it's something today people are still watching," Joe said. "I grew up watching his instructional bull riding video. And I saw it unedited — there's a lot more in that."
But there was much more to Lane than just being a bull riding superstar. Joe said it's important for him to make people realize that — and for him to live up to that.
"Everyone talks about what a good person he was," Joe said. "He was never too good or too cool to talk to anybody. That's the way my dad is, and the way I was raised. People don't remember what you do or what you say, but how you make them feel. Lane was exceptional at that, and that's something I'm constantly trying to improve in myself."
For all he learned from and about Lane, though, there are some things you just have to experience before you're ready for the bright lights of the NFR, and Joe has felt those highs and lows. In 2012, he came to Las Vegas for the NFR for the first time, but as a fan. That didn't set too well.
"I told myself I wouldn't come back until I was in it. I had a hard time sitting in the stands watching it," he said. "But seeing it motivated me to know that next time, I'm gonna be down on the arena floor."
The idea was for next time to be in 2013. But he fell just short, taking 20th in the regular-season money standings, five places below a trip to Las Vegas.
"This year, I knew there was no doubt I was going to make it. I learned a lot in 2013," Joe said.
Indeed, he comes into the NFR 11th in the world standings, with 2014 winnings of $69,558. And just for good measure, the student at Oklahoma Panhandle State University won the college national bull riding title. But as an NFR rookie, he knows that while getting here might be the hardest part, it's also no time to back off. He could easily double his season winnings or more, and maybe even get into the world title chase with a good 10-day run.
"I've been working out every day for the last month, getting on a lot of practice bulls," he said. "I want to make sure when I show up that I feel 100 percent prepared. When I get there, I'm gonna have fun and know I've done everything I can to ride well."
And like Lane, Joe won't take it for granted.
"It's not something that happens to just anybody," Joe said. "I was riding calves at 6 years old. From the time I started, my goal was to get to the NFR and win a world title. Everything I've done is in preparation for this. I've worked my whole life to get to this point.
"I feel like it's where I belong."
You could say it's in his blood.
Joe Frost
Event: Bull riding
2014 world standing/earnings: 11th, $69,558
Residence: Randlett, Utah
Wrangler National Finals Rodeo qualifications: 1 (2014)
Noteworthy: Frost has great bull riding bloodlines, as the second cousin of renowned bull rider Lane Frost, the 1987 PRCA world champion who died after a fateful ride at the 1989 Cheyenne Frontier Days. Joe won the national high school bull riding title in 2010 and is the reigning college national champion, competing at Oklahoma Panhandle State University. This season on the PRCA tour, he won six rodeos and shared the title at the ABC ProRodeo in Lubbock, Texas. Among his solo wins were the Wilderness Circuit Finals Rodeo in Heber City, Utah, and the Southwestern Exposition and Livestock Show in Fort Worth, Texas.