Hazers provide crucial function for steer wrestlers
December 15, 2012 - 12:35 am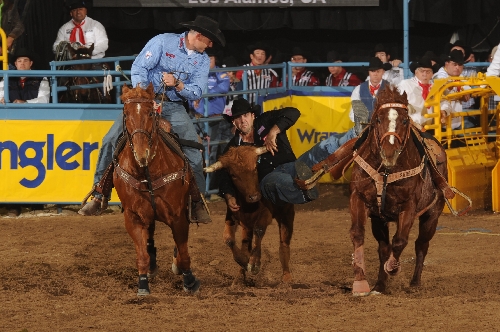 In most circles, hazing is not only frowned upon but punishable by prosecution. But in pro rodeo, hazing of a different sort takes place at every rodeo, and it's crucial for a steer wrestler's success.
No, I'm not talking about dunking someone's head in a toilet or duct-taping them to a pole. In the sport of steer wrestling, a hazer is the bulldogger's right-hand man, literally.
Hazers back into the box on the timed-event side of the arena parallel to the steer wrestler on the other side of the timed-event chute. Once the bulldogger nods his head for the steer to be released, the hazer rockets his horse out of the box and bookends the steer to keep it in line for the steer wrestler to catch and throw.
It's an immensely important role, and a good hazer and hazing horse can mean the difference between a bulldogger not only winning or losing a round or rodeo, but also a world title.
"It's very crucial," said 2007 world champion steer wrestler Jason Miller, who is serving as Billy Bugenig's hazer this year after finishing outside the top 15 in the world standings and failing to qualify for the Wrangler NFR. "A good hazing horse makes or breaks a good bulldogging horse, and your bulldogging horse is only as good as your hazing horse. It could come right down to the world championship whether a haze costs someone or makes it for them."
It's an often unheralded role that goes unnoticed by most casual rodeo fans.
"It's kind of a thankless job," said two-time world champion steer wrestler Dean Gorsuch. "The only time you really notice the hazer is when something bad happens. Everybody who is hazing out here (in Las Vegas) is great, and they're real underrated."
Miller agreed that hazers are more likely to be the scapegoat for a bad run than the one applauded for a quick one.
"If someone wins a world championship, most people probably can't tell you who the hazer is, but if he misses a haze, everybody knows who he is," Miller said. "It's an unforgiving deal, but it's something you've got to have. Especially at this rodeo, if they don't notice I'm here, then I'm doing my job well. The only time they ever notice you is when you screw up."
Because of the Thomas & Mack Center's small arena, steer wrestling runs are lightning fast, making a hazer's job even more difficult.
"At this rodeo, it's the hardest job here," Miller said. "The start is so fast, and it's so easy to get beat. You've got to be on your horse and on your toes, and it's hard every single night. It's nerve-racking every single night."
Gorsuch was quick to praise his hazer, Dale Kraupie, who helped him win his second gold buckle in 2010.
"This will be Dale's third year for me out here, and man, I love him being out here," said Gorsuch, who won his first gold buckle in 2006. "Without him, we don't do our jobs. He's going to be out here bulldogging one of these days, too."
I asked Miller which job was more pressure-packed, hazing or bulldogging.
"Hazing is harder," he said. "If I'm bulldogging here, I'm not going to haze. Like last year, that was Lee's (Graves) job. I was here to win some money in the bulldogging, and I wanted to get as good a start as I could and throw them as fast as I could.
"This year, that's my job, and I have to worry about all that other stuff. It's a hard job."
Perhaps the craziest aspect of the hazing-steer wrestling relationship involves the top two bulldoggers in this year's standings. Three-time world champion Luke Branquinho, who leads the world standings, and Les Shepperson, who is in the hunt for the gold buckle, are hazing for each other.They both know that one false move or bad run on the hazing side could cost the other a gold buckle, and their partnership is the ultimate illustration of professional rodeo's deep and far-reaching sense of sportsmanship. For instance, Miller is hazing for Bugenig on a horse owned by Branquinho, and Gabe Ledoux is bulldogging from one of Miller's horses.
"You just go and try to help them do the best they can no matter what position you're in, if you're in a position to win the world championship or hazing for a guy who is in position to beat you for a world championship," Branquinho said of the relationship between him and Shepperson. "That's what I love about our event. We're pulling for each other, and we know that, if we do our job, everything should take care of itself.
"We're not out to get somebody else by us making a mistake, and that's what's special about our event. There's a lot of sportsmanship."
And there's a lot of talent on both sides in the bulldogging.
Neal Reid is a freelance writer based in Colorado Springs, Colo., who spent five years as editor of the ProRodeo Sports News and who has written for USA Today, ESPN, ESPNW, American Cowboy, Western Horseman and The Associated Press. This is his ninth Wrangler National Finals Rodeo.