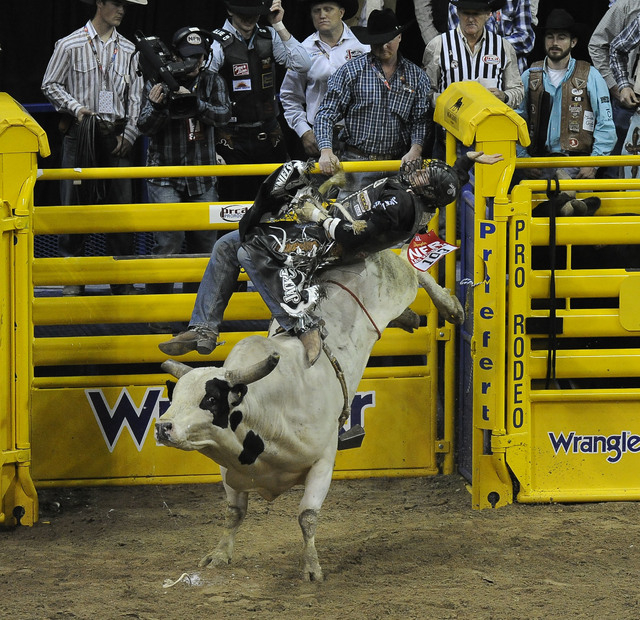 The last time bull rider Beau Hill competed at the Wrangler National Finals Rodeo, world standings leader Sage Kimzey was all of 10 years old.
The 35-year-old from West Glacier, Mont., is back at the Thomas &Mack Center after a 10-year hiatus in which he shifted his focus to the Professional Bull Riders circuit and notched 22 top-10 finishes and four trips to the PBR World Finals in Las Vegas. Refocused on Professional Rodeo Cowboys Association rodeos in 2014, Hill made a late charge at the season's whistle and qualified for his third career Wrangler NFR and first since 2004.
He's thrilled to be back at the Wrangler NFR and showed it by finishing third in Round 1 with an 82.5-point ride aboard D&H Cattle's Hot Wired. That performance put $11,340 in his pocket and moved Hill to seventh in the world standings.
Being back at the Finals after a decade has been a treat for the affable cowboy.
"It's pretty special to me," Hill said. "Ten years, that's a long time. It feels really good to get back here, and I wasn't too nervous.
"I had a few jitters, but when I got in that bucking chute, I knew it was time to take care of business. You can feel that energy in here, and it pumps me up and helps out, for sure."
Hill is no stranger to picking up checks at the Thomas &Mack Center. He placed in four rounds in his Wrangler NFR debut in 2002 to finish seventh in the world with $110,137 and improved to fifth in the world in 2004 with $159,456 after placing in five rounds.
After tearing a tendon in his wrist at the 2004 Wrangler NFR, Hill sat on the sidelines until April 2005 and came back only to be bitten by the injury bug again with a groin tear that kept him out until August of that year.
He earned at least $45,000 from 2006-10 while competing in PBR events, with his best year of $83,473 coming in 2010.
But Hill lost some of the desire to keep grinding in those events as the years wore on.
"I wanted to take my kids along with me as much as I could, and it's a long road back to get back on tour at those PBRs now, and I felt like I had some qualifications here (in the PRCA)," Hill said. "So, I decided to switch it up and see what it brought me."
Hill, who also has worked as a professional fly fishing and hunting guide, refocused his attention on the PRCA and qualified for this year's Finals in 13th place after picking up a couple of big checks in the regular season's final week.
"It was down to the last weekend for me," Hill said. "I'd been in there (around the Top 15) all year. I was up to sixth, then down to 16th and kind of floating around in there, and at the end I was needing to win a little bit that last weekend.
"I got a check in Omaha and placed in Kansas City, so I knew I'd made the (Finals) there."
He doesn't mind being the oldest bull rider in this year's field and has gotten along just fine with the youngsters who dominate the Top 15.
"These kids have been nothing but good to me and have all been pretty nice and supportive of me, and I enjoy watching those kids ride, too," Hill said. "They're unbelievable, and it's fun to be here and compete with them."
Even though it's been 10 years since Hill nodded his head at the Wrangler NFR, he feels as if time has flown by.
"Ten years feels like a long time, but it also seems like yesterday to me, really," he said. "I'm here, I'm just going to have fun, take it one bull at a time and try to stay focused and positive and do my job."
Hill felt a bit empty after coming to Las Vegas during the Finals in recent years for sponsor obligations, but not to compete.
"I've flown in here the last couple years and watched this deal while doing some sponsor stuff for Jack Daniels," he said. "So, it put a little drive in me, just sitting here watching and wanting to not just be here signing autographs, but be down here riding. It put a little fire in me and a little drive in me and had me wanting to get back here."
He gave a lot of praise to his wife, Keri, for being a rock at home with their three children as he pursued another Wrangler NFR berth this season.
"My wife, she's been unbelievable," Hill said. "I've been gone so much this year, and she's basically been a single mom at home running our three kids around all over the place and doing all the chores and everything else. She's been 100 percent supportive, and my kids have been the same way.
"I think they believe in me more than I do myself sometimes. They definitely push me, and when I want to come home, my wife kicks my butt back out on the road."
The 6-1, 190-pounder is optimistic and focused in his return appearance and is ready for more paychecks as the Wrangler NFR rolls on.
"I'm not here just to hang out and have fun," Hill said. "I'm here to win, and I'm going to take care of business. That's my main goal."
Neal Reid is a Colorado Springs, Colo.-based freelance writer who spent five years as editor of the ProRodeo Sports News. He has written for Western Horseman, American Cowboy, The Ketchpen, Persimmon Hill, USA Today, Newsday, MLB.com, ESPN.com, ESPNW.com, the Colorado Springs Gazette and Denver Post, among others. Reid, a member of the Rodeo Historical Society, covered the 2014 Olympic Winter Games and Paralympic Winter Games in Sochi, Russia, for the Olympic and Paralympic News Service and is a veteran of 10 Wrangler NFRs. Follow @NealReid21 on Twitter.