Kimzey confident in world bull riding title defense at NFR
December 3, 2015 - 11:55 pm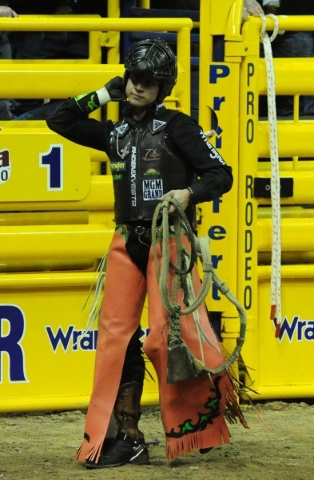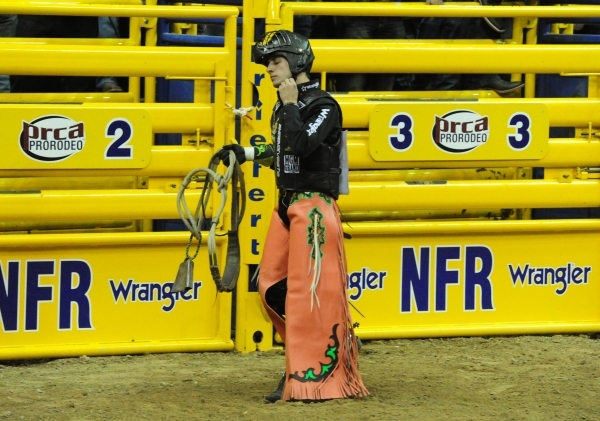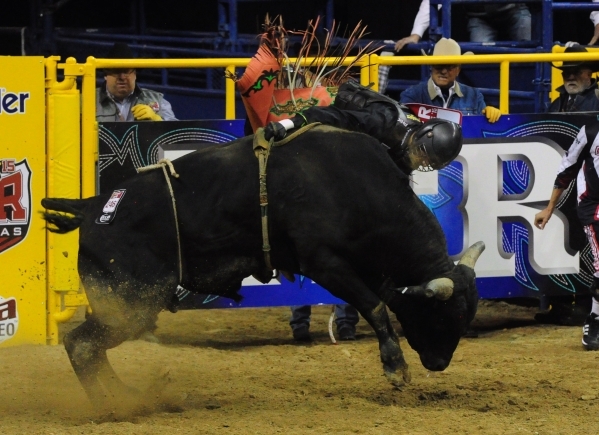 Most people who venture to Las Vegas shortly after their 21st birthday are here to party. Sage Kimzey isn't most people.
Kimzey, who last year became the first rookie bull rider in 51 years to win a world title, is completely focused on the task at hand at the Nationals Finals Rodeo, which kicked off its annual 10-day run Thursday at the Thomas & Mack Center.
"I come out here with one thing in mind. Not to party or have a good time or win a lot of money on the blackjack table. All I'm worried about is staying on 10 bulls," Kimzey said before the first round. "I'm not into the whole party scene. It's business for 10 nights."
Kimzey, who tied an NFR record with four round wins last year en route to winning the event average title, was bucked off his first bull, Psycho Patch, in what qualifies as a rarity for the 5-foot-7-inch, 140-pounder from Strong City, Okla. (population 49).
Kimzey had an astonishing 72.4 percent rate of qualified rides this year, and only three-time world champion Tuff Hedeman has a better record on the all-time list kept by ProBullStats (66.67 percent to 64.30 percent), with Kimzey having 191 qualified rides in 297 attempts, including 71 of 98 this year.
"Consistency always has been my big thing," Kimzey said. "I stay on a lot of bulls. That's what I do. I'm not the flashiest guy or anything like that, but I stay on a lot of bulls."
Kimzey might not be flashy, but he's confident. He wants nothing less than to be the best bull rider ever and has his sights set on breaking Don Gay's record for most bull riding world titles (eight).
"That is my goal, as far as my pro career goes. To win nine world titles and to be remembered as the best ever," he said.
Hedeman wouldn't bet against him. He was recently quoted as saying Kimzey "is a rare talent who rides fundamentally flawless."
"Sometimes someone comes along who's better than everyone else," Hedeman told the California Sunday Magazine. "That's just the way it is."
Kimzey still can hardly comprehend what he accomplished last season, when he compiled arguably the best rookie season in Professional Rodeo Cowboys Association history with $318,631 in total earnings, the NFR average title and the gold buckle.
"Sometimes I still have to pinch myself to make sure it's still real," he said.
Kimzey has had his sights set on the NFR since he attended his first one at age 4 with his father, Ted, a longtime PRCA barrelman/clown who worked at the NFR in 1980 and 1987 and was an alternate in 1986. Kimzey's mother was a barrel racer and rodeo queen, and his brother and sister are professional trick riders.
"Not too much rattles me at all," he said. "My upbringing's definitely played a big part in it."
According to University of Calgary researcher Dale Butterwick, there were at least 27 fatalities among bull riders from 1989 to 2012, but Kimzey puts the danger in perspective.
"There's danger all over the world," he said. "I'm strong in my faith. If it's my time, it's my time. Regardless if I'm in a swimming pool or riding a bull."
Kimzey also excelled at the less perilous sport of basketball. He was the starting point guard for his Cheyenne High School team, which won the 2012 Oklahoma state title his senior year.
Trevor Brazile also played high school basketball, and Kimzey boldly claimed he would beat the King of the Cowboys in a one-on-one game on the hardwood.
"I would for sure beat Trevor," Kimzey said. "He's getting a little long in the tooth to beat me at basketball."
Parker Breding won the first round with an 86.5-point ride on Magic Bullet to earn $26,230 and cut Kimzey's world standings lead in half, to about $26,000. Breding suffered probable rib fractures when he was gored by the bull under his vest after his ride. He's questionable for round two.
Kimzey, fully recovered from a broken riding hand suffered earlier this year, remains poised to become the first bull rider ever to win a world title in each of his first two years as a pro.
"With the payout more, no lead is safe," Kimzey said. "But I like my chances head-to-head in a shootout."
Maybe then he'll be ready to party.
* NOTES — Brazile, who has a record 22 gold buckles, set an NFR first-round record of 6.8 seconds in tie-down roping to climb to third in the world, about $12,000 behind defending world champ Tuf Cooper, who didn't place. … Evan Jayne, the Frenchman who is the first European-born cowboy to qualify for the NFR, took second in bareback riding with an 83-point ride on Bar Bandit. Jayne ascended to second in the world, less than $15,000 behind four-time defending world champ Kaycee Feild, who finished in a four-way tie for third with an 81-point ride on Miss Dunny.
Contact reporter Todd Dewey at tdewey@reviewjournal.com or 702-383-0354. Follow him on Twitter: @tdewey33